Icy treat
From the director who has created performances for Cirque du Soleil, 'Donka — A Letter to Chekhov' stunned Taipei audiences last weekend
As an adult it is rare to be able to feel child-like wonder — that wide-eyed, trembling, breathless state you felt at age four or five when you beheld something never before seen, something so absolutely dazzling and magical that you were afraid that it would vanish if you tried to touch it.
As the curtain came down for intermission at Compagnia Finzi Pasca's performance of Donka — A Letter to Chekhov at the National Theater on Saturday night, I felt like that — so totally transported into a world of beautiful illusion that it was almost as if the theater had been enchanted.
Company director Daniele Finzi Pasca wrote, directed and choreographed the show as well as doing the lighting design, while Maria Bonzanigo is credited as the composer, orchestrator, sound designer and choreographer and Antonio Vergamini is listed as "director of creation."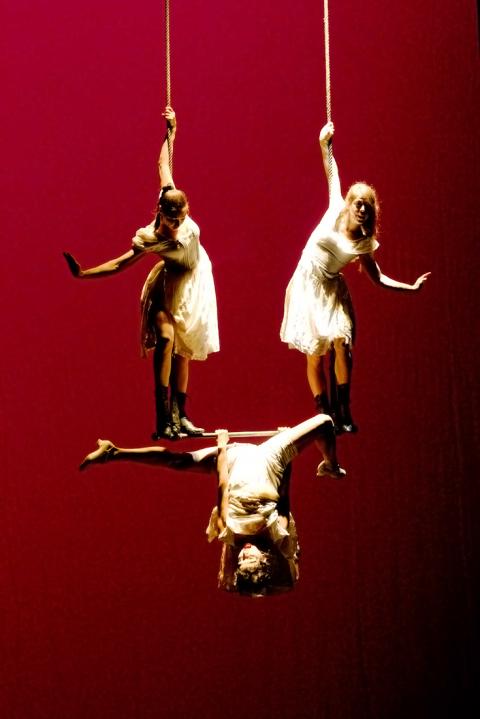 The Compagnia Finzi Pasca performed its magical Donka — A Letter to Chekhov last weekend at the National Theater in Taipei.
Photo Courtesy of National Theater Concert Hall
Donka is not a proper play. Although there is a lot of text, there is no real story and the scenes are basically individual set pieces. However, Russian author and playwright Anton Chekhov was a master of the short story, so it seems apt that a production centered on him is a collection of short spectacles.
Given Finzi Pasca's background in circuses, there is a circus-like feel to the show, with the clownish slapstick, a juggler and contortionists, a trapeze act and other aerial stunts designed to elicit oohs and aahs.
For example, there is a wonderful trapeze routine by Moira Albertalli, Helena Bittencourt and Catherine Girard that begins with them fussing and poking at each other like a trio of sisters, constantly shifting places, with several "almost falls" and hanging by their toes, while Andree-Anne Gingras-Roy plays an accordion below.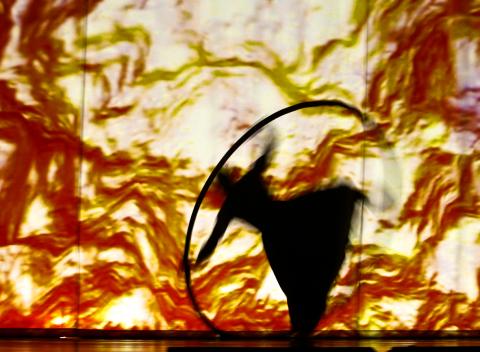 The Compagnia Finzi Pasca performed its magical Donka — A Letter to Chekhov last weekend at the National Theater in Taipei.
Photo Courtesy of National Theater Concert Hall
Ice and ice-skating play a key role in the first half. In one scene a woman in long black dress and long red scarf "skates" on a square, her dress and scarf rippling as she glides around before a silken curtain is lowered, blocking her from view. A man and woman come out in front of the curtain, their shoes encased in blocks of ice, and after a few slippery moves, find their balance and begin to skate.
The curtain is then raised to reveal a beautiful chandelier of crystal circles and a woman in a long white gown, a body harness underneath, and swings from side-to-side behind it. Juggler David Menes then appears, rolling a crystal ball along his arms and shoulders. He finishes by smashing the ball on the floor, revealing it to be made of ice.
One of the crystal circles on the chandelier drops and breaks — it too is made of ice — so the swinging woman starts removing more circles and throwing them to the floor. The others join in, pulling the chandelier apart. As the curtain came down the woman was still aloft and ice was everywhere. It was a stunning sight, a masterpiece of imagination.
In the second half of the show, there were more video and lighting projections and a man spinning in a cyr-wheel, but what I remembered most was some of the dialogue: "People don't understand what we are doing," "The soul is a beautiful sight, but it's not in a corpse," "Sometimes you are just there."
The show ends by bookending life — a scene of a woman giving birth, followed by the death of a man. The performers showed us all they had to give. Like life, the images were but momentary illusions and in the end there was darkness and a curtain fall.
It would be nice to credit all of the performers, but not only is there not space in this review, the program does not name them all. Nine men and women were the main cast, and two more men came out for the curtain calls, but the program lists just 10 names. So a massive round of applause for: Albertalli, Bittencourt, Girard, Gingras-Roy, Menes, Salas, Sayad, Tarquini as well as Jean-Philippe Cuerrier and Annie-Kim Dery. Whoever the mystery man is, thank you as well.
Donka was one of the best productions — theater, dance or opera — that I have ever seen.
Comments will be moderated. Keep comments relevant to the article. Remarks containing abusive and obscene language, personal attacks of any kind or promotion will be removed and the user banned. Final decision will be at the discretion of the Taipei Times.