The sound of kings
East meets West in Chinese music
The bianzhong (編鐘) is an ancient Chinese musical instrument consisting of 65 chime bells. Because it was only used for performances at the imperial court, it came to be known as the "instrument of kings" (王者之器).
The National Chinese Orchestra Taiwan (NCO, 台灣國樂團) has teamed up with the China's Chinese Chime Bells Orchestra of Hubei (中國湖北編鐘國樂團) for When Bianzhong meets Organ (當編鐘遇上管風琴), a concert at the National Concert Hall (國家音樂廳) that brings together the melodies of the bianzhong with what Wolfgang Amadeus Mozart considered to be the king of musical instruments: the organ.
Conductor Yan Huichang (閻惠昌) who last year took over as NCO's principal guest conductor, devised the repertoire to showcase original combinations between the two majestic instruments, and between early and modern Chinese musical instruments.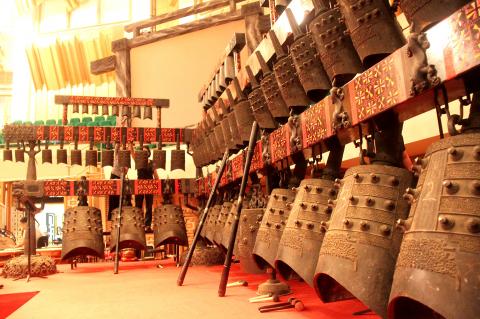 Each bell of bianzhong produces two different musical tones, depending on where it is struck.
Photo courtesy of NTCH
GOING THROUGH TIME
The bianzhong used by the Hubei orchestra is a replica of a full set discovered in a state of near perfect preservation in the royal tomb of Marquis Yi of Zeng (曾侯乙), dating to the Warring States period, in present day Hubei Province. The 1978 excavation was important because it provided archeologists with a clearer understanding of ancient court musical practices.
Each bell produced two different musical notes, of a slightly different musical scale to Western music, depending on where they were struck. The twin-tone capability allows it to complete a 12-tone scale, Yan said.
The National Chinese Orchestra Taiwan, pictured, will perform on Feb . 28 with China's Chinese Chime Bells Orchestra of Hubei.
Photo courtesy of NTCH
Yan said that the pitch of the replica bianzhong is slightly different because it has been tuned in a way suited to contemporary musical instruments and orchestral performances.
The bells are typically arranged on three wooden frames according to their pitches, which requires a meticulous process of assembling and dismantling.
The replica includes 65 bronze chime bells and weighs over six tons.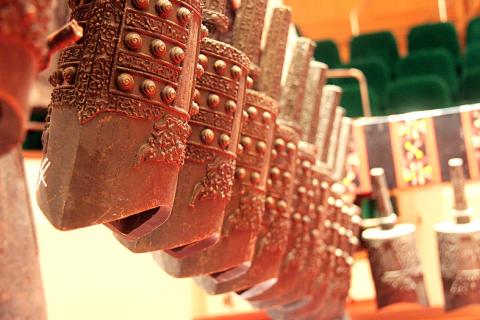 A complete set of bianzhong, an ancient Chinese musical instrument featuring 65 chime bells.
Photo courtesy of NTCH
"It takes 15 to 20 trained people two hours to install the bells," Yan said.
Wang I-yu (王乙聿) will perform Majestic Demeanor (王者之聲), a new piece he wrote for pipe organ.
"On the one hand, Wang's work delivers a robust contrast between bianzhong and organ; yet at some points, the two complement each other in harmony," Yan said.
In addition to Wang's work, the concert will stage five other compositions, such as German composer Robert Zollitsch's Resounding Chimes. Zollitsch, who goes by the name Lao Luo (老鑼), visited the Hubei museum to study the timbre and performing techniques of the chime bells first hand.
"Lao Luo's piece employs nearly all 65 chime bells, which needs 13 performers to play. The extensive use of the bells brings bianzhong music to another level," Yan said.
When Bianzhong meets Organ is a part of the Taiwan International Festival of Arts (台灣國際藝術節), which began earlier this month.
Publication Notes
Comments will be moderated. Keep comments relevant to the article. Remarks containing abusive and obscene language, personal attacks of any kind or promotion will be removed and the user banned. Final decision will be at the discretion of the Taipei Times.