It's educational
The Red Light Secrets Museum of Prostitution offers the curious a sanitized glimpse into Amsterdam's most notorious attraction
Amsterdam's red-light district opened its first "prostitution museum" on Thursday, hoping to lure tourists who always wondered what life was like for those on the other side of the infamous glass windows — but were too afraid to ask.
"How do they live? What happens in their world?" said Melcher de Wind, a founder of the Red Light Secrets Museum of Prostitution which showcases one of the Dutch capital's most famous attractions.
"I have always wondered what really happens behind those neighborhood windows."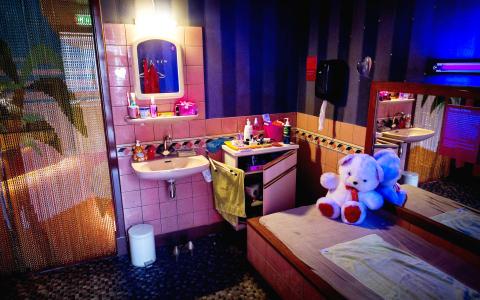 A view of a bedroom in a brothel at Red Light Secrets, the first Museum of Prostitution in Amsterdam, The Netherlands, last month. The museum, at the Amsterdam Red Light District, introduces visitors to the world of the Dutch prostitutes.
Photo: EPA
Nestled between two famous brothels overlooking a canal, the new attraction seeks to offer something different to nearby museums on the subject such as the Sex Museum or the Museum of Eroticism.
"The other museums focus on sex and sexual performance. The new museum gives you a glimpse into the world of sex workers — what it feels like to stand behind a window and the looks you get," explained Yolanda van Doeveren, who deals with prostitution for the Amsterdam municipality.
"Maybe tourists will get a chance to change their behavior and show a little more respect," she added.
Inside the small museum, a large television screen shows a woman performing a strip-tease. Visitors are then shown a film about the other side of prostitution — women with families living everyday lives.
There are exhibits showing how both fashions and attitudes towards the world's oldest profession have changed over the centuries.
Visitors are shown a display of the tools of the trade — condoms, lubricants and sex toys — based on the experiences of former prostitute Ilonka Stakelborough who advised the museum.
Prostitution in the Netherlands was legalized in 2000 and there are now around 7,000 people working in the industry in Amsterdam.
Around three-quarters of the women come from low-income countries, mainly from Eastern Europe, according to Amsterdam municipality figures.
They pay the equivalent of US$202 to hire one of Amsterdam's 409 "frames," which comes with a chair in front and a bed at the back.
Many women work 11 hours a day, six days a week with a visit to a prostitute lasting around 10 minutes.
The museum depicts BDSM (bondage, domination, sado-masochism) practices, and also features a "luxury" room with mirrored ceilings, a bed lit from below, and a bathtub next to an open bottle of champagne.
By way of contrast, there is a small room with barely space for a single bed that was used by a Polish prostitute when she was not with clients.
"We want to show all aspects of prostitution," Stakelborough told AFP.
"Yes, there are women who are victims of human trafficking, but prostitution is mostly a career many women volunteer for."
Comments will be moderated. Keep comments relevant to the article. Remarks containing abusive and obscene language, personal attacks of any kind or promotion will be removed and the user banned. Final decision will be at the discretion of the Taipei Times.