Just beat it
The iOFloat ensemble will present a series of percussion experiments in 'PercDuction"
The members of percussion ensemble iOFloat (出入游樂) see musical instruments as tools to make a statement. In their new work PercDuction (擊製) — a portmanteau of percussion and production — each of the three classically-trained musicians — Liao Hai-ting (廖海婷), Liao Wei-hsu (廖韋旭) and Hung Yu-wen (洪于雯) — has something to say.
PercDuction features three experimental percussion performances. Liao Hai-ting's Lost in Translation reflects on how social media has altered interpersonal communication. Liao Wei-hsu's One But One, Good One presents the diversity of percussion music. Hung's Monodrama (獨白) showcases music about life, death and the self.
"We don't have a central theme connecting the three performances, but we do have a common language — percussion music," Liao Wei-hsu told the Taipei Times.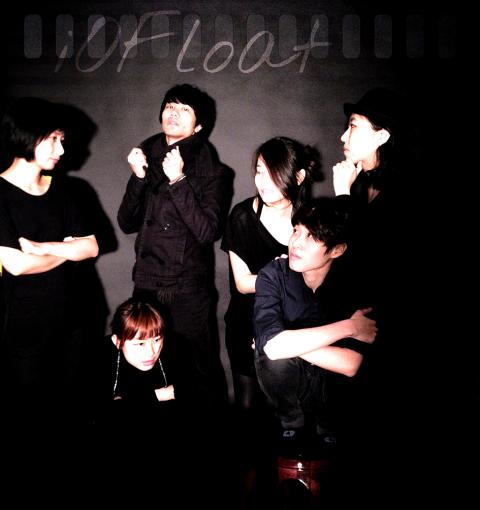 iOFloat presents three new works in PercDuction.
Photo courtesy of iOFloat
LIFE ON THE SCREEN
Liao Hai-ting works with director Yulia Chen (陳侑汝) and actress Chung Shih-min (鐘詩敏) to construct a scenario where Chung knows Liao only through her Facebook account.
"Nowadays, people observe other people's lives through social networking. You probably know a lot about someone you don't say hello to in real life. In this sense, do you actually know this person or not? " Liao Hai-ting said.
Lost in Translation features songs by Pierre Jodlowski (Time and Money) and Edmund Campion (Losing Touch), and presents electronic music by Liao, who will play the vibraphone and drums live. The audience will also hear sounds from malletKAT, a percussion controller with trigger pads laid out like a conventional marimba.
"I want to disorient the audience's auditory senses and lead them into a virtual reality we create," said Liao, who will also "force" the audience to participate in the show in ways she prefers to remain a secret until opening night.
"The audience is a part of my show. They won't just sit there and watch," she added.
MULTIFACETED PERCUSSIONIST
In One But One, Good One, Liao Wei-hsu combines various musical compositions, including Astor Piazzolla's Libertango, Thierry de Mey's Table Music and Yngwie Malmsteen's Far Beyond the Sun, but alters the original instrumental arrangements with help from guitarist Eric Hsu (徐研培) and bass player Billy Fu (傅家煌). For example, Liao uses a xylophone to interpret Piazzolla's Libertango.
"Percussion instruments add dimension to a song, which is usually presented with piano, accordion and cello," she said, adding "most percussionists would probably choose drums to show the rhythmic variation of tango music, but I deliberately avoid using them. It would have been too predictable."
Liao encourages the audience to rely on their own senses to "feel" the music, rather than relying on the information in the program book.
"In most concerts, you get an introduction on the repertoire, composer's biography and sometimes why they wrote the song. I exclude all those details on purpose, because too much information will limit one's imagination," Liao said.
DIALOGUE WITH ONESELF
Hung's Monodrama (獨白) features Peter Eotvos' New Psalm, (in memoriam Frank Zappa), Kaija Saariaho's Six Japanese Gardens and Bruno Mantovani's Moi, jeu, a marimba solo.
Hung said New Psalm, (in memoriam Frank Zappa), an elegy for late American musician Frank Zappa, alters how percussion instruments are generally played, as well as requiring the percussionist to perform ritualistic acts.
"For example, the metal tubes of chimes are separated and rearranged, and I use vibraphone mallets to play the drum," Hung said.
"I will wear sharp finger nails and scratch the drum skin with 'Zappa' written on it," she added.
With Six Japanese Gardens, a six-part composition written in memory of late Japanese composer Toru Takemitsu, Hung will move between temple blocks, a wooden drum and a stone she found in an aquarium shop.
"I have a vibraphone placed behind a veil, and a few helpers will make echoes following my tempo at certain points. But mostly I play solo on stage," Hung said.
Publication Notes
Performance note:
What: PercDuction (擊製)
When: Today at 7:30pm for Lost in Translation, tomorrow at 7:30pm for One But One, Good One and Sunday at 2:30pm for Monodrama
Where: Experimental Theater (國家劇院實驗劇場), 21-1 Zhongshan S Rd, Taipei City (台北市中山南路21-1號)
Admission: NT$500, available at NTCH box offices and online at www.artsticket.com.tw
Comments will be moderated. Keep comments relevant to the article. Remarks containing abusive and obscene language, personal attacks of any kind or promotion will be removed and the user banned. Final decision will be at the discretion of the Taipei Times.