On the ball
The baseball movie 'Kano,' set to be released at the end of next month, has fueled debate over Japan's place in Taiwan's history, culture and identity
Baseball has long been a sport that has united fans and players alike, much as it did in 1931 when all of Taiwan rallied behind a scrappy high school baseball team that nearly defeated its Japanese opponent during a prestigious championship series in Japan. Producer Wei Te-sheng (魏德聖) and director Umin Boya capture these heady times in their new film Kano, scheduled for release on Feb. 28, which explores how Taiwanese challenged their colonizer in the one venue where they were equals — the baseball field.
But Kano has also fueled a somewhat edgy debate over Taiwan's colonial roots, a debate playing out not just in academic circles, but also in the comment section on the YouTube page of Kano's trailer, as Taiwanese weigh in on the role Japan played in developing and shaping their culture, history and identity.
"Our education has created a huge conflict in how we identify ourselves," Wei explained in a telephone interview. "When Japan ruled Taiwan, they made us identify with Japan. When the Nationalists controlled Taiwan, they made us identify with China … Why can't we ever decide for ourselves who we are? This is how Taiwanese feel deep down inside."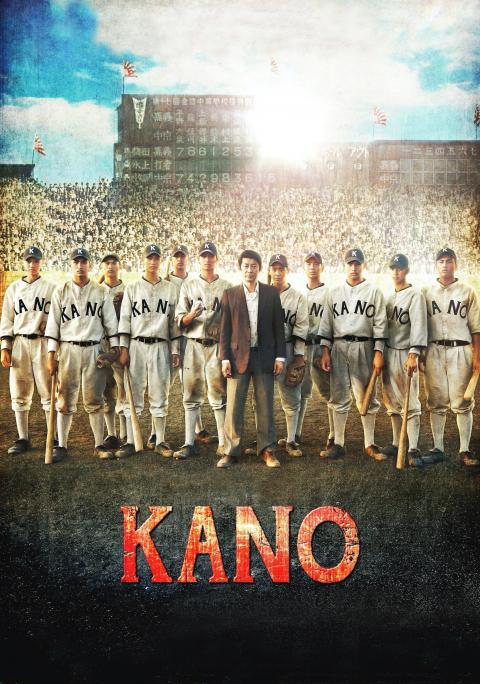 Kano tells the story of a high school baseball team from Taiwan that nearly won a prestigious championship series in Japan in 1931.
Photo: Wang Wen-lin, Taipei Times
Once regarded as a footnote in Taiwan's storied past, Japan's half-century of colonial rule has provided the backdrop and substance for Wei's three feature films: Cape No. 7 (海角七號, 2008), a romance-comedy and second highest-grossing Taiwanese box-office hit; Warriors of the Rainbow: Seediq Bale (賽德克.巴萊, 2011), the Oscar-nominated epic that recounts the 1930 Wushe Incident (霧社事件) when nearly a thousand Aborigines were killed by Japanese troops; and now, Kano.
TAIWANESE IDENTITY
Japanese for Jianong (嘉農), the nickname of the Chiayi school baseball team, Kano tells the improbable story of a group of Japanese, Taiwanese and Aboriginal ballplayers who banded together to fight valiantly to earn second-place honors in Japan's national high school baseball championship, held annually at Hanshin Koshien Stadium in Hanshin, Japan since 1924. It also speaks to what Wei says is the essence of Taiwan's identity.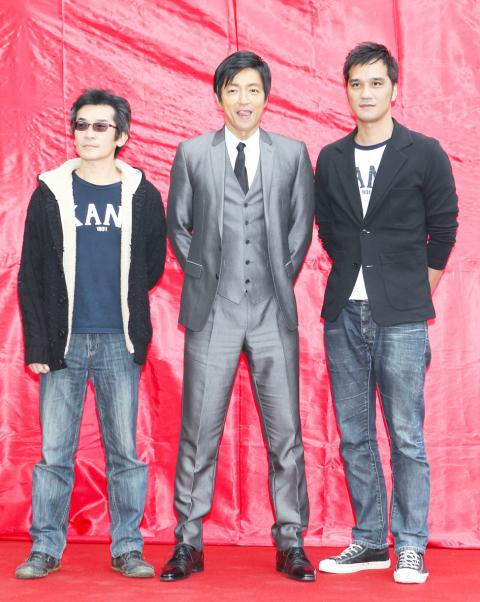 From left: Kano producer Wei Te-sheng, director Umin Boya and actor Ma Chih-hsiang pose at Huashan 1914 Creative Park on Jan. 18.
Photo: Wang Wen-lin, Taipei Times
"Internationally, Taiwan is weak," Wei explained. "We know that. But being able to survive until now and not being uprooted shows that we are also strong-willed. We may never be number one in the world, but we don't want to give up and be last either. We strive to better ourselves, not to be better than everyone else."
Taiwan, which was briefly part of the Qing Empire, became Japan's first overseas colony in 1895, following China's defeat in the First Sino-Japanese War. Emulating western imperial powers like Great Britain and France, Japan further extended its colonial reach into Korea, Manchuria, China and parts of South East Asia, where it improved infrastructure and launched a campaign to assimilate colonial subjects into the empire. For Taiwan, that meant learning to play baseball.
"Japanese imperialism was a kind of hybrid multi-layered imperialism also shaped by the Japanese experience of western imperialism," explained Japan historian and Columbia University professor Kim Brandt.
"Baseball was a really good example because it was introduced into Japan by Americans in the 1870s. This was only a few years after Japan had been subject to American informal imperialism, when they said, we are going to teach these not entirely modern people how to become healthy, civilized and gentlemanly, and introduce them to fair play. That experience, then, is reproduced in Japanese interactions with its own colonized population."
BUDDING SPORT
In Kano, Wei and Boya focus on the buds of Taiwan's baseball culture that began to flower between 1930 and 1931. During this both tragic and magical time, when Japanese troops slaughtered nearly a thousand Seediq Aborigines who earlier staged an uprising against imperial authorities, Kano went on to garner the respect of some 55,000 Japanese fans who attended the Koshien championship and found themselves cheering for a colonial team whose near victory against Japan also served as a metaphor for the struggles between colony and colonizer.
"What something like this suggests to me is a wish on the part of Taiwanese to assert themselves to compete with and against the oppressive colonizer," Brandt explained, "but also a longing and a desire for acceptance and an aspirational impulse for admiration."
Following the release of Cape No. 7 in 2008, 44-year-old Wei, who studied engineering in college, became a celebrated household name, and the commercial success of his films both in Taiwan and abroad have helped breathe life into Taiwan's insipid film industry. Wei's mission to bring a once-taboo topic like Japanese rule — long excluded from government-approved textbooks used in Taiwan's schools — onto the big screen has also helped open up a space for everyday Taiwanese to discuss and learn about their country's history and culture.
"In our textbooks, we often read about the history of China," said Boya, an Aborigine who starred in Wei's Warriors of the Rainbow: Seediq Bale and is now making his directorial debut with Kano. "But then there is just a small amount of history about Taiwan, and within that, there is virtually nothing about Aborigines. Whatever there is is just beautified."
NETIZENS WEIGH IN
Outside of academia and the mainstream Taiwanese media, the debate over Taiwan's history, which includes a brief period of Dutch and Spanish rule during the 17th century, has also found a home on the Internet. As of January, more than 300 comments, mostly in Chinese, with some in Japanese and in English, were posted on a YouTube page featuring Kano's film trailer, uploaded by ARS Film Production and viewed more than a quarter of a million times. Many commenters praised Kano, saying they cannot wait until it opens in theaters. But others have seized on the film as an opportunity to opine, sometimes acerbically, on Taiwan's history during Japanese rule and beyond.
In one post, a commenter called Chen Li argues that Taiwan's past textbooks have exaggerated the number of Taiwanese "slaughtered" by Japanese. Chen also enumerates a number of contributions Japan made to Taiwan's infrastructure between 1895 and the end of World War II, including connecting the nation by railroad and modernizing the courts.
"As a Taiwanese," Chen writes in Chinese, "you have an obligation to know about Taiwan under Japanese colonial rule. History textbooks do not dare to tell Taiwanese the truth…"
Replying to Chen, a commenter called "Sowhatup" writes in Chinese, "You've said a lot. In [1949] the Chinese Nationalist Party was like a small dog running away with its tail between its legs, to come occupy Taiwan and institute martial law … Taiwan was liberated in 1945? Yeah, right! 1945 was the year Taiwan's tragedy began …"
Legal scholar, historian and National Taiwan University professor Wang Tay-Sheng (王泰升), who has written several books about legal reform under Japanese colonial rule, said he thinks this kind of discussion, while sometimes caustic in tone, is still useful for Taiwan.
"I studied law for seven years in Taiwan and never knew that it was Japan that introduced modern law to Taiwan," Wang said. "I've never met Wei, but what he has done with his films is to get Taiwan talking about the things we've never learned. And that's good."
Still, some YouTube commenters said they would prefer to watch Kano without delving into the muddy issues of politics and history.
"A movie is a movie," writes a person in Chinese called Chia Wei Shu. "Must we speak [so seriously about] history from our past?"
None of this surprises Wei who said that since making Cape No. 7, he has grown accustomed to the colorful Web commentary directed toward the subject matter of his films.
"In one respect, it's good that people are starting to talk about the problems that have bothered us for a long time," Wei said. "But can we do it rationally?"
Kano, which is currently in postproduction, is scheduled to open in Taiwan at the end of next month, and later in Japan and the US, Wei said. But owing to government censorship, he added, it was unclear whether Kano would make it to theaters in China not only because of the subject matter but also since much of the film's dialogue is in Japanese.
Wei, who maintains his films do not promote a particular political point of view, added that he hopes they do help Taiwanese resolve some of the inherent "contradictions" present in their history and in their own identity.
"What Taiwan needs most right now is the strength of reconciliation, not a debate about who we should love and who we should hate," Wei said.
"We've already had this kind of conflict for way too long. With three films about Japanese colonial rule that tell stories from three different perspectives, one big objective is not to reconcile with Japan. It is to reconcile our own history with ourselves."
Comments will be moderated. Keep comments relevant to the article. Remarks containing abusive and obscene language, personal attacks of any kind or promotion will be removed and the user banned. Final decision will be at the discretion of the Taipei Times.