Down to earth
While apprenticing in the studio of master sculptor Hsieh Tung-liang (謝棟樑), a Buddhist approached Li Chen (李真) and requested him to make a small statue for his shrine. Though trained by Hsieh in the Western tradition of figurative sculpture, Li, having had a life-long fascination with and belief in Buddhism, accepted the commission. Five years later, having taught himself the finer aspects of Buddhist statuary, its iconography and symbolism, he completed his first icon, Water-Moon Avalokitesvara. Rapidly developing a reputation as a master craftsman capable of forging many styles — one art critic later wrote that he could have made a lucrative career making Buddhist statues for temples — Li made a creative leap, evolving a style that combined the spirit of Buddhism with sculptural elements culled from European classicism and prehistoric Oceanic forms. As the current exhibition at the Asia Art Center II reveals, Li has recently made another creative leap, evolving a style out of materials that are more prosaic. And it works.
Chineseness — A documentary exhibition on Li Chen (華人藝術紀 — 李真文獻展) provides clues to the early shift from a crafter of religious iconography to a highly unique artist employing a sculptural language very much his own. The retrospective features recent clay, wood, stainless steel and bronze sculptures in dialogue with studies, notebooks and other ephemera dating back to the mid-1990s, when his career as an artist began in earnest. The gallery, in collaboration with the artist, has done a fine job of describing this evolution from the spiritually transcendent to the earthly mundane.
The objects under glass to the left of the gallery's entrance are an ideal place to begin as they articulate Li's working method. One case shows the tools of his craft; another displays figurative drawings of humans and deities that clearly show him to be a capable draughtsman. Sketches in another part serve as templates for large-scale sculptures, which are shown in both a documentary video and photos hanging throughout the gallery space. A third vitrine shows stone Buddha heads rendered in Li's unique fulsome style. They remind the viewer that there was a huge leap from Buddhist-inspired imagery to the later works displayed throughout the gallery's first and second-floor space.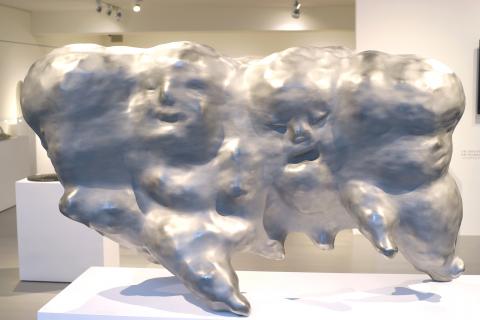 Photo: Noah Buchan, Taipei Times
Though Li's large-scale sculptures are not displayed, the photographs depict these larger works, and create a dialogue between the early Buddhist sculptures and his later monumental works fashioned at the turn of the century. The transition from the overtly religious to a more spiritual levity involved a process of removal and addition: the hand gestures, clothing, sitting positions and viewpoints that are hallmarks of traditional Buddhist statuary are de-emphasized and replaced with a robust monumentality of soft and round lines, and polished surfaces.
Those who have seen his work exhibited in Paris last year or the plaza at Liberty Square in 2011 will know that his sculptures can rise several meters off the ground, forcing the viewer to look skyward. They seem meant to inspire awe in the viewer. With the sculptures displayed here, taken from three ongoing series — Ordinary People (凡夫), The Immortality of Fate: Living Soul (生靈) and Spiritual Journey Through the Great Ether (大氣神遊) — we are looking downwards. Li's concerns have become more human-centered.
The sculptures included in Spiritual Journey, with their polished, charcoal black figures, childlike in appearance, ballooned in form, touched here and there with either gold, silver and red, resemble the large religiously-inspired sculptures they closely resemble. These are mirthful works, celebrations of human life and the possibility of achieving transcendence.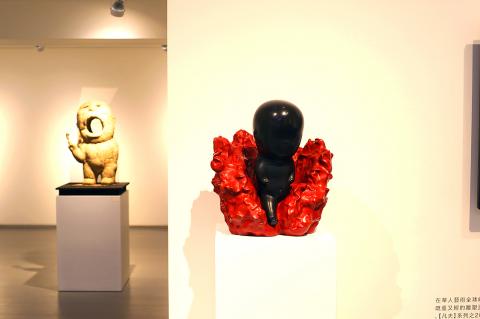 Photo: Noah Buchan, Taipei Times
The figures contained in the Ordinary Peoples series, located at the back of the gallery's first floor, are made from made from ochre-colored clay and mud that have dried and cracked. They are grotesques that seem frail, ready to crumble and return to the earth.
Human frailty is further underscored in Immortality of Fate: Living Soul series, located on the gallery's second floor, where wood serves as the primary material. Figuration remains, but the manner in which the wood is pieced together and scorched with fire borders on the abstract. One figure hangs from what looks like a noose; another shows two figures wrestling. This isn't the best of all worlds, one thinks.
Though limited in size, this exhibition provides a clear narrative of Li's recent oeuvre, while the drawings provide a greater context to understand the artist's development from a craftsman influenced by religious iconography to a more mature use of materials that introduces a human element not before seen. Looking at these figures is truly a great way to begin the New Year, regardless of your spiritual pretensions.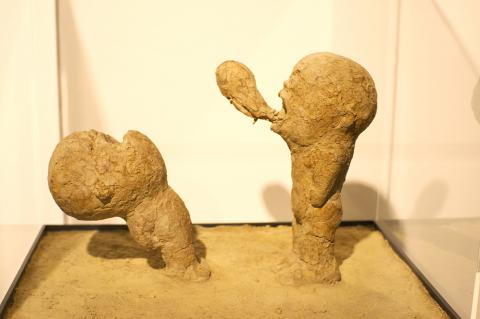 Photo: Noah Buchan, Taipei Times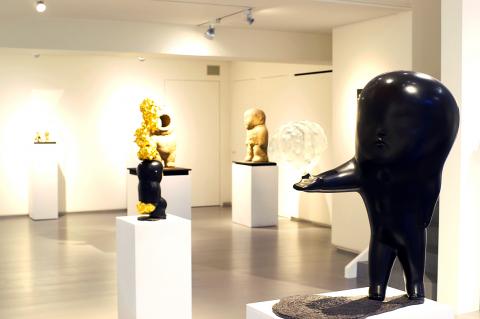 Photo: Noah Buchan, Taipei Times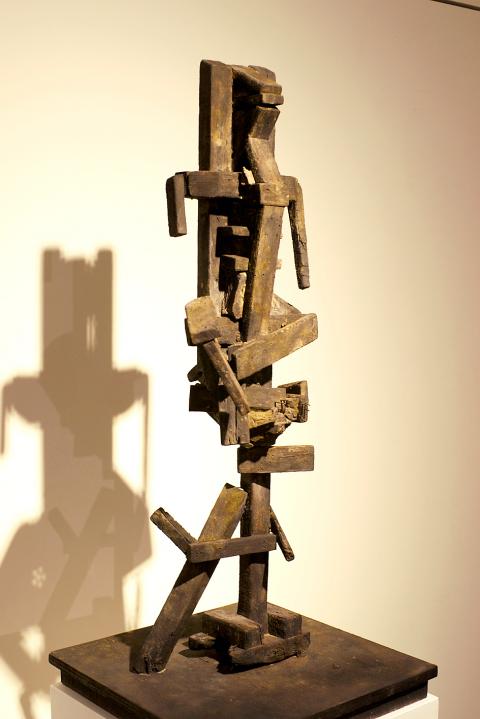 Photo: Noah Buchan, Taipei Times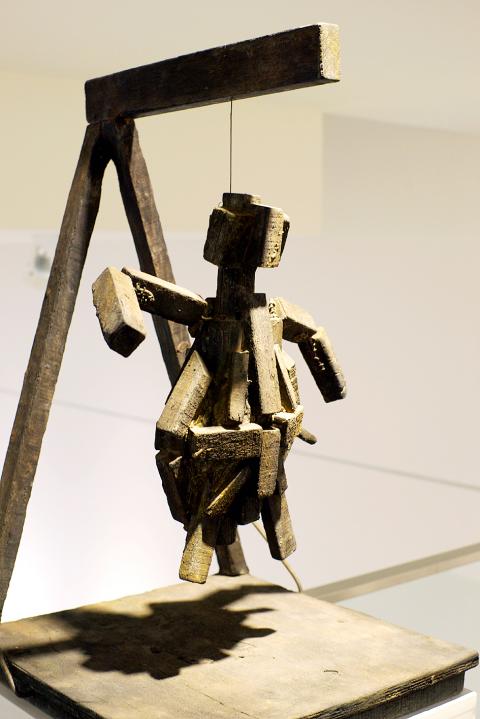 Photo: Noah Buchan, Taipei Times
Comments will be moderated. Keep comments relevant to the article. Remarks containing abusive and obscene language, personal attacks of any kind or promotion will be removed and the user banned. Final decision will be at the discretion of the Taipei Times.