Live Wire: Go Chic and the album that took forever
Go Chic's new album, We Ain't Home, was mastered and completed almost two years ago, but was only released yesterday in Taiwan and two weeks ago on Dec. 11 in Japan.
At first, the album seemed like a dream come true. It started out as an invitation from Peaches, the foulmouthed Canadian electronic musician and performance artist, who got hooked up with Go Chic at a 2010 gig in Taipei. Go Chic was the opening band, and, says vocalist Ariel Zheng (鄭思齊), "We ended up hanging out with her the whole next day. At the end of it, she said if we ever went to Europe, she would hook us up with a gig in Berlin."
That first Berlin gig happened a few months later, when Go Chic embarked on a tour through Spain and was able to tack on a couple of dates in Germany. "After that show, Peaches said she wanted to produce our next album. First we thought she was just drunk," says Sonia Lai (賴思勻), the band's guitarist and beat-maker.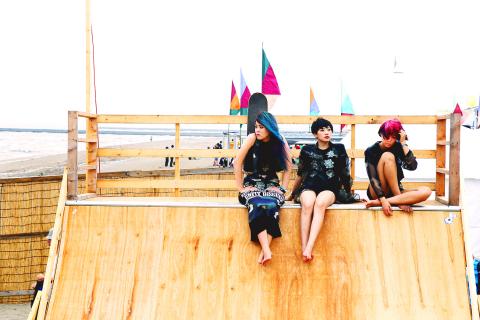 Go Chic performs on New Year's Eve at The Wall.
Photo courtesy of arrival Music
"After we left Berlin, we were really nervous about it, and we were asking each other, 'Should we email her?' And what should we say?'" Zheng remembers.
Go Chic was formed in 2007 by four girls from the same Taipei high school. Lai, Zheng and Sarah Wen (溫一珊) were all different years, but students at the same time. A fourth member, Yang Shu-fan (楊舒帆) was older, and has since left the band. They had no drummer.
The band was born more out of attitude than proven musical ability.
"I really liked Peaches and Chicks on Speed and wanted to start a band like that," says Wen, who had studied some piano, then learned guitar and then bass in the high school's rock 'n' roll club.
Lai's background was similar. "I studied piano from when I was little, but I never made it past the second book," she says. "Then in middle school, I started learning guitar from Da Ma (大麻), the guitarist in 1976." She is now Go Chic's primary beat-maker, and also DJs electro, dance rock, moombahton and other genres of air-horn party music as part of the duo Bounce Girlz.
Go Chic had a party edge from the very beginning. They started out playing sassy, irreverent gigs as teenagers, trying to mix riot grrrl punk and electronic dance music.
Zheng, the vocalist, grew up speaking only English at home with her parents, and wrote songs in English. In Taipei's open-minded scene, this was never questioned and has since given the band an international edge. On stage, she is brash and confrontational, often berating the audience, telling them they don't party hard enough, and calling out people for not dancing.
"When I go on stage, I have a different personality. It's a performance, so I know I have to perform," says Zheng, who takes her cues from singers like M.I.A., Azelea Banks, Kid Sister and Love Foxxx from CSS.
"In Taiwan," she adds, "I don't think enough other bands really realize this."
At present, the girls are in their mid-20s. They have two albums, have toured extensively in Europe and played major festivals including Fuji Rock, SXSW and Summer Sonic. They recently also played large events in Indonesia and Reunion Island, a French territory off the coast of Madagascar. Quite possibly, they are Taiwan's most travelled rock band to the West, though they have also played some big rock festivals in China. Last year, they were able to quit their day jobs after signing a contract with the Taiwanese label and management group Arrival Music (有凰音樂).
Much of this success has come since Peaches' invitation, which was indeed dead serious. After that first encounter, Go Chic was able to obtain a government subsidy from the Pop Music Flagship Project, which provides funds for recording and international touring by Taiwanese artists. They booked a month-long stay in Berlin for October 2011.
The recording took place at Studio Wong. ("I know, it sounds like it is Asian, but it is really not," interjects Zheng.) And band members rented an apartment from studio owner Olli Wong.
"Suddenly, we were encountering all these amazingly talented people," Zheng says. "And it was really different, because they were just so creative in so many ways. They all had their own studios. They all had amazing ideas, and we just realized that art can be normal. It can be a way of life."
Many of these talents were introduced by Peaches, who worked with the band almost daily in the studio. Peaches' bass player, Conner Rapp, recorded Zheng's vocal tracks. The day after a Berlin gig by Feist, the girls were able to jam with Feist drummer "Lucky Paul" Taylor. For studio production, there was considerable input from Berlin electronic producer Seriusmo, aka Moritz Friedrich. "We would just call him 'the doctor,'" Lai says. "He would listen to a song and tell us what was wrong with it." The final mix of We Ain't Home was done by Bert Libeert of the Belgian band Goose and the mastering by Jan Driver of Boys Noize Records.
"We learned so much, including that we were not as good as we thought we were," Lai says. "In a way it was quite difficult, encountering all those really talented people. On the first album, if I wanted to play something, I just played it. But with this one, I felt I had to improve a lot just to get up to the right level."
We Ain't Home was completed in January 2012. Now, almost two years later, it is finally seeing release. Why did it take so long?
"We thought it was really good. Peaches thought it was really good. But we weren't sure how to publish it. We didn't want to just release it and have it be a non-event," Zheng explains.
Peaches was shopping the album around, but she was also busy, and many of the European music industry people who heard it had no chance to see Go Chic perform, as the band was based in faraway Taiwan. Signing with Arrival Music enabled them to come up with a strategy that would hopefully create a bigger splash, Zheng says.
Go Chic plans to tour Japan and Taiwan in February. They will play songs from both albums as well as new, party-oriented material that is somewhere between a band set and a DJ set.
Go Chic's next gig in Taipei is New Year's Eve at The Wall, a showcase that runs from 8pm to 4am. The lineup includes Orange Grass (橙草), CHARLTON, Hong Shen- hao (洪申豪), BB虎, OVDS, Naja, Go Chic, 88 Balaz (88顆芭樂籽), Forests and Al Burro. The Wall is located at B1 200, Roosevelt Rd, Taipei (台北市羅斯福路四段200號B1). Tickets are NT$600 at the door or $500 in advance.
Comments will be moderated. Keep comments relevant to the article. Remarks containing abusive and obscene language, personal attacks of any kind or promotion will be removed and the user banned. Final decision will be at the discretion of the Taipei Times.