Restaurant review: De Angelos (天使野餐)
Tucked away in a quiet alley off Dunhua South Road (敦化南路), De Angelos feels like a neighborhood kitchen that cooks up healthy food your mother would approve of. The menu boasts fresh herbs, vegetables and seasonal ingredients that are seasoned simply. It steers away from the deep-fried foods said to be bad for the body, making the restaurant a draw to the nearby white-collar demographic that wants quick yet nutritious eats.
To avoid the weekday rush, my dining companions and I arrived at the establishment for a late brunch on a recent drizzling Sunday. Outside, there is a small, lush garden surrounding the patio seating area, which would have been a perfect spot on a sunny winter day. The predominately white interior walks a fine line between being outmoded and old-school romantic as abundant gypsum statues, flowery decorations and a fake fireplace embellish the space.
The middle-aged woman who served us on that day also doubled as the chef working at the open kitchen. She didn't seem to be in the mood to smile, but the service was friendly enough, and the atmosphere was casual and relaxing.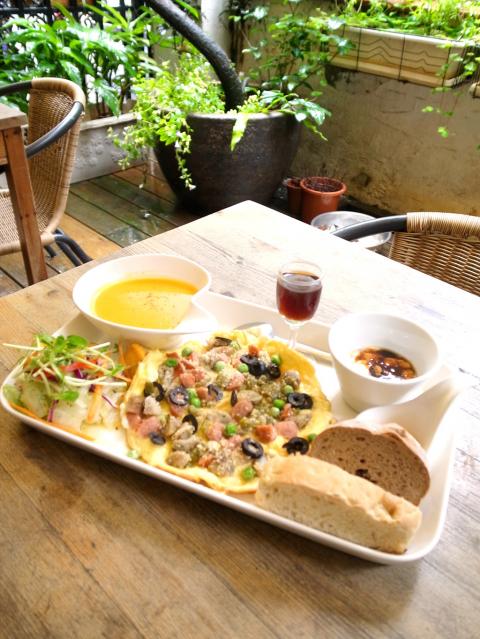 The Continental Omelet is a party on top.
Photo: Ho Yi, Taipei Times
De Angelos offers only three brunch options. The Angel's Classic (天使晨曦經典早午餐, NT$248) I had is composed of homemade yogurt, passion fruit jelly and jam, slices of orange, bread, pumpkin soup, salad, fruit vinegar, grilled king oyster mushroom and one of seven entrees. I picked the chicken with mustard served with vegetables (法式芥末鮮雞腿肉), which was delightfully perfumed with rosemary and other herbs.
For the French Way (法屬風情早午餐, NT$268), slices of baguette were heated and served with tender stewed pork and creamy basil sauce.
Fun to look at, the Continental Omelet (歐式土雞蛋煎餅早午餐, NT$248) features eggs with olives, mushrooms, green peas and sausage bits sprinkled on top, rather than folded up and hidden from sight.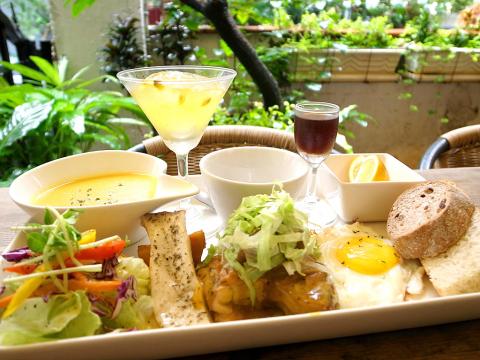 Angel's Classic comes with one of seven main courses.
Photo: Ho Yi, Taipei Times
Though not typical brunch items, this trio tasted less greasy and heavy and made for a good meal full of fiber and proteins. Diners can get an egg sunny side up for an extra NT$20, or a boiled sausage for NT$38.
Apart from the brunch menu available daily before 5pm, the establishment boasts a long list of lunch and dinner sets that range from your usual roasted pork ribs, pan-fried sirloin steak and chicken, to an innovative soybean milk hot pot with pumpkin and pork or mushrooms (南瓜豆漿鍋, NT$330). There is also a selection of pasta and gratin dishes including spaghetti with smoked salmon and cream sauce (煙燻鮭魚奶油白醬麵, NT$330) and spaghetti with tomato sauce, prawns and other assorted seafood (大虎蝦海鮮茄汁麵, NT$390).
Herbivores have much to choose from, too. Choices include baked rice with vegetables and cheese in cream sauce (法式焗烤野菜米飯, NT$295) and stewed vegetables with tomato sauce (普羅旺斯燉蔬菜, NT$310). Meanwhile, diners with a big appetite don't need to worry about leaving the restaurant on a half-empty stomach, as all De Angelos' sets come with appetizer, soup, salad, rice, fruit vinegar and dessert.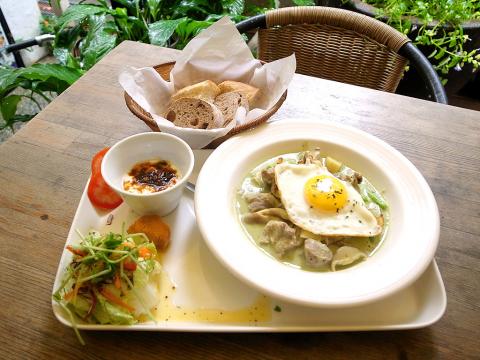 The French Way is tender pork served with baguette.
Photo: Ho Yi, Taipei Times
The verdict: De Angelos is a nice spot to visit when you happen to be in the neighborhood and looking for something that is less likely to pollute your body with MSG and God knows what else we put into our stomach these days.
Comments will be moderated. Keep comments relevant to the article. Remarks containing abusive and obscene language, personal attacks of any kind or promotion will be removed and the user banned. Final decision will be at the discretion of the Taipei Times.