The Vinyl Word
It was drum and bass specifically that lured me into the world of underground music when I was only 15, but it fizzled out of my life and that of many others as we grew older and developed new tastes based on the progression of, well, real life. We couldn't rave forever. The scene dipped for a while too. So I was surprised to see such a vivacious scene in Taipei when I moved here six years ago, and realized that among all the different genres of music I have been interested in since raving, it is only drum and bass that has stood the test of time. What I hear now is what I heard then. It's as old as it is fresh and still exudes the same beautiful nostalgia and romance that it did 15 years ago.
The one that's been doing all the romancing is classically-trained pianist cum drum and bass innovator LTJ Bukem (real name Danny Williamson). He's been passionately forerunning the worldwide drum and bass scene for the last twenty years with his timeless style of drum and bass, which has been oft-lauded as sophisticated and intelligent.
Bukem somewhat agrees with me with on calling the sound timeless. But he elaborates more saying that after having been making drum and bass music for twenty years, he feels that the longevity of it actually has something to do with the commercial success of the drum and bass and electronic music genre as a whole.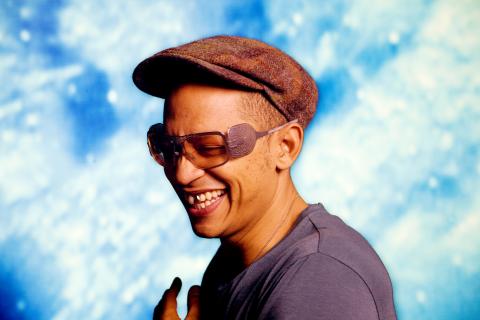 Prepare yourself for a drum and bass takeover tomorrow night at the Loft when LTJ Bukem touches down for his ninth show in Taipei.
Photo courtesy of LTJ Bukem
"A lot of commercial pop music artists have reached out for drum and bass remixes in the last few years so this has brought attention to the genre for sure," he said in an interview with the Taipei Times.
Except Bukem doesn't think that it was just drum and bass that dipped. He says all genres of music have had their ups and downs so to speak, moments of high popularity and vice versa. But even when drum and bass did go through its quiet time, Bukem was busy thinking into the future. What he did was make sure that his style was derived from many musical sources and styles, and that kept it timeless and attractive to all.
"I feel the timeless element with drum and bass comes from exactly that, liking so many different styles. I also think that people love the energy and groove and feeling within drum and bass, very addictive," said Bukem.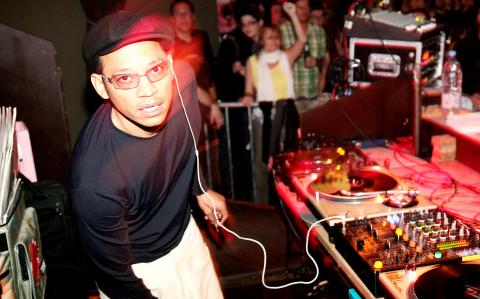 Prepare yourself for a drum and bass takeover tomorrow night at the Loft when LTJ Bukem touches down for his ninth show in Taipei.
Photo courtesy of LTJ Bukem
It also helps that he is from where drum and bass has the biggest stake to the claim, he says, where it began and where it will always be — the UK. And he's been immersed in the genre for so long that he reminisces to me about meeting friends in West London records shops go shopping for vinyl every day.
"I love the way we can all access music now, don't get me wrong, but I definitely miss [shopping for vinyl], plus getting that DAT (digital audio tape) from someone sitting at the dub plate cutting house for 6/7 hours and leaving with your dub plates for your weekend shows."
Another facet to the timelessness is what Bukem has been holding so preciously close to him, his longtime collaborator and emcee extraordinaire, MC Conrad (real name Conrad Thomspon). But fans in Taipei will have to unfortunately do without Bukem's beloved vocal counterpart this time around. On what is now Bukem's ninth tour to Taipei, he will be performing unaccompanied tomorrow night but he still encourages vocal fans to listen from a different perspective. Actually, he gets so many mixed requests that he has even begun releasing two series CDs, one vocal and one instrumental.
■ LTJ Bukem plays tomorrow from 10pm to 4am at the Loft above Luxy, 6F, 201, Zhongxiao E Rd Sec 4, Taipei City (台北市忠孝東路四段201號6樓). The elevators are located across from Luxy's main entrance. Admission is NT$600 before midnight with a drink, and NT$800 after, also with a drink. Drinks are NT$100 between 10pm and midnight.
Comments will be moderated. Keep comments relevant to the article. Remarks containing abusive and obscene language, personal attacks of any kind or promotion will be removed and the user banned. Final decision will be at the discretion of the Taipei Times.