Four fiddlers fiddling
In absence of a native Christmas tradition, the National Theater and Concert Hall (NTCH) routinely turns to imports for its yearly holiday concert, like Broadway actors for a muscular musical production in 2009. Last year, the Christmas Concert was an elaborate interpretation of carols through German-language a capella and a jazz band.
This year's act is another import, though one unusual in its simplicity.
JPP, the renamed Jarvelan Pikkupelimannit ("little folk musicians of Jarvela"), is a small homespun act from Finland. Four fiddlers, a harmonium player and a double bassist perform on a bare stage. They dress with no intent to impress, often in work shirts.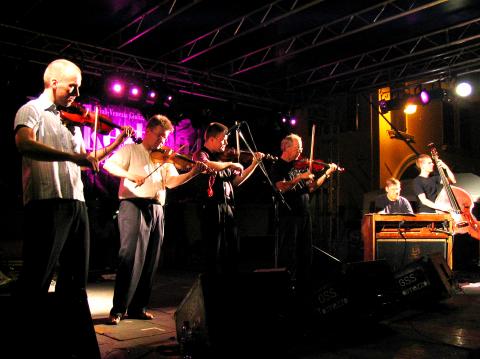 This year's NTCH Christmas show features plenty of fiddles.
Photo courtesy of NTCH
Even still, in their first visit to Taipei last year, the modest sextet played a sold-out house at the National Concert Hall, in a program meant to introduce a green audience to Finland's folk tradition.
"People loved them. We thought, 'So why not bring them back for Christmas,'" said Shih Shun-hsin (施舜馨) of the Chiang Kai-Shek Cultural Center (中正文化中心).
"After all, maybe Santa Claus is from Finland."
JPP hails from Kaustinen, one of the world's hotspots for fiddle music.
In 1982, third-generation fiddler Mauno Jarvela, nephews Jouni and Arto Jarvela and their friends formed a band that played at village gatherings. In a time when folk melodies were played as-is, Jarvelas and friends became quick hits for their harmonically exciting arrangements. They won the Finnish national championship for folk music that year, gaining a stature that they parlayed into a record deal and a gig in Sweden, their first overseas tour.
Today, they tour regularly across the world and have 10 albums to their credit. Mauno Jarvela also teaches traditional Finnish folk music to schoolchildren.
At the National Concert Hall, the Christmas program will feature a few novel arrangements of Finnish holiday music, such as Engel and On a Christmas Day, Shih said.
"It's European, not American, so it's not music that we hear often."
The rest of the night is best-of selections from JPP's 30-year history: classic waltzes, marches, polkas and more experimental hits from record albums.
The jazzy Hale-Bopp from String Tease (1998) is a driving melody by harmonium player Timo Alakotila and Mauno Jarvela that's elegant in its restraint and cold coordination.
Hokkanen Savusaunassa ("Hokkanen in the Smoke Sauna") from History (1999) is a sweet fiddle piece that swings gleefully off a straight-time thump on double bass by Antii Jarvela.
"It's joyful music reserved for special hometown events and fairs," Shih said.
"We wanted to show what Christmas might feel like in Finland."
Publication Notes
Performance notes:
WHAT: 2013 National Theater and Concert Hall Christmas Concert — A Cozy Christmas Eve
WHEN: Dec. 21 at 7:30pm
WHERE: National Concert Hall, 21-1 Zhongshan S Rd, Taipei City (台北市中山南路21-1號)
ADMISSION: NT$700 to NT$2,000; available at the NTCH box offices, online at
www.artsticket.com or 7-Eleven ibon kiosks
Comments will be moderated. Keep comments relevant to the article. Remarks containing abusive and obscene language, personal attacks of any kind or promotion will be removed and the user banned. Final decision will be at the discretion of the Taipei Times.