Art exhibition listings
Japan's Odani Motohiko is best known for sculptures of human mutants and hybrid creatures that are meant to elicit emotional pain in the viewer. At Circle of Disruption (中斷的圓環), he shows work in other media that aspires to do the same. Phantom Limb, a disquieting set of five photos, features a prepubescent girl with her hands marked by blood-red raspberries. Light of the Decade — Erasing Memories to Recall is a video installation that shows vinyl records across 20 monitors: Some are burning, while others release a howl of distorted music.
■ TKG+ Projects Taipei, B1, Ln 548, 15 Ruiguang Rd, Taipei City (台北市瑞光路548巷15號B1), tel: (02) 2659-0798, open Tuesdays to Fridays from 10am to 7pm, Saturdays and Sundays from 11am to 7pm
■ Opening reception tomorrow at 4:30pm. Until Jan. 26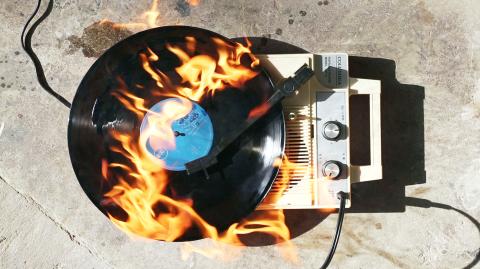 Odani Motohiko, Light of the Decade — Erasing Memories to Recall (2013).
The top prize in this year's TIVAC Young Photographer Award (攝影新人獎) went Li Hao (李浩), whose entry goes on view tomorrow with other winning works. Li's Le Mecanisme Repetitif (重複的機制) laments the tedium of modern life, using multiple exposure techniques to show how each day at a train station and hyper-mart is a near-duplicate of the last. Other TIVAC prizes went to Luo Zhao-heng (羅兆恆) for Sarinagara (然而然而) — a picture-story about a black beast — and Chiang Teng-Kai (蔣登凱), with his anthropomorphic portraits of exercise equipment in Household Affair (家庭緋聞).
■ Taiwan International Visual Arts Center (TIVAC — 台灣國際視覺藝術中心), 16, Alley 52, Ln 12, 16, Bade Rd Sec 3, Taipei City (台北市八德路三段12巷52弄16號), tel: (02) 2577-1781. Open Tuesdays to Sundays from 11:30am to 7pm
■ Opens tomorrow. Until Jan. 12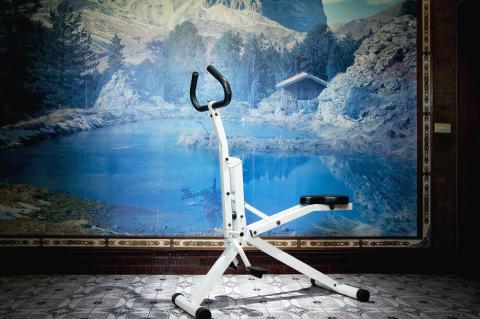 Chiang Teng-kai, Household Affair (2012).
Monet: Landscapes of Mind at the National Museum of History brings together personal items and 55 original works by the French Impressionist painter, including early caricature sketches and his famed Japanese Bridge landscape. Just outside the museum is a special gallery of "live" paintings, assembled by the Taipei Botanical Garden using fresh water lilies, irises and even a replica Japanese Bridge.
■ National Museum of History (國立歷史博物館), 49 Nanhai Rd, Taipei City (台北市南海路49號), tel: (02) 2361-0270. Open Tuesdays to Sundays from 10am to 6pm. General admission: NT$280
■ Until Feb. 16
Dress Rehearsal is a show of 16 oil paintings by Hong Kong artist Christopher Cheung (張漢明). He depicts rehearsing actors: nude figures, a bald woman and Caucasian men in Peking opera dress. Some are engrossed in a scene and others are bungling a line, preserved on canvas forever in an unguarded moment.
■ Main Trend Gallery (大趨勢畫廊), 209-1, Chengde Rd Sec 3, Taipei City (台北市承德路三段209-1號), tel: (02) 2587-3412. Open Tuesdays through Saturdays from 11am to 7pm
■ Opening reception tomorrow at 5pm. Until Dec. 28
Have a Meal with Father (與父親共餐) is a solo exhibition of video performance projects by Japan's Mariko Tomomasa. The titular video stars the artist and her father — not her own father, but different strangers invited to play the part at a sit-down meal. In filmic scenes, the pretend father and daughter struggle with their differences, even as they identify the language and behaviors that generate a family's quality of presence. Tomomasa is also showing Otousan Gokko, Lectures of Taiwanese Table Manners for the Daughter and Design Discussion of New Menu for Father and Daughter, related performance projects that were filmed during her artist's residency in Taipei.
■ Treasure Hill Artist Village (寶藏巖國際藝術), 49, Ln 230, Dingzhou Rd Sec 3, Taipei City (台北市汀州路三段230巷49號), tel: (02) 2364-5313. Open Tuesday to Sundays from 3pm to 6pm
■ Until Dec. 31
Comments will be moderated. Keep comments relevant to the article. Remarks containing abusive and obscene language, personal attacks of any kind or promotion will be removed and the user banned. Final decision will be at the discretion of the Taipei Times.