The dark side
The dark side of radio-friendly rock. Nearly every enduring rock band or solo artist that has ever conquered the airwaves has found a way to embrace both light and heavy subjects, the strong and the saccharine, to maintain their sense of reality and relevance. Linger too long on the lighter side, and a band could find itself dismissed as just another brainless pop act. Too dark, and kiss radio play goodbye. It's a fine line to walk, but it is possible. The Doors did it. Pixies and Placebo continue to do it. And in Taiwan, Mary See The Future (先知瑪莉) is doing it now.
Mary See The Future blends chart-ready melodies with riffs inspired by the likes of Brit Rock bands in the vein of Muse and Travis, melding them with homegrown influences such as Cheer Chen (陳綺貞) and Wu Bai (吳俊霖). The lyrics mostly come from main songwriter Josh Ba (巴思亮); words that run anywhere from hopeful to hopeless, forlorn to angry. Ba, the platinum-haired vocalist/guitarist, exudes the personality of the stereotypical introvert artist, by turns abrupt, acerbic and self-deprecating; a man who is more comfortable speaking through song. The other members of the band, bassist Fish Liu (劉永康), guitarist Roger Hsu (許克瑋) and drummer Eric Fang (方金昌), at times find themselves speaking on Ba's behalf.
"There are some thoughts that are hard to put in words, so he chooses to put them in songs," says Fang after one of many contemplative pauses throughout the interview.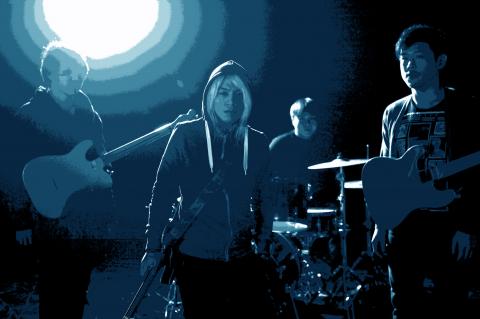 Mary See The Future walks the line between radio-ready pop rock and musical explorations of a more tortured sort.
Photo courtesy of Mary See the Future.
Mary See The Future, formed in 2007 by four classmates at Taipei National University of the Arts (國立臺北藝術大學), is releasing its second album today, My Fake True Love, the follow-up to 2011's Yes, I Am. That record saw the band nominated for Best Band at the Golden Melody Awards (金曲獎), and for Best Rock Album at the Golden Indie Music Awards (金音獎). When asked for a comment on these nominations, Ba at first deadpans that the nominations are "meaningless." Fang takes a more diplomatic approach, saying, "We appreciate the nomination, but it doesn't affect how we do our music."
Despite their domestic success, Mary See The Future has found it difficult to break into the European or American markets to this point, a struggle they discuss amongst themselves, wondering if their Mandarin lyrics play a role in the roadblocks they face in crossing over. They do have some songs with passages sung in English, and even entire songs in English, leading to a question about whether this is a conscious effort to appeal to foreign listeners. Not so, says Ba.
"For rhyming," he answers, explaining that sometimes he finds it easier to fit English words into his melodies. Ba often writes along with Liu, whom he has known since their high school days in Pingtung. Liu adds that they have made an effort to include more lyrics in Mandarin than in English. Any increase in popularity abroad due to the scattered use of the global lingua franca would just be an incidental bonus.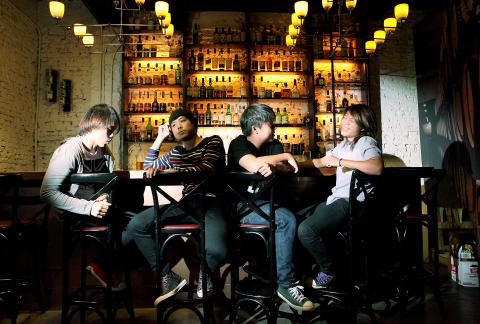 Dark Brit Rock-influenced band Mary See The Future brings a brooding and melancholy sound to The Wall tonight.
Photo courtesy of Yo Yang
Whether their long-term aspirations trend toward making a concerted push to spread their music farther afield or not, Mary See The Future has toured as far away as Liverpool, England, where they went as part of a showcase of Taiwanese bands, and are anxious to hit a few select markets in Asia in 2014. High-profile award nominations notwithstanding, touring is still mostly a self-funded venture for the band, so they have to pick their spots with an eye toward financial constraints. But this time around Mary See The Future has at least one big name in their corner, a man who knows a thing or two about breaking out beyond the borders of the Taiwan scene. That man is Matthew Tsai (蔡昇晏), or Masa -- bass player for the quintessential Taiwanese pop-rock band Mayday (五月天). Masa sat in as producer during the My Fake True Love sessions, an experience that varied depending on which member of Mary See The Future you talk to. Ba seemingly wasn't pleased with the level of effort Masa put in while they were in the studio. Fang jumps in to temper Ba's brutal honesty.
"It was a precious experience because we used to do our music all on our own, from composing to recording. This is the first time that someone actually gave us some advice or some thoughts."
So it would seem that the coming year will be a crucial one for Mary See The Future. They've got the attention of the crowd at home, and in terms of support in other locales they have drawn a favorable comparison to Radiohead from The Vaccines. Confidence should be at an all-time high, but confidence is not the stock-in-trade of a band such as this. It's that feeling of being perpetually ill-at-ease and stalked by darkness just out of view that fuels this band. That, above all, is what pushes their creativity and artistic expression, something they show no signs of letting go of.
"Even now," says Fang, "we are not as confident as people think."
■ Mary See The Future celebrates the release of their second full-length album, My Fake True Love, tonight at The Wall, B1, 200, Roosevelt Road Sec 4, Taipei City (台北市羅斯福路四段200號B1). Doors open at 7:30pm and the show gets underway at 8pm. Tickets are NT$500 in advance, NT$600 at the door.
Comments will be moderated. Keep comments relevant to the article. Remarks containing abusive and obscene language, personal attacks of any kind or promotion will be removed and the user banned. Final decision will be at the discretion of the Taipei Times.