Cashing in on adulterated oil
In the wake of Taiwan's cooking oil scandal, manufacturers are finding buyers for their recalled products
At a Wellcome (頂好) supermarket in Taipei's Donghu (東湖) area, it's business as usual. In the brightly lit aisles, shoppers pick up products and put them down, vacillating in a sea of abundance.
Even the oil aisle is looking largely unruffled. Problem brands — such as Wei Chuan (味全公司), Flavor Full (富味鄉), Chang Chi Foodstuff Factory Co (大統長基) and Formosa Oilseed Processing Co (福懋) — have been removed, but their shelf space is fully occupied by bottles of high-end, mostly imported oil.
"The recalled products are at the manufacturers'," said Eric Tsai (蔡宗樺) of Wellcome's marketing department.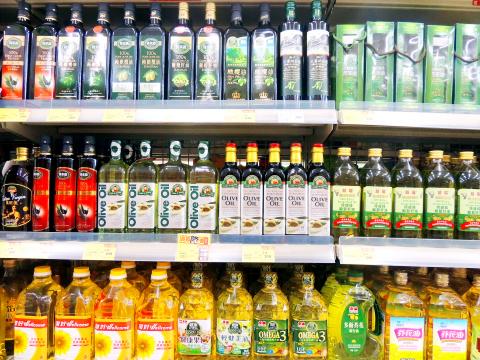 In this photo taken last week, adulterated cooking oil has been removed from the shelves of a Taipei supermarket and replaced with bottles of imported oil.
Photo: Enru Lin, Taipei Times
"I'm not sure how the manufacturer deals with it. I really do not know. I think the government will tell them to destroy it."
Tsai's not the only one who isn't clear about what's done with the adulterated food. In 2006, dioxin-laced duck eggs were smashed and the ducks were culled. In 2011, beverages with plasticizer were destroyed, the cost footed by manufacturers.
But in the wake of Taiwan's cooking oil scandal, some recalled products will enjoy a second life.
Flavor Full, forced to recall 800 tonnes of adulterated product, told the Taipei Times that all unopened goods will be reprocessed and sold to foreign manufacturers of edible goods.
Meanwhile, the smaller fraction of opened products will be sold to Taiwanese businesses that can convert the oil to inedible goods. Flavor Full chief marketing officer James Fang (方清輝) said the list of downstream buyers is pending, but that interested industries may be in "personal care products such as soap and oils for massage."
In Greater Taichung, Formosa Oilseed sold 41 tonnes of its recalled products to Taiwan NJC Corp (新日化), where it will be converted to biodiesel. According to Formosa Oilseed, they sold the cooking oil at NT$18 per kg, for a total of NT$738,000.
In Chiayi, Chang Chi has submitted a proposal to sell part of its recalled products to manufacturers of "biomass energy," most likely biodiesel, according to Changhua's public health bureau. Chang Chi has yet to declare a buyer for its 1,282 tonnes of product, but if Formosa Oilseed's returns are anything to go by, the company could recoup NT$23 million.
WHERE THE MONEY GOES
Government officials say recalled product and their sales income belong to the manufacturer.
According to Article 44 of the Act Governing Food Sanitation (食品衛生管理法), relevant authorities can choose to confiscate product if it contains toxic ingredients.
But in the case of Chang Chi, which was fined NT$1.85 billion (US$63 million) in part because it used the illegal coloring agent copper chlorophyllin in some products, the local public health bureau has chosen not to, the bureau confirmed on Friday.
"Execution of the law is at local discretion," said Chiang Yu-mei (姜郁美), deputy director-general of the central government's Food and Drug Administration (FDA,食藥署).
"If they feel that the company's penalties and losses are already great enough, they can allow the company to keep profit from recalled product. But they can order that somehow it must be returned to the consumer, for example in the form of rebates," Chiang said.
In the case of Formosa Oilseed, the recalled oil has not been confiscated because none contains a toxic ingredient, said the Greater Taichung public health bureau, which is handling the case.
"The NT$18 per kg is theirs," said a government official surnamed Lin who declined to give his full name. "Of the six products, not a single one is toxic. Ninety-nine percent of people think that it's toxic."
The products were labeled as 100 percent pure olive oil, when they had been adulterated with canola oil, a legal ingredient, Lin said.
As a result, Formosa Oilseed has been fined NT$12 million for six violations of adulteration and false labeling, plus NT$3 million for initially evading government examination and providing false information, for a total of NT$15 million.
"They haven't started paying, but will eventually start doing so in installments," Lin said.
BACK IN BUSINESS
At Flavor Full's main plant in Changhua, the refinery is getting ready to reprocess the unopened oil coming back from stores across Taiwan. The company has been fined NT$480 million for adulterating its product.
All unopened products will be reprocessed and then exported, said Betty Wang (王怡惠) of Flavor Full's production planning department.
Since 2011, the sesame-oil manufacturer has run a side business of refining cottonseed oil and shipping it overseas to about 20 countries including Singapore. It's a legal business: refined cottonseed oil is technically free of the toxin gossypol. But the company is now working against a blighted record of lying and evasion.
Prior to the escalating oil scandal, Flavor Full had officially maintained that all products containing cottonseed oil were sold exclusively to other countries. On Oct. 21, company president Chen Wen-nan (陳文南) had reiterated that all of Flavor Full's cooking oil products containing cottonseed oil were for export only. During questioning two days later, Chen admitted to prosecutors that products containing cottonseed oil were on shelves in Taiwan.
On Nov. 14, Flavor Full's Wang stressed to the Taipei Times the company is committed to keeping cottonseed oil from Taiwan shelves.
"All refining of [recalled] products containing cottonseed oil will be handled on a single production line to prevent traces from entering other oil products," Wang stated.
"The reprocessed product will be exported. The export volume, contracts, shipping documents, export declarations and other relevant information will be provided to the New Taipei City public health department for reference," Wang said.
WEAK OVERSIGHT
But in an unsettling echo of the past, neither the central nor local government is tracking Flavor Full's refining process or oil sale.
At the central government's FDA, Chiang stressed that execution of the law is at local discretion.
However, at the New Taipei City public health department, food safety division chief Lin Kuan-zhen (林冠蓁) said the resale of recalled oil to other countries is a "private commercial transaction" that's not within government purview.
"We will check the numbers on their export report when they tell us they are shipping," she said. "[But] it's not for us to set a timeline or to make requirements on who the buyers are," Lin said. "That's really not our concern. Our main concern is getting the product off the shelves."
Likewise, Taipei's public health department said it has been handling Wei Chuan's adulterated oil case and has focused efforts on pulling product. Government officials have not made requirements, including a deadline, for oil disposal.
In the case of Wei Chuan, recalled goods will be stored away for at least the next half year, long after the media spotlight has moved on.
At Wei Chuan's office in Taipei, spokesman Weng Chao-ren (翁趙仁) says that recalled products are stored in Pingtung County, where they were produced by Ting Hsin International Group (頂新國際集團).
"We will make no plans for returned products until after the refund deadline of May 31 of next year," Weng said.
BACK AT WELLCOME
In Taipei, consumers have mixed feelings about the resale of recalled food.
"Companies broke the law with those products, so why are they allowed to make money off them?" said Chen Ching-feng (陳慶峰), a security guard at an office building in Taipei. "The profit should go into the national coffers."
Back at Wellcome, Lin Tzu-ting (林慈婷) of the Taiwan Foundation for the Blind (愛盲基金會) is preparing the space for a lecture on safe oil products, as part of the grocery chain's public relations campaign after the scandal.
"Turning oil to soap, I can accept that," she said. "Though reselling oil as food to other countries is a little weird. That creates problems if you're not careful."
In the rice aisle, a housewife surnamed Chang agreed. "I don't mind that companies make money from that oil because it's part of a legal protocol," she said. "But I do hope the government can make sure that oil doesn't come back up here."
Comments will be moderated. Keep comments relevant to the article. Remarks containing abusive and obscene language, personal attacks of any kind or promotion will be removed and the user banned. Final decision will be at the discretion of the Taipei Times.