Film review: Chiu Hsiang
After a ten-year hiatus, director Wu Yi-feng returns with a documentary about physically-challenged missionaries
Chiu Hsiang (秋香) is a Yunlin native left paralyzed by polio contracted when she was three years old. Chuang Ju-ming (莊如明) is her husband, a Malaysian Chinese who spent most of his teenage years doing drugs, hanging out with gangsters and serving stints in jail. They meet Denny, a man whose limbs are severely deformed due to spinal injuries.
These are the protagonists of Chiu Hsiang (秋香), the latest work by documentary director Wu Yi-feng (吳乙峰), who vanished from public view at the height of his filmmaking career when he and his team completed Life (生命, 2004), a critically-acclaimed documentary about families dealing with loss after the devastating 921 Earthquake.
Nearly a decade later, the director has reemerged with a documentary that follows the journey of missionary couple Chiu Hsiang and Chuang in Taiwan and Malaysia.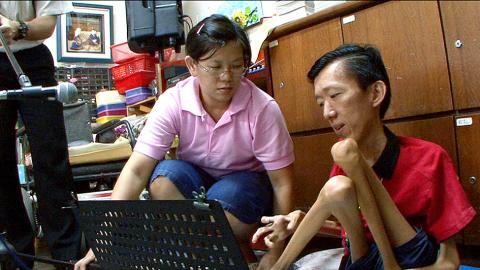 A screen shot from Life, Chiu Hsiang, the uplifting story of a man who overcomes physical challenges.
Photo courtesy of Glimmer Image
Wu says that for him, making the film was a healing process. At the preview screening last week, he mentioned that the film helped him cope with depression and helped him gain faith over the past nine years.
"I realized that while Chiu Hsiang looks weak and infirm, she is actually strong and brave, whereas I might appear strong but I am crippled inside," Wu says.
Uplifting story
Through Wu's intimate yet unobtrusive lens, we follow Chiu Hsiang as she slowly walks toward her car using long-leg braces in the film's opening sequence.
She is there to pick up Denny, with whom she co-runs the Shuang Fu Association in Kuala Lumpur, which offers career training, jobs and accommodation to former convicts and people with physical and mental disabilities.
When Denny appears, smiling, it is hard not to be taken aback by his physical deformities. With his limbs shrunken, he has lost all ability to move and relies on others to carry him around.
As the film unfolds, Chiu Hsiang talks about her past: She was admitted to a rehab center for polio-stricken children that had been founded by the late American missionary Joyce McMillan in 1965 in Erlin (二林) Township, Changhua County. The several surgeries Chiu Hsiang received at the center helped ultimately be able to walk on crutches. Chiu Hsiang went on to become a devoted member of the Eden Social Welfare Foundation (伊甸社會福利基金會), where she met Chuang, who had come to Taiwan to study theology. After their wedding, the two decided to move back to Malaysia with an aim to set up a charitable organization to help people like them, first in Chuang Penang and then in Kuala Lumpur.
For the three years, Wu follows the couple, documenting their lives and charitable endeavors.
The film consequently has an intimate tone, but always looks at its protagonists at a respectful distance, refusing to exploit their suffering for cheap emotions. The closest revelation of their past ordeals is when Chiu Hsiang recounts a childhood memory of her crawling out of her home, wanting to make friends with other kids, but ends up being chased and attacked by them.
Wu also chooses to paint his protagonists in an uplifting light so that audiences, instead of feeling sorry for the physically disabled individuals, are inspired by their life stories. One of the inspiring moments is when Sheng Tao (聖桃), Denny's wife, speaks of her love for her husband that transcends conventional ideas of beauty and ugliness.
Free from the anger and anguish that fill Life, Chiu Hsiang is a heartfelt new beginning to director Wu's filmmaking career that hopefully lasts.
Publication Notes
Film Notes
Chiu Hsiang (秋香)
Directed by Wu Yi-feng (吳乙峰)
Starring: Chiu Hsiang (秋香) as herself, Chuang Ju-ming (莊如明) as himself, Denny as himself, Sheng Tao (聖桃) as herself
Running time: 95 minutes
Language: in Mandarin with Chinese subtitles
Taiwan release:Today
Comments will be moderated. Keep comments relevant to the article. Remarks containing abusive and obscene language, personal attacks of any kind or promotion will be removed and the user banned. Final decision will be at the discretion of the Taipei Times.