Page to stage
Next weekend, the Creative Society presents 'Self-Requests,' Zan Jae's highly literary play that wasn't written to be performed in theaters
Self Re-Quests (逆旅), a script written by Zan Jae (詹傑), was originally intended as a play for reading on the page, not watching onstage.
The highly literary work won the Taiwan Literature Golden Canon Award, but made only a quiet one-off appearance at National Central University last year.
Despite the play's bookish ambitions, the Creative Society (創作社劇團) believes it has a story worth seeing, too.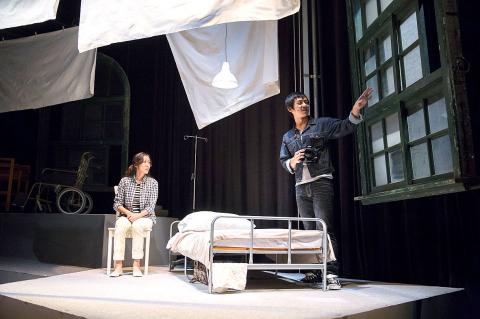 Actress Winnie Chang, left, seeks to rediscover her mother's past.
Photo courtesy of the Creative Society Theatre Company
In a professionally-staged revival, Self Re-quests will be at Shuiyuan Theatre from Nov. 29 to Dec. 1. The production boasts theater veteran Hsu Yen-ling (徐堰鈴) at the helm, and actresses Grace Lu (呂曼茵), Hsieh Chiung-hsuan (謝瓊煖), and Winnie Chang (張詩盈) as the three female leads.
The story is inspired by the real-life story of Taiwanese female communist Hsieh Hsueh-hung (謝雪紅), a leader during the 228 Incident. Hsieh later fled to China to join the Mao Zedong (毛澤東) regime, was tossed away afterwards and died in disillusion in old age.
Onstage, the character of Hsieh is portrayed by three actresses who sometimes appear at the same time, to mirror the character's complexity.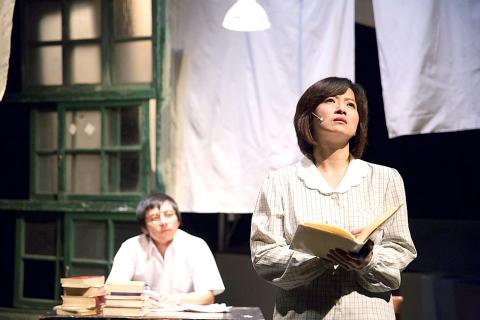 Actress Hsieh Chiung-hsuan, right, seeks inspiration from the life of a controversial political figure.
Photo courtesy of the Creative Society Theatre Company
Hsieh is controversial in Taiwan, but the play is decidedly not political; playwright Zan has a mightier ambition. "This play is about the soul-searching journeys of three women — and possibly, of everyone," Zan told the Taipei Times.
The play weaves the stories of three women from three generations. A daughter picks up an annotated copy of Hsieh's memoir to explore the life of her mother, who in turns seeks inspiration by reading Hsieh's book. "This story is about the decisions we make and how we come to peace with them," he said.
Publication Notes
Performance Notes
WHAT: Self Re-Quests (逆旅)
WHEN: Nov. 29 at 7:30pm, Nov. 30 at 2:30pm and 7:30pm, Dec. 1 at 2:30pm
WHERE: Taipei City Shuiyuan Theater (台北市水源劇場), 10F, 92, Roosevelt Rd Sec 4, Taipei City (台北市羅斯福路四段92號10樓)
ADMISSION: Tickets are NT$700, available through the NTCH ticketing and online at www.artsticket.com.tw and at 7-Eleven ibon kiosks
ON THE NET: www.creativedrama.blogspot.tw
Comments will be moderated. Keep comments relevant to the article. Remarks containing abusive and obscene language, personal attacks of any kind or promotion will be removed and the user banned. Final decision will be at the discretion of the Taipei Times.