The Vinyl Word
The crowd of 2,000-plus fans jumped up and down for joy as the man once known as Norman Cook sashayed on stage with his trademark Hawaiian shirt last Wednesday night at Luxy's Fatboy Slim show. I felt a ping of euphoria to see the fans' excitement because his performance three years ago was so immensely enjoyable. My smile widened as the first thing Slim played was soul priestess Camille Yarbrough's gravelly a capella voice slightly singing, "We've come a long, long way together, through the hard times and the good" from his mega-single, Praise You.
Instead of dropping into the actual song, though, Slim went into festival mode, which means he mostly played the electro and progressive bangers that people go nuts for all summer long in huge parties all over the world.
It was then that a beautiful sadness immobilized my body.
Fatboy Slim commanded the crowd at Luxy last Wednesday.
Photo courtesy of Alan Tsai
At the beginning of my days in Taiwan, Slim's The Rockafeller Skank was so ubiquitous I could estimate the number of times I heard its lyric "Check it out now, the funk soul brother" on a normal Saturday night by counting the number of pubs I had gone to.
Slim did play a few bars of that song as the finale, but overall his DJ set was more geared towards those who enjoy his hard-hitting new single Eat, Sleep, Rave, Repeat.
To be honest, 95 percent of the people at Luxy that night emphatically loved Slim's animated stage presence, ate up his tunes and sweated profusely on the packed dance floor.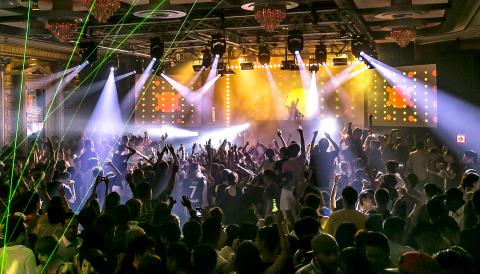 Even at the age of 50, Fatboy Slim knows what to play to move the crowd.
Photo courtesy of Alan Tsai
For me, though, it was an evening of reckoning. I realized that no matter how badly I wanted to fake it, I couldn't enjoy listening to a DJ I had once loved play tunes that I now loathe.
■ For those that like their tunes a few stations down from mainstream radio, this weekend has a pair of refreshing events. First up is Noche Latina at Revolver with DJs Cola, Zulu, and Fernando. These three selectors will provide dancers with a mix of salsa, bachata, meringue, cha-cha, guaguanco, samba and reggaeton.
Noche Latina is tomorrow night at Revolver from 10:30pm to 4am, 1-2, Roosevelt Rd Sec 1, Taipei City (台北市羅斯福路一段1-2號). Admission is NT$300, which includes a drink.
■ The second party is JoyFull Moon at Bar Waves at Fulong Beach (福隆海灘), which promises "to turn up the volume on weird and let things get loose." The music blasting through the speakers will be swing, Balkan, Cumbia, dub, glitch, bass and even some dirty German minimal played by Kuleflux; Synaptic FX; DTR; Dr. Fnuk; and The Cook, The Thief.
JoyFull Moon is tomorrow from 5pm to 12pm on Sunday at Bar Waves, 56 Fulong Street, New Taipei City (新北市福隆街56號). Admission is free.
Comments will be moderated. Keep comments relevant to the article. Remarks containing abusive and obscene language, personal attacks of any kind or promotion will be removed and the user banned. Final decision will be at the discretion of the Taipei Times.