Art exhibition listings
Asia Cruise (亞洲巡弋) is an ambitious group show that delivers a state of the union on Taiwanese contemporary art. Working with four East Asian curators, 14 established local artists bring works that represent some key political issues, special traits and aesthetic significance of art in Taiwan today. Pieces include paintings, installation and other mixed media organized under four themes: The Ghost Island, Evidence, Isolation and Object Matters.
■ Kuandu Museum of Fine Arts (關渡美術館), 1 Xueyuan Rd, Taipei City (台北市學園路1號), tel: (02) 2893-8870. Open Tuesdays to Sundays from 10am to 5pm
■ Until Dec. 15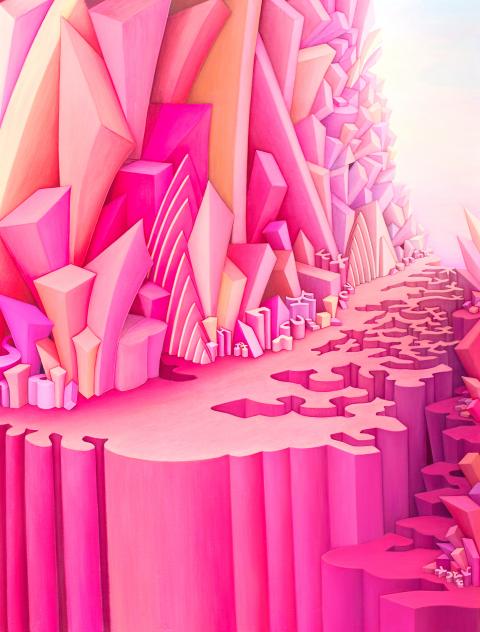 Hong Mei-ling, Looking for Tao No.23 (1986).
Photo courtesy of TFAM
Love, Always (永是有情人) is a memorial exhibition on prominent writer Chi Chun (琦君). On public display for the first time are her personal correspondence with readers and family, notes about major works, school certificates, favorite books and other personal belongings donated by her family upon her death in 2006. Born in 1917 in Zhejiang Province, Chi Chun fled to Taiwan in 1949 and garnered acclaim for her simple and tender prose. Her works have been used in textbooks and include the memoir Love, Always (永是有情人) and When the Orange Ripens (橘子紅了), a bestseller adapted into a 2001 television series.
■ National Museum of Taiwan Literature (國立台灣文學館), 1 Zhongzheng Rd, Tainan City (台南市中西區中正路1號), tel: (06) 221-7201, open Tuesdays to Sundays from 9am to 9pm
■ Until Feb. 9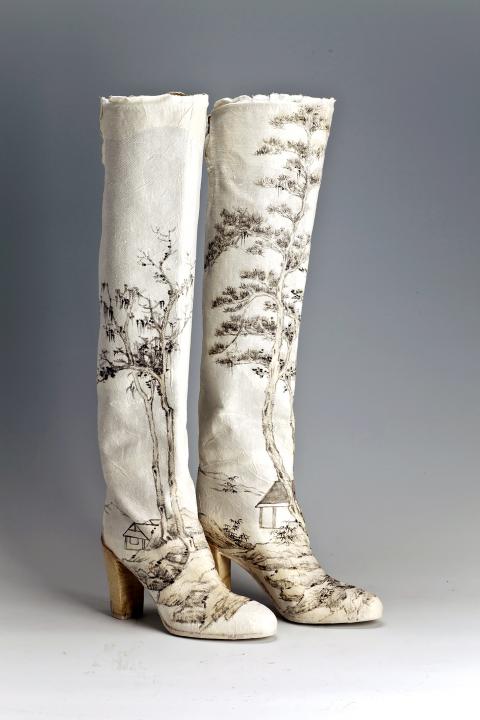 Peng Wei, Winter Mountain (2011).
Photo courtesy of Tina Keng Gallery
An uninspired student, David Chen (陳建維) had a bumpy start to life but went on to forge a successful career as a photojournalist. From the Ground to the Stars (原來我不是攝影師) is a solo exhibition of Chen's star-studded portfolio, which includes S.H.E., Lee Tsung-sheng (李宗盛) and Jolin Tsai (蔡依林), as well as close-up portraits of unknown figures from his private life.
■ Taiwan International Visual Arts Center (TIVAC — 台灣國際視覺藝術中心), 16, Alley 52, Ln 12, 16 Bade Rd Sec 3, Taipei City (台北市松山區八德路三段12巷52弄16號), tel: (02) 2577-1781. Open Tuesdays to Sundays from 11:30am to 7pm
■ Opens tomorrow. Until Dec. 1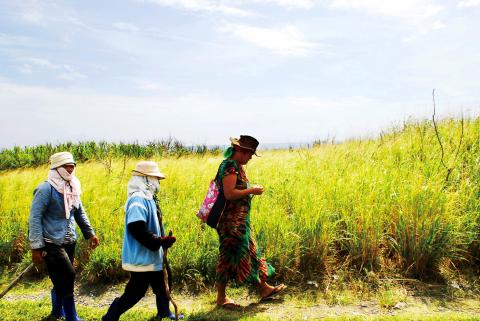 David Chen, Doulan, Taitung: Panai Kusui (2008).
Photo courtesy of TIVAC
In the solo exhibition Looking for Tao (尋道), Hong Mei-ling (洪美玲) displays paintings she completed between 1983 and 2013. Hong taught primary school for ten years before discovering western-style painting in 1977. She went on to pursue the art in San Francisco, where she encountered personal and professional challenges. The 131 paintings in her Looking for Tao series chronicle her search for a sure footing in California. The barren images are built with symbols and patterns seemingly rich with meaning, or perhaps only with its illusion.
■ Taipei Fine Arts Museum (TFAM, 臺北市立美術館), 181, Zhongshan N Rd Sec 3, Zhongshan Dist, Taipei City, (臺北市中山區中山北路三段181號), tel: (02) 2595-7656
■ Until Nov. 24
Letters from a Distance (遙遠的信件) is a solo exhibition of pop art by Beijing-based artist Peng Wei (彭薇). Peng uses classic Chinese painting techniques to create everyday wearables like boots and slippers. In a project that gives the exhibition its name, Peng paints notes and poems of Western writers onto hand-mounted scrolls and Chinese album leaves, and then incases the lavish letters in carved boxes.
■ Tina Keng Gallery (耿畫廊), 15, Ln 548, Ruiguang Rd, Taipei City (台北市瑞光路548巷15號), tel: (02) 2659-0798. Open Tuesdays to Sundays from 10am to 7pm
■ Opening reception tomorrow at 4:30pm. Until Nov. 17
Comments will be moderated. Keep comments relevant to the article. Remarks containing abusive and obscene language, personal attacks of any kind or promotion will be removed and the user banned. Final decision will be at the discretion of the Taipei Times.