Live Wire: 'I'm an honorary lesbian'
In August, Brit rockers The Big Pink played a massive set at the Formoz Festival that turned out to be one of the surprise hits of the weekend. Now they are back for a club show tomorrow at The Park, an MTV appearance and some work on a "Taiwan only" EP to be released on Hi-Note next year. When I caught the band's frontman Robbie Furze last week on his cell phone en route to a London recording studio, he was gushing.
"We've toured the world three times, and the vibe is just so on. They're the nicest group of people I've ever met," said Furze, speaking of the Taiwanese audience. "I couldn't believe how intense the crowd were and how loving they were."
Furze, someone had joked to me, was even thinking about moving to Taiwan. "Maybe I got overexcited," he replied, chuckling. "But it has just been so amazing for us. We got to Taiwan and realized there are places like Taiwan we know so little about, but where you have these amazing fans. At the festival, we were playing new songs and everyone was singing along. So now we are going to release some of those songs on a Taiwan-only EP sometime next year."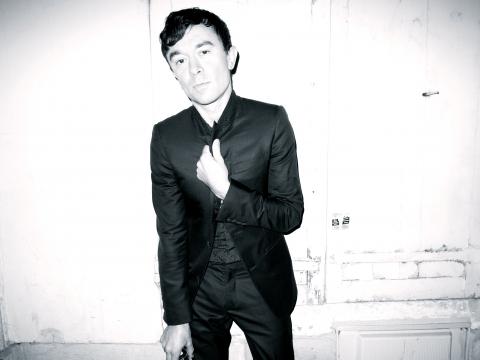 Robbie Furze, frontman for The Big Pink, will play tomorrow night at The Park.
Photo Courtesy of Olivier Zahm
Furze launched The Big Pink five years ago, but the band has been through a lot of changes. It began as a two-man shoegaze indie band, with Furze on guitar and vocals and Milo Cordell on electronics. They loved industrial rock and shoegaze pioneers like My Bloody Valentine, and within the first two years the duo scored a record deal, some minor hits and sold-out gigs at London venues like I.C.A. Earlier this year, Cordell left the band and moved to New York to work on his record label.
Now Furze is joined by two offbeat glam girls, who bring an electronic party edge and have remixed earlier rock hits into dance anthems. The women are drummer Vicky Jean Smith, whom Furze first saw playing with M.I.A, and DJ MPRSSS, aka Lady Mary Charteris.
Charteris is in fact Furze's wife — they were married last December, and the wedding was featured in British Vogue. She is also the daughter of a British Lord — thus the title — and has made the British tabloids for all sorts of crass gossip, most recently when supermodel Kate Moss accused Charteris of flirting with her husband, guitarist Jamie Hince of The Kills.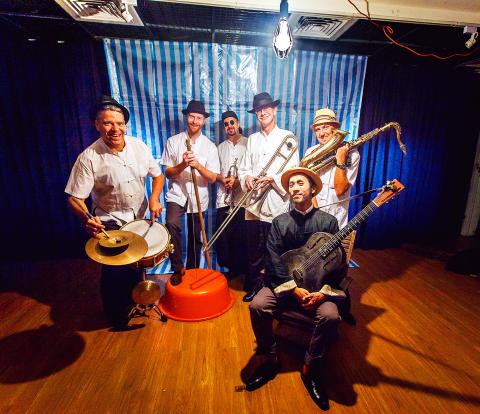 David Chen and the Muddy Basin Ramblers are set to release their second CD, Formosa Medicine Show.
Photo Courtesy of the band
"Being with these girls on tour traveling the world is amazing and a dream come true," says Furze.
"Vicky has been with me for about two years now," he continues. "Her feel is wild. I always feel like I'm on sage with Mitch Mitchell. Vicky is also a sick programmer and killer beat maker.
"MPRSSS is a crazy electronic genius. She makes this wild noise euro trash dance music. It's pretty deep. The girls also have remixed Big Pink tunes that we play live to give a new angle on our set."
What is it that Taiwanese fans love about this band? The answer is most of the above. An editor at the new Taiwanese music magazine, Bark, noted that The Big Pink fits a genre that Taipei kids love (shoegaze) and projects a cool image (spanning garage rock and high fashion). One rock club bartender said she loved the first album, A Brief History of Love, for its mix of heartbroken lyrics and upbeat tunes. (She also discovered the band with an ex-boyfriend she hasn't given up on yet, and hopes to see him at this weekend's show.) One girl even told me, "Their drummer is lesbian, and that is so cool!"
I couldn't help but mention that to Furze. He replied that, yes, Smith is indeed quite active in London's LGBT community.
"I feel like I'm an honorary lesbian," says Furze, somewhat abashed. "She hangs out at a place called The Joiners Arms, along with Rory [Croft] of The XX and a lot of other people. They at least let me in."
"I remember when I was growing up and people couldn't even admit that George Michael was gay, so things have changed a lot. I love that people can take it as a positive. But, yeah, to be honest, I've never really thought about it that much."
The Big Pink with P!sco tomorrow 7:30pm at The Park (公園展演空間), B1, 27, Fuxing S Rd Sec 2, Taipei (台北市復興南路二段27號B1). Tickets are $1,675, available through www.books.com.tw or www.indievox.com.
Muddy Basin Album Release
This Sunday, David Chen and the Muddy Basin Ramblers will release their second album, Formosa Medicine Show. The 23-song collection of mostly original tunes has been more than three years in the making and will show Taipei's favorite expat jug band to be more than just a bunch of atavistic hillbillies and hucklebucks. I am quietly hoping for a breakthrough, meaning some real recognition from the Taiwanese music industry and media. They certainly deserve it. Ohio native David Chen assembled the band in 2002, specializing in the music of early 20th century Americana and especially 1920s country blues. In the last decade, they have become one of the most accessible, entertaining bands on this island. The Ramblers perform on vintage steel guitars, mouth harps, earthenware jugs and a plastic washtub bass bought in a local night market, but they have also come to embrace local sounds. The new album features a swing version of the Taiwanese classic Wang Chun Feng (望春風), a local virtuoso on the three-stringed Okinawan lute, the sanshin and other collaborations.
The Ramblers got their start in expat pubs in the early 2000s, where they are still favorites because they play fun music and make people dance. But Chen has also gone on to more "serious" projects. He has worked with highly regarded local musicians like Hakka singer Lin Sheng-xiang (林生祥), and last year Chen and Muddy Basin's harmonica player Connor Prunty shared a Golden Melody Award for Best Folk Album with local singer Lo Sirong (羅思容). In the last couple years, says Chen, "We are getting more invitations from government music festivals, and now the whole swing dance trend has taken off." In other words, the band is crossing over, albeit in baby steps.
The upcoming Muddy Basin Ramblers album release tour starts this Sunday, 4 to 7pm at the Xinyi Public Assembly Hall (信義公民會館), Building A (A館) 50 Songqin Rd, Taipei City (台北市松勤街50號). Admission is NT$100. Space is limited. The Ramblers will also play tomorrow 3pm at the Taichung Jazz Festival (www.taichungjazzfestival.com.tw) and have nine more shows around Taiwan through December. For info, check www.muddybasin.com.
Comments will be moderated. Keep comments relevant to the article. Remarks containing abusive and obscene language, personal attacks of any kind or promotion will be removed and the user banned. Final decision will be at the discretion of the Taipei Times.