No talking
Jump is a South Korean musical, but for its audiences this weekend in Taipei, language won't be a hurdle: This production is entirely non-verbal.
There is no dialogue in the interest of allowing comedy and martial arts to take center stage, Jong-Hoe Koo told the Taipei Times.
The musical is about a family of martial artists: Shin Jung-hoon as the father, Hong Kyung-ae as the mother, Lee Ju-hee as the daughter and Jo Hun-young as the boyfriend.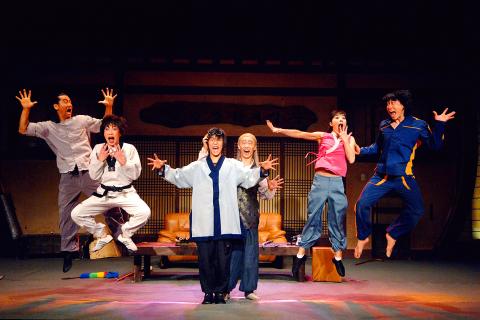 Jump is a non-verbal musical comedy from South Korea.
Photo Courtesy of Dada Arts Promotion
When two eccentric burglars invade their home, the family pulls no punches in defense. Out comes a dazzling combination of martial arts, mainly to comedic effect.
Hong shines as an unconventional mother who is proudly sexy and adroit with her chopsocky kicks. Shin is the funny and charismatic father, and Jo is a convincingly bashful but smoldering future son-in-law.
The 90-minute slapstick production has entertained audiences across the globe since it premiered in 2003, and has since been performed over 4,000 times in cities including Seoul, New York, London and Beijing, said Koo.
"This show has something for everyone — action, comedy, romance, sexiness." Koo said. "Western audiences relish this show for the kungfu novelty … Asian audiences who are accustomed to kungfu enjoy this show for the comedy."
Publication Notes
Performance Notes
What: Jump
When: 7:45pm on Oct. 18 and Oct. 19
Where: Taipei International Convention Center (台北國際會議中心), 1, Xinyi Rd Sec 5,
Taipei City (台北市信義路五段1號)
Admission: Tickets are NT$800 to NT$2,800, available through Market Net Ticketing (大市集交易網) at www.dmarketnet.net or at 7-Eleven ibon kiosks and (全家) FamiPort kiosks
On The Net: www.yegam.com/jump/eng
Comments will be moderated. Keep comments relevant to the article. Remarks containing abusive and obscene language, personal attacks of any kind or promotion will be removed and the user banned. Final decision will be at the discretion of the Taipei Times.