Exposing Taiwan's true landscape
Wu Cheng-chang (吳政璋) is pissed off.
Government incompetence, corporate greed, an education system that teaches conformity so that citizens don't question the destruction to the environment in which they live.
In a 2010 interview that he gave while receiving The Power of Self photography award in New York, Wu said photography is a means of criticizing the problems he sees in society, a way to say "'fuck off' (罵) to certain things."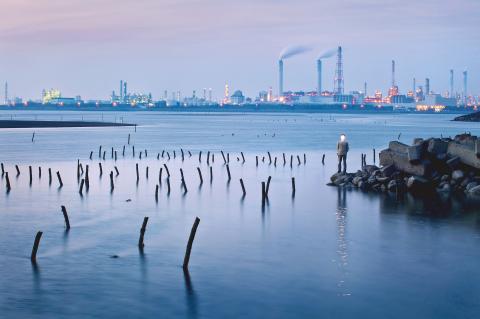 Taishi (2009).
Photo courtesy of TFAM
Strong words. In person, though, Wu is far from inflammatory. Speaking in a mild vocal register, he's everything the calm instructor you'd expect him to be (he teaches photography), railing against perceived injustices with logical acuity. Wu attributes the behavioral difference to his photos, which for him serve as a visual palliative that alleviates his anger, if only for a time. Has the award — adjudicated by actor Steve Buscemi, Guggenheim Museum curator Helen Hsu and director Chris Weitz — and the subsequent publicity it garnered for the artist, mellowed him in the knowledge that the public and, perhaps more importantly, the powerful are paying attention to his photographs and what they represent?
Wu's under no illusions.
"Art is the least useful way [to affect social change]," he tells the Taipei Times at the Taipei Fine Arts Museum, where he was assembling I — Die — Want, a solo show of 32 large-size, mostly color, landscape photographs and a 30-minute single-channel video that form part of his Vision of Taiwan (台灣「美景」) series. The title is homophonous with Love Taiwan (愛臺灣) in Hokkienese (commonly known as Taiwanese).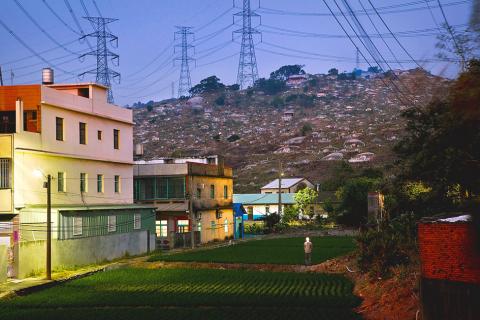 Countryside (2011).
Photo courtesy of TFAM
"Politicians couldn't care less about my work… But [the photos] might at least inspire those who are like-minded and serve as a record of the current problems," he says.
Art as ineffective politics: For Wu, this means the photos must achieve an aesthetic payoff, any political message has to be implicit, emerging slowly and only after prolonged viewing.
As Wu works in the genre of landscape, visitors to this show might want to first think about their own impressions and expectations of what the genre is before entering the gallery space. Is it a mountain scene in the background, the foreground a pond punctuated with ripples, hinting at a slight breeze? Or a valley of verdant green shrouded in fog?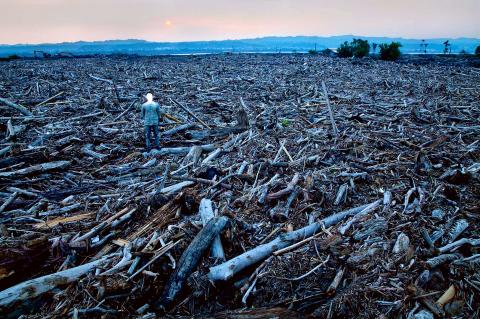 Driftwood (2009).
Photo courtesy of TFAM
MAN VS NATURE
Cliched? Certainly. But this seems to be a necessary exercise to perform before entering because only once you have a clear idea of your own perspective about landscape photography (and this could be extended to painting, from Turner to Monet) can you fully appreciate what Wu is trying to achieve.
For his photos depict interventions, what man has done to Taiwan's natural spaces and beauty in the name of progress. At the same time, he photographs himself in these landscapes, over-exposing his face with a flash to the point that it is no longer recognizable, at once erasing his identity and in the process implicating us in the viewing.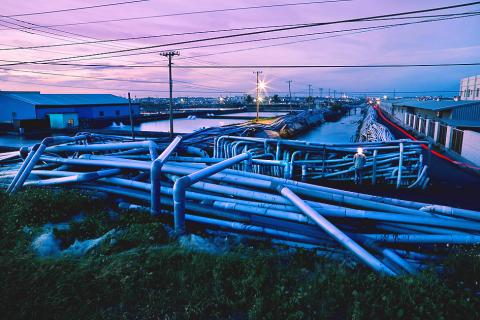 Jia Dong-1 (2011).
Photo courtesy of TFAM
Wu's photos defy our expectations by reminding us that landscapes aren't necessarily natural phenomena (think of the UK's "rolling hills"), but socially constructed spaces that are a product of the culture in which they are found.
As one astute observer tells me, Wu not only "introduces us to perceiving things in a fashion not regularly practiced, but also encourages us to ask questions we are not in the habit of asking. Even the shallowest of the shallowest would be pushed to ask: 'What the fuck?'"
EXPANDING ON AN IDEA
There are other photographers using the same visual language, which has emerged in parallel with our increased awareness that human behavior has a direct, usually destructive, impact on the environment, while questioning the medium that they work in.
Recent examples include Richard Misrach's 2010 series Destroy this Memory, which portrays a deserted post-Katrina New Orleans, and Richard Mosse's haunting 2013 The Enclave, where vibrant and unnatural tones of Kodak Aerochrome infrared color film are used to intentionally sensationalize conflict in the Congo, absorbing the viewer's attention while making him feel uncomfortable for watching.
In these instances, the photographers subvert the genre and medium to open a space for the viewer to look at landscapes and photography in a different way. And like Mosse's work, Wu operates in paradox: providing the viewer with appealing images that depict ugliness, navigating between the extremes of horror and beauty, politics and aesthetics.
"I intentionally make these photographs beautiful… The title of my series is literally: The Beautiful Landscape of Taiwan. But they are actually not beautiful. The photographs give the illusion of beauty," Wu says.
Taishi (台西, 2009) is a typical example. The photo depicts Formosa Plastics Group's sixth naphtha cracker complex in Mailiao (麥寮), Yunlin County. Smokestacks are clearly visible against the magenta background of the sky. Our attention is directed to the foreground where a faceless Wu stands beside a sea of reflected dark magenta, black posts punctuating the water as if headstones in a graveyard. Even within a framework of beauty, Wu reminds us that the complex causes severe health problems for the residents close by.
Wu says the manner in which he overexposes his face to eradicate his facial features represents an accumulation and release of energy, its erasure of form a metaphor for the formation and dissolution of the artificially constructed.
"When you press the button, that is the instant when the light destroys the integrity of the photo, transgressing the established norms of a perfectly exposed photograph. So that's the accumulation process to destroy the institution, the environment or even the culture," Wu says.
For Wu, every click of the shutter tempers his anger, the image leading to a kind of calm — one that prepares him for the next shot that begins the cycle all over again.
Wu Cheng-chang's I — Die — Want runs until Nov. 24.
Comments will be moderated. Keep comments relevant to the article. Remarks containing abusive and obscene language, personal attacks of any kind or promotion will be removed and the user banned. Final decision will be at the discretion of the Taipei Times.