Christie's Shanghai auction offers Picasso, Warhol
The company called the auction a historic event equal to its entrance into the US market in the 1970s
Christie's drew the elite of China closer into its orbit with an auction Thursday of works by Pablo Picasso, Andy Warhol and others in Shanghai, the first time any foreign auction house has held such a sale in China without having to go through intermediaries.
The London auction house put 42 pieces under the hammer, with bidding expected to raise around US$16 million.
Along with Pablo Picasso's Homme Assis (1969), Andy Warhol's Diamond Dust Shoes (1980-81), and a 1963 still-life by Giorgio Morandi, items include works of Asian contemporary art and fine wines in recognition of China's booming market for rare vintages.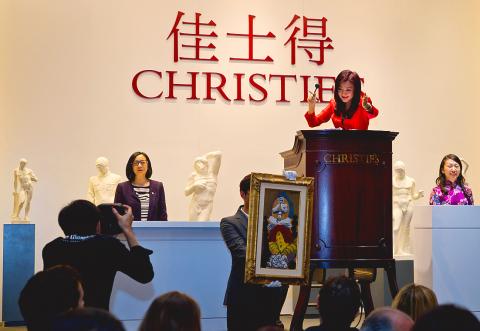 Pablo Picasso's Homme assis is pictured during Christie's first independent auction in Shanghai last week. The auction house is the first one authorized to operate in China without a local partner.
Photo: EPA
No Chinese works dating from before the fall of the Qing dynasty in 1911 will be offered however, in deference to Chinese regulations that seek to discourage looters and grave robbers.
China, the world's second largest economy, already has more than a million millionaires, many of whom are seeking to diversify their investments away from gold and real estate. Chinese bidders are now common at overseas auctions. The number attending Christie's events has doubled since 2008. Some US$4.6 billion worth of cultural relics and artworks were sold last year in the domestic auction market, according to China's commerce ministry.
Christie's has long operated in Hong Kong and has been organizing sales in China since 2005 by allowing a Chinese auction firm to use its international trademark.
The auction house said on April 9 it was granted a license to operate independently in China, making it the first international auction house to hold its own branded events there.
"I think it is one of the most important steps the company has taken in almost 250 years of history. It's as important as arriving in America in the 1970s,'' said Jonathan Stone, Christie's chairman and international head of Asian art.
Relations between Beijing and Christie's have been helped along by shrewd public relations work on behalf of the Pinault family, which owns the auction house's parent company, Kering.
In June, the family donated a pair of Qing dynasty bronzes looted from a Beijing palace more than 150 years ago to China's national museum. China had long sought the return of the heads, which had become a symbol of the country's past humiliation by foreign powers, and the family won hearty plaudits from the government.
Stone said negotiations over the license were going on at the same time as the donation was discussed.
Prospective bidder Chen Huofa, a mining magnate from the eastern Chinese city of Hangzhou, said he had his eye on Morandi's Natura Morta because of the impact the Italian painter had on modern Chinese artists.
"I am not interested in all the Western works, only in those who strongly influenced Chinese art,'' said Chen, who is building a private museum.
Rebecca Catching, director of OV Gallery in Shanghai, said art bought at auction is a major status symbol for wealthy Chinese because everyone will know how much they paid for it.
"If their friends question their taste they can say, 'Well, it was sold for two million at auction,'" Catching said.
Comments will be moderated. Keep comments relevant to the article. Remarks containing abusive and obscene language, personal attacks of any kind or promotion will be removed and the user banned. Final decision will be at the discretion of the Taipei Times.