Restaurant review: Moooon River Cafe & Books
Expect to find a full house at Moooon River Cafe and Books, because this European-style eatery has created compelling reasons for customers not to leave.
It's got exactly 56 seats, each a plush couch by its own electrical outlet. There is free WiFi (password: happymoooon), as well as eye-catching chandeliers and personal lamps if you want to read offline.
Lining the atrium-like lobby are seven shelves of Chinese-language books for buying or browsing. At individual tables, you will find a few English-language titles — chapter books like James and the Giant Peach and denser material like A Marechal Reader. All double as menus, which are taped to the pages like a centerfold.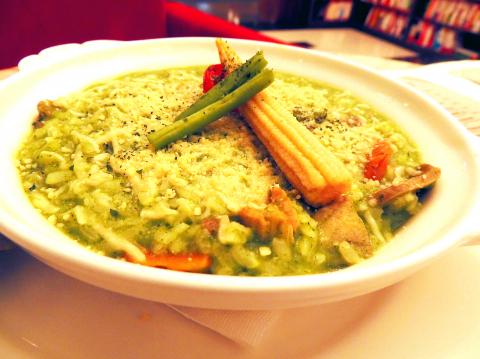 Tastes like congee.
Photo: Enru Lin, Taipei Times
For a bookshop cafe, the menu is surprisingly extensive, offering all the basic teas and coffees, plus exotic beverages like lychee liquor (NT$190) and the Lava (NT$190), a drink imported from Italy that is 70 percent chocolate. The book-menus also include two full pages of European-style pastas, sandwiches, salads and chicken dinners (the spicy chicken fillet is NT$290).
The pesto salmon risotto (NT$270), a server's recommendation, is a beautiful verdant mound of large salmon cuts and vegetables topped with a snowfall of parmesan. However, it wasn't much better than most bookshop food. The pesto tasted mainly of sodium and garlic, perhaps because it came from a package, and the overcooked risotto had the consistency of congee. The salmon is moist, but it's also overpowered by the pesto and tasted pungent, instead of fishy and sweet.
Cinderella's Ride (NT$120 a la carte), a European-style pureed pumpkin soup, has an inconsistent texture, starting out velvety at the top and getting watery as you work your way down. The blend does use fresh and not canned squash, and it's warm and spicy-sweet. Like most foods served out of a bookshop, the soup is fine enough to eat.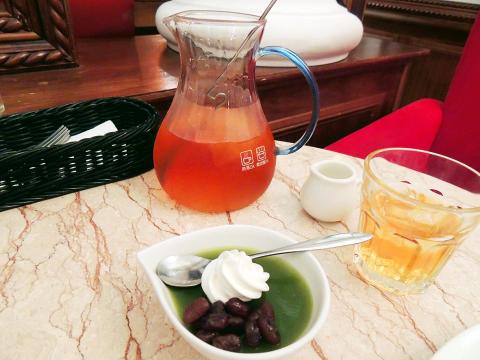 The set meal includes a beverage and green tea jelly for dessert.
Photo: Enru Lin, Taipei Times
As a rule, portions are large. If you order a la carte, soups are meals in tremendous bowls, served with bread. A pot of strong Darjeeling tea (NT$160) comes in a chilled glass pot and serves four, or one if you want to sip for hours — and diners do.
Moooon River borrows its name from Henry Mancini's Moon River. The establishment tries to extend Mancini's concept of meditative relaxation, says a server, which is why there are the two extra Os.
After delivering the dishes, servers leave customers alone afterward, even at peak hours. You could spend hours going through the books, which range from Taiwanese novels, translated Western literature, magazines, art and design readers and how-to guides for childrearing. The shop also stocks up on latest bestselling titles from the Chinese mainstream market.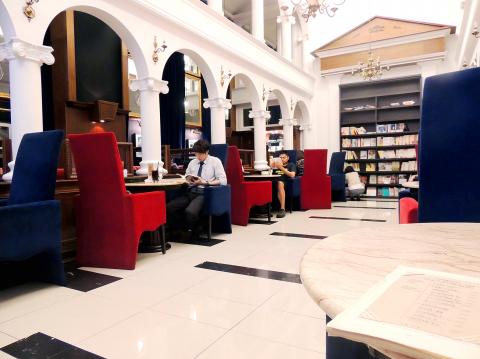 Moooon River offers coffee, free WiFi and a library of Chinese and English-language titles.
Photo: Enru Lin, Taipei Times
Most titles here are mainstream, like the atmosphere: The waitresses are in pencil skirts and the background music is a popular piano arrangement, specifically Moon River itself. Yet Moooon River, located at the heart of Neihu's commercial district, is nevertheless uncommon as a space for getting coffee, doing work and reading for pleasure without being rushed out. Its existence is a reminder of work required to keep traffic going into bookstores today, and how sometimes that means stopping the traffic.
Publication Notes
Moooon River Cafe & Books
Address: 218 Ruiguang Rd, Taipei City (台北市瑞光路218號)
Telephone: (02) 7720-2070
Open: Mondays from 11am to 8:30pm, Tuesdays to Fridays from 11am to 10pm, Saturdays and Sundays from 8am to 10pm
Average meal: NT$400
Details: English and Chinese menu, 10 percent service charge, reservations recommended
Comments will be moderated. Keep comments relevant to the article. Remarks containing abusive and obscene language, personal attacks of any kind or promotion will be removed and the user banned. Final decision will be at the discretion of the Taipei Times.