Queens in Taipei
Christina Conchita Sugartits Crystaal and Jozzabelle Curva are among the drag queens who will perform with Magnolia la Manga tonight at Carnegie's for charity
Semi-retired technical writer Jon Mangan lives like a hermit on a New Taipei City mountaintop, spending his daylight hours gardening and hiking and supervising his pets. Over the years, he and his Taiwanese partner have augmented their family with parrots, fish, four dogs, three cats and two tortoises, missing only a partridge in a pear tree.
At night, he's a busy British lady.
"Basically, if there's a red carpet event with a professional photographer, then I will do my best to get there and be seen, whether invited or not," said Magnolia la Manga (幕木蘭), a drag queen who goes by Mags.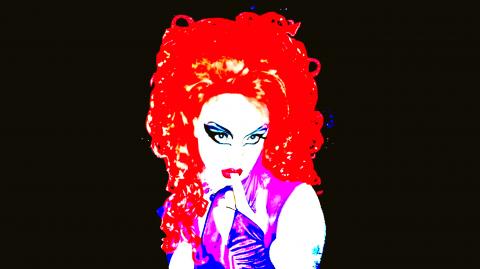 Magnolia la Manga expects to look absolutely stunning in the show tonight at Carnegie's.
Photo Courtesy of Jon Mangan
Mags was born in 1999 when Mangan, a British national, took on an entertainment column for HIS magazine, a seminal but now-defunct publication for gay men. After a few months of writing as a drag queen, the author bought a set of wigs and took Mags into a bar.
So far, Mags' journey as a drag queen has been smooth. Despite the highly publicized setbacks in gay marriage rights, the Taiwanese public is in fact relatively accepting of the queer community, she said.
"I really don't think the Taiwanese government, nor the people that run the TV news and chat shows have any idea just how incredible it is that Taiwan has the largest gay pride parade in all of Asia! Bigger than Tokyo, bigger than Bangkok, bigger than anywhere in Asia proper," she said.
"People should be shouting that from the rooftops," she added.
Drag for dogs
Over the years, Mags has become curiously popular with the directors of mainstream venues, and is regularly invited to open galleries and speak at movie premieres. Official duties have become so commonplace that Mags is often too busy even for her favorite things: "These days the drag shows are less [frequent]."
But tonight Mags is making a rare comeback as queen, as part of a fundraiser for the Taipei-based Animals Taiwan.
"I have spanking new, utterly fabulous frocks and brand new hair that I just can't wait to be seen in. I will of course look absolutely stunning, as people expect no less," she said.
Other queens at the show include Jozzabelle Curva, Gina Tonique and Christina Conchita Sugartits Crystaal, Gorgeous and Tatiana L'amour, who is making her Taipei debut.
"We have prepared a set that includes lipsycing, 'live' vocals, dance, comedy and filth. Adults only; not for prudes," said Mags.
Dog Days in Drag is a fundraiser for Animals Taiwan, an organization that rescues and adopts out stray dogs and cats. The program includes a finger buffet, drinks and a drag king and queen competition, complete with heats, finals and prizes.
"So if people want to take the catwalk and maybe even show us a little of what they got in a short performance on the bartop in Carnegies, they should get their glad-rags on and head on down to be judged mercilessly! And even if you don't want to dress up, come along and enjoy the spectacle," she said.
Publication Notes
Event notes
What: Dog Days in Drag
When: Today from 7pm to 11pm
Where: Carnegie's Taipei, 1F, 100, Anhe Road Sec 2, Taipei City (台北市安和路二段100號1樓)
Admission: NT$900 at the door. Tickets in advance are NT$800, available at Animals Taiwan Rescue Center, Carnegie's, Frankie's Pies or by contacting liza@animalstaiwan.org
On the Net: Search Facebook for "Dog Days in Drag"
Comments will be moderated. Keep comments relevant to the article. Remarks containing abusive and obscene language, personal attacks of any kind or promotion will be removed and the user banned. Final decision will be at the discretion of the Taipei Times.