Restaurant review: Siam Kitchen 暹廚
Siam Kitchen looks full every time I walk pass its storefront on Anhe Road across from the Far Eastern Plaza Hotel. After two failed attempts to dine there without a reservation, I made extra effort to call ahead, and it proved worthwhile. Well-tended and staffed with a competent crew, the restaurant cooks up consistently palatable Siamese meals and should easily become one of the best bargains around the prime neighborhood.
Inside the Thai eatery, everything seems to be done in a business-focused manner. The place is spick-and-span, properly decorated but not too much to reveal a personality. Staff carry a matter-of-fact attitude; efficient, polite and largely free of emotion during our recent visit on a weekday night. A similar sense of adequacy can be detected in the food too, which is even in quality, pleasantly presented and with neither wow-inducing surprise nor disappointment.
The a la carte menu is fairly extensive, so when in doubt, go for the items listed on the chef's recommendation page. The recommended fried oysters in hot and sour sauce (酸辣炸牡蠣, NT$380) came first and heralded a promising feast ahead. Topped with finely chopped onions, chives and garlic, the succulent shellfish was temptingly bathed in a chili-abundant, saliva-inducing pungent dressing.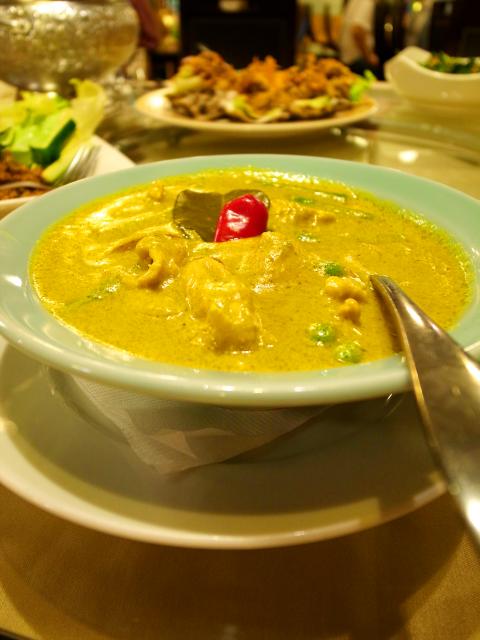 Siam Kitchen puts together a menu of satisfying Thai dishes at reasonable prices.
Photo: Ho Yi, Taipei Times
A mellow contrast to the tangy oysters, the green curry chicken in coconut cream and sweet basil (椰汁綠咖哩雞, NT$300) saw tender white meat floating in creamy, sweet coconut milk among herbs. The fried minced pork with chili, garlic and basil (打拋豬肉, NT$300) features ground pork stir-fried with various spices and herbs to create a savory concoction that goes well with rice and beer. The latter comes in limited choices (NT$80 to NT$110), but does include the refreshing Singha Beer.
The chicken or pork satay with spicy peanut sauce (泰式沙嗲串, NT$320 for six skewers), however, received conflicting reviews among our table of six. Some liked the properly grilled meat devoid of greasiness; others believed that the barbecue should be more bold and messy in taste. Regardless, everyone agreed that the dish was well-presented, and appreciated the fact that there were not one but two accompanying sauces — creamy peanut and sweet and sour.
The climax of the evening arrived with the braised beef with massamun curry in pumpkin (咖哩南瓜牛肉, NT$380), a house specialty that was seen sitting on almost every table during our visit. Tenderly cooked and used as a bowl for the curry, the wonderfully sweet pumpkin is not only a delectable piece of cookware but offers a harmonious layer of zest and texture to the rich and creamy curry.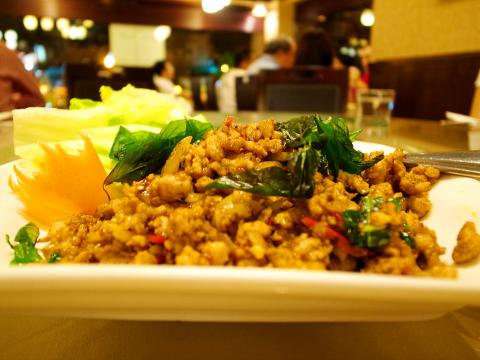 Siam Kitchen puts together a menu of satisfying Thai dishes at reasonable prices.
Photo: Ho Yi, Taipei Times
Overall, Siam Kitchen's interpretation of Thai fare is mellow, clearly aiming for the local palate. For those who like it hot, there are several levels of spiciness to choose from. We asked for xiaola (小辣, little spicy), which is one level hotter than weila (微辣, slightly spicy). It probably partially explains the mildness of our food.
A decent selection of sweet courses are on offer and comprise traditional treats like the assorted Thai-style tapioca pearl in coconut milk (摩摩喳喳, NT$90) and glutinous rice with taro and coconut milk (芋香紫米, NT$90), as well as specialties such as the custard pumpkin (南瓜燉布丁, NT$120).
A small section of the menu is reserved for vegetarian dishes. Set menus for between three and 10 people cost from NT$460 to NT$600 per person.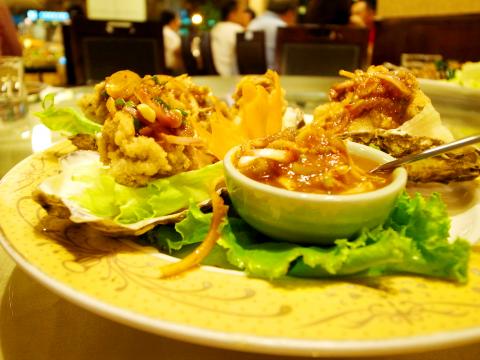 Siam Kitchen puts together a menu of satisfying Thai dishes at reasonable prices.
Photo: Ho Yi, Taipei Times
Siam Kitchen has another venue at 39 Jilin Rd, Taipei City (台北市吉林路39號). More information can be found on the restaurant's Web site at www.siamkitchen.com.tw.
Publication Notes
Siam Kitchen 暹廚
Address: 231, Anhe Rd Sec 2, Taipei City (台北市安和路二段231號)
Telephone: (02) 2732-8398
Open:Daily from 11:30am to 2pm and 5:30pm to 9:30pm
Average meal: NT$400 to NT$500
Details:Chinese and English menu; credit cards accepted; 10 percent service charge
On the net: www.siamkitchen.com.tw
Comments will be moderated. Keep comments relevant to the article. Remarks containing abusive and obscene language, personal attacks of any kind or promotion will be removed and the user banned. Final decision will be at the discretion of the Taipei Times.