The old men and the sea
A collaboration between PTS and filmmakers from the UK, 'A Town Called Success' tells the story of a group of harpoon fishermen in Taitung who rely on the traditional fishing methods to haul in the catch
Every morning before daybreak, 60-year-old captain Chen Yong-fu (陳永福) and his two-man crew sail out on the Pacific. Carrying 20kg spears, the old fishermen effortlessly balance themselves on the tip of a narrow harpooning platform, looking for the slightest movement in the waves that might reveal the whereabouts of the majestic creatures they are hunting.
A Town Called Success (戰浪), an international co-production between Public Television Service (PTS) and director Frank Smith and cinematographer Rob Taylor from the UK, captures a traditional form of marlin fishing.
According to Jessie Shih (施悅文), deputy director of the international department at Public Television Service Foundation, the 75-minute long documentary is the latest in PTS's ongoing initiative to use high-definition technology to make documentaries about Taiwan that focus on sustainability, the environment and culture, while offering a chance to share experiences with and learn from international collaborators through co-productions.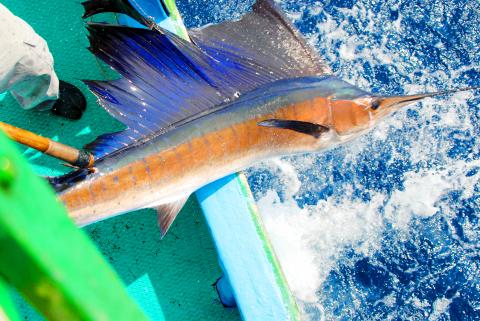 A Town Called Success reveals traditional harpoon fishing using high-definition technology.
Photo courtesy of Public Television Service and Hung Hsiao-min
"When it comes to the digital filmmaking environment and talent, Europe and the US are still far ahead … [With the HD initiative], we aim for productions that possess global values and speak to international audiences," says Shih, who also produced the film.
Filmed over a 12-month period starting on the Lantern Festival last year, the documentary follows the lives of a group of veteran fishermen in Chenggong (成功, lit: success), a small fishing village in Taitung County.
Without relying on off-screen narration and talking heads, the film allows the town and its inhabitants to speak for themselves through everyday images, revealing a declining hamlet where the elders go about on wheelchairs, and the veteran fishermen find and catch marlin with the skill and instinct of a hunter, rather than relying on modern technology.
Their lifelong practice of traditional harpoon fishing, which was introduced to Taiwan during the Japanese colonial era, has become threatened in a world where small-scale fisheries are replaced by industrial fishing that indiscriminately nets vast quantities of marine life. Audiences soon become aware that the more than the century-old sustainable fishery is a dying trade as younger generations shy away from the arduous occupation, and marine resources gradually shrink.
Captain Chen and other fishermen in the village have joined a conservation project by marine scientist Chiang Wei-chuan (江偉全) to tag and release marlin and other big fish back into the ocean.
For director Smith, the story about the harpoon fishermen in Chenggong has a universal theme that transcends national borders.
"My strongest interest is always finding a story about people's lives in a changing world and finding how people are coping with their society and the way their society is changing … What goes on in that tiny fishing town in eastern Taiwan is very representative to the rest of the world," Smith told the Taipei Times via Skype on Tuesday.
Having worked extensively with the BBC, National Geographic, Discovery and other broadcasters, Smith and cinematographer Taylor help to deliver a vivid portrait of Chenggong's fishing traditions through ingenious cinematography. A wide range of digital cameras are used to film sailfish with underwater equipment, take aerial shots through remote controlled helicopters or offer various perspectives from small Go-pro cameras which can be easily positioned on the small fishing vessel in the rough sea.
Smith describes their shooting on the boat as "physical filming," as the narrow space makes their work extremely difficult, and the hours spent with the fishermen chasing after one of the fastest fish in the world, which can swim at 80km to 100km per hour, were both exciting and exhausting.
Technology aside, Smith says that the collaboration with PTS allowed him to "go back to a much more purist approach to filmmaking," whereas much of his previous work focused on "much more factual entertainment and creating drama, creating a situation where you script the story for the audience."
Smith's first collaboration with PTS was the 2011 A Year in the Clouds (司馬庫斯), an award-winning documentary about the Atayal (泰雅) village of Smangus (司馬庫斯) deep in the lush mountains of Hsinchu County (新竹縣).
"The stories we did in A Year in the Clouds and A Town Called Success are much more about just letting audiences into a way of life that most audiences will never get to see," the director says.
"I think it's very essential documentary-making to understand what's happening to other cultures, to other societies because it affects us all."
A Town Called Success will be aired on PTS HD channel today at 12pm and 7:30pm. More information can be found at www.pts.org.tw/success.
Comments will be moderated. Keep comments relevant to the article. Remarks containing abusive and obscene language, personal attacks of any kind or promotion will be removed and the user banned. Final decision will be at the discretion of the Taipei Times.