The Vinyl Word
On July 25, local DJ Poppa Baer (real name Frank Lee) looked down at his phone at midnight and saw it was a bigwig from Nike calling. "Whenever I see that name, I already know my answer is yes," Baer said.
The request was an odd one. LeBron James remembered Baer from an event a year ago in Taiwan and asked if the DJ would be around during his upcoming tour of China. The head honcho at Nike told Baer to fly over to Guangzhou, China, the next day and have him set up the turntables in James' hotel room as a surprise. Baer's job was to play music the whole time James was on the China tour.
James showed up and was amazed at the Nike team's work. He then showed his 3.4 million Instagram followers a short video proclaiming that he had a 24/7 DJ in his hotel room. At the time, Baer didn't think anything of it, but soon, he started getting text messages from around the world. "People were sending me messages telling me I was on TMZ, ESPN and all over the Internet. I even heard from my brother and I never hear from my brother," Baer said.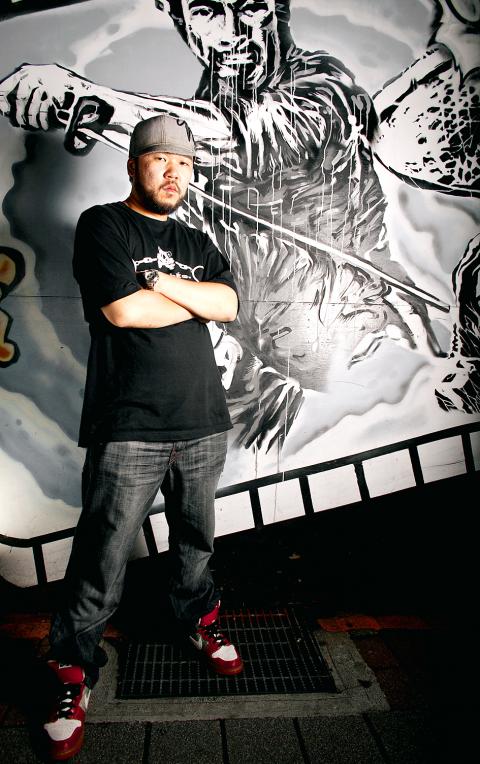 Meet LeBron James' 24/7 DJ, Poppa Baer.
Photo Courtesy of Poppa Baer
James went on to do his events, but eight hours later, he came back and posted another Instagram video saying that Baer was "still there and still rocking."
For the next five days, Baer would deejay every time James was in his hotel room in Guangzhou and even when he went to Beijing. For Baer, the overall experience of being that close to the best NBA player in the world was flabbergasting. "It was very surreal and mad fun," Baer said.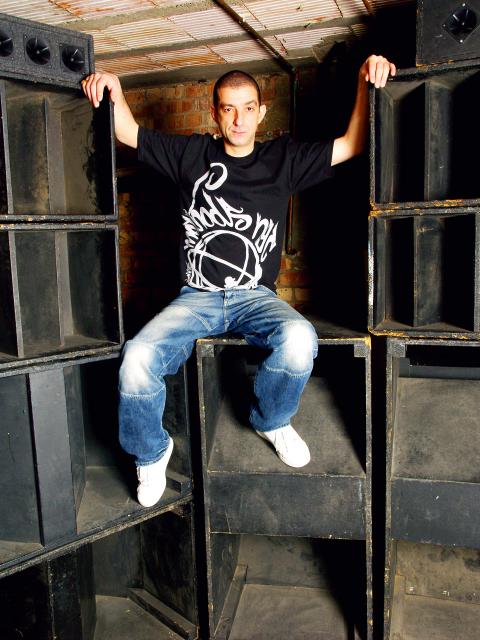 DJ Hype brings the bass to Taiwan on Thursday.
Photo Courtesy of Urban Asia
■ Tomorrow night, the White House Resort turns from a beach getaway into a full blown beach rave with three stages for the One Love DancingFest. David Lin (林大為) has been deejaying at and organizing the Moonlight parties annually in Kenting for 13 years during Tomb Sweeping weekend. He is now working very closely with the owner of the White House Resort. "He loves music and entertainment and hopes this place can turn into Ibiza in the future," Lin said in an e-mail interview.
Instead of calling the party Moonlight, Lin turned to one of his favorite reggae tunes, One Love by Bob Marley. "I think the spirit of one love includes the love of music, art and performance. I hope all those who love dance music can get together and dance on this white sandy beach every summer."
One Love DancingFest from 2pm to 7am at the White House Resort (萬里沙灘區), 264 Masu Rd, New Taipei City (新北市萬里區瑪鋉路264號). Presale tickets are available at all iBon/FamiPorts for NT$800, or NT$1,000 at the door.
■ While DJ Robi Roka (real name Roberto Mallenzi) spends a good part of his time at his Room 18 residency playing a lot of electro club bangers, it is the dirty, grimy sounds of drum and bass music that are in his blood. Roka has invited one of the best drum 'n' bass DJs in the world, DJ Hype, to Taiwan for a show on Thursday.
"After the massive success of Andy C a few months ago, we wanted to give the Taiwan crowd some more real music on an awesome sound system," Roka said in an e-mail interview. "DJ Hype plays my kind of drum and bass, which is up front, in your face and full of bass!"
Urban Asia and Tranquility Bass present DJ Hype and MC Daddy Earl on Thursday from 10:30pm to 4am at M Cubic at the Core Pacific Mall, 12 F, 138, Bade Rd Sec 2, Taipei (台北市八德路四段138號12樓). Admission is NT$700 and includes a drink.
Comments will be moderated. Keep comments relevant to the article. Remarks containing abusive and obscene language, personal attacks of any kind or promotion will be removed and the user banned. Final decision will be at the discretion of the Taipei Times.