Art exhibition listings
Curator Wang Sheng-hung (王聖閎) conducted interviews on what professional artists think about their parents, what parents see in their child's work and the things that each side wishes they could tell the other. His results are Futures on the Table: Home.Artist.Relationship(餐桌上的未來), a group exhibition featuring paintings and other pieces by Art of Prospection, a Taipei-based association of professional artists. For a professional artist, the family is often a site of tension and mutual incomprehension that grows as the artist matures, according to Wang.
■ Kuandu Museum of Fine Arts (關渡美術館), 1 Xueyuan Rd, Taipei City (台北市學園路1號), tel: (02) 2893-8870. Open Tuesdays to Sundays from 10am to 5pm
■ Until Sept. 22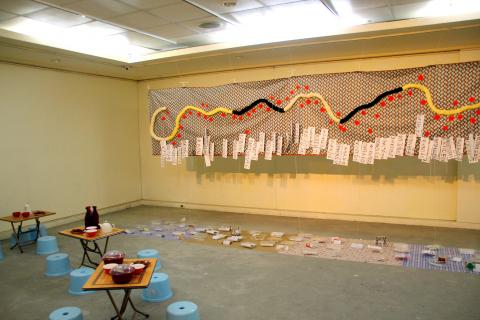 Anne Tismer, Drifting Journey (2013).
Photo Courtesy of Taipei Artist Village
Towards Atmospheric Abstraction (氤氳渺邈) is a joint exhibition of work by Jiang Dahai (江大海) and Yan Shanchun (嚴善錞), Chinese artists who revisit the age-old mode of landscape painting in different ways. French-trained Jiang (b. 1946), uses a colorful stippling technique that gives his cloud-filled scenes a blowsy and haphazard feel. Yan, who was trained at the China Academy of Art, uses muted colors and white space to create images of lakes that seem to expand beyond the canvas.
■ Tina Keng Gallery (耿畫廊), 15, Ln 548, Ruiguang Rd, Taipei City (台北市瑞光路548巷15號), tel: (02) 2659-0798. Open Tuesdays to Sundays from 10am to 7pm
■ Opening reception tomorrow at 4:30pm. Until Sept. 8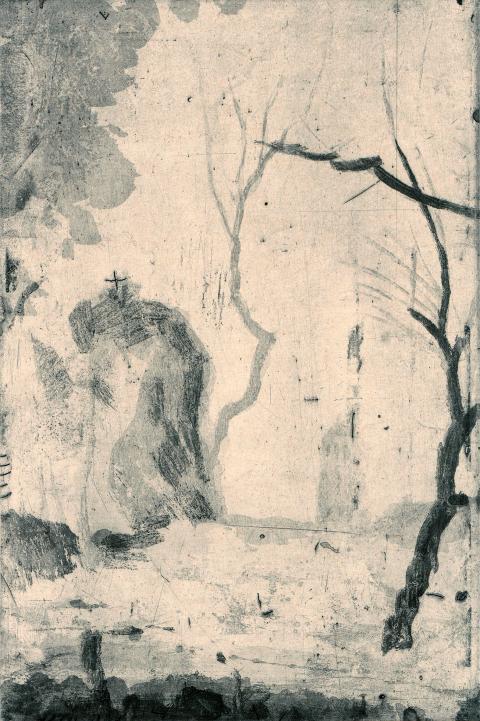 Yan Shanchun, West Lake 8-1 (2012).
Photo Courtesy of Tina Keng Gallery
An Exhibition for Wood Craft Furniture of Taiwan (來坐-臺灣木工藝家具展) is an ode to the chair, an indispensable and, perhaps, an under-appreciated prop in human society. Pieces are arranged under three themes — traditional spirit, craft of daily life and east meets west — to tell the history of chair design and cultural changes in Taiwan. Installations are sourced from local furniture makers, past and present, who specialize in wood craftsmanship.
■ National Taiwan Craft Research and Development Institute (國立臺灣工藝研究發展中心), 573 Zhongzheng Rd, Nantou County (南投縣草屯鎮中正路573號) tel: (49) 233-4141. Open Tuesdays to Sundays from 9am to 5pm
■ Until Oct. 27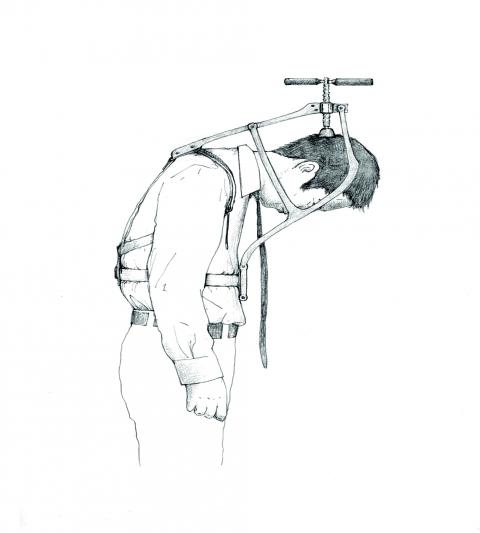 Liu Han-chih, Look at the Necktie (sketch, 2013).
Photo Courtesy of TFAM
Walking in Place (原地散步) is a solo exhibition by young artist Liu Han-chih (劉瀚之), grand-prize winner of the 2011 Taipei Fine Arts Award. He's bringing five of his latest mechanical installations, such as Visitor (訪客), a peephole contraption with a crystal ball that hypnotizes viewers into thinking a friend is at the door. It's for the modern young recluse, who may secretly yearn for a real-life companion even as he navigates his rich online interactions. "Users of these devices get the most intimate service, as abnormal states are fully indulged. The weak can just be weak, and the petty can be petty until their necks break," writes Hsieh in the gallery notes.
■ Taipei Fine Arts Museum (TFAM, 台北市立美術館), 181, Zhongshan N Rd Sec 3, Taipei City (台北市中山北路三段181號), tel: (02) 2595-7656. Open Tuesdays to Sundays from 9:30am to 5:30pm and until 8:30pm on Saturdays
■ Opens tomorrow. Until Sept. 29
Drifting Journey — Hsueh-hung Hsieh in the Lugu Lake (漂浪之旅-謝雪紅在瀘沽湖) is Anne Tismer's film and mixed media installation, offering an alternate life story for an early Taiwanese feminist. In her work, Tismer spotlights Hsieh Hsueh-hung (謝雪紅), a Changhua native who promoted women's rights and co-founded the Taiwanese Communist Party under Japanese occupation. Hsieh later fled to China, where she faced political persecution during the Cultural Revolution. In the alternate version of her life, Hsieh settles instead with the Mosuo (摩梭), a minority ethnic group in China, with whom she is able to realize her ideals.
■ Barry Room, Taipei Artist Village (台北國際藝術村百里廳), 7 Beiping E Rd, Taipei City (台北市北平東路7號), tel: (02) 3393-7377. Open Tuesdays to Sundays from 11am to 9pm
■ Until Sept. 1
Comments will be moderated. Keep comments relevant to the article. Remarks containing abusive and obscene language, personal attacks of any kind or promotion will be removed and the user banned. Final decision will be at the discretion of the Taipei Times.