An early Christmas
Christmas is coming early to Taipei as Le Ballet du Siecle de Taipei (世紀舞匯) stages a scaled-down version of The Nutcracker as its second production of the year this weekend at Taipei's Huashan 1914 Creative Park (華山1914文創園區).
The company, founded in 2006 by Li Lin Lili (李林莉莉), is celebrating its selection this year by the Taipei City Government as one of the best performing arts companies in the city.
The Nutcracker is one of the most famous works in the classical, romantic ballet canon. It was created in 1892 by Marius Petipa and Lev Ivanov to a score by Peter Ilyich Tchaikovsky, based on an adaptation of E.T.A. Hoffmann's short story The Nutcracker and the Mouse King.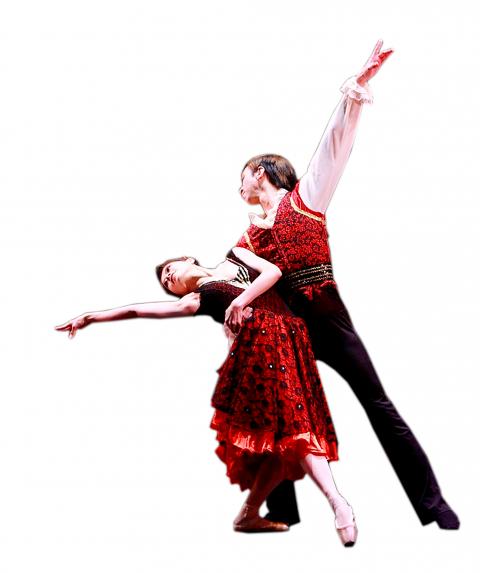 Le Ballet du Siecle de Taipei is performing The Nutcracker for four shows at the Huashan 1914 Creative Park this weekend.
photo courtesy of Le Ballet du Siecle de Taipei
The ballet is set at Christmas time, when a young girl, Clara, receives a nutcracker doll from her godfather, which magically comes alive at midnight. After a fierce battle with the evil Mouse King, the Nutcracker turns into a prince, who whisks Clara off to his fantasy kingdom, The Land of Sweets, which is ruled over by the Sugar Plum Fairy and populated by dancing dolls. The second act is notable for its collection of divertissements — such as the Spanish, Russian and Chinese dances — as well as the Waltz of the Flowers.
More and more dance troupes are using the buildings at Huashan for their shows, usually for lack of availability of a better space. The Fruit Wine building's second floor is popular, but it seems better fitted for a contemporary troupe than ballet, so it will be interesting to see how Le Ballet du Siecle de Taipei's dancers fare this weekend. There certainly is not enough room for a full retelling of The Nutcracker.
The Fruit Wine building also does not have that much room for audiences, so tomorrow night's show and the 4:30pm one on Sunday are already sold out, while tickets for the remaining two performances are going fast.
Publication Notes
Performance Notes
WHAT: The Nutcracker
WHEN: Tomorrow at 4:30pm and 7:30pm (sold out), Sunday at 2:30pm and 4:30pm (sold out)
WHERE: Huashan 1914 Creative Park (華山1914文創園區), Fruit Wine Building 2F (果酒禮堂2樓), 1, Bade Rd Sec 1, Taipei City (台北市八德路一段1號)
ADMISSION: NT$500, NT$600 and NT$800; available at NTCH box office and online at www.artsticket.com
Comments will be moderated. Keep comments relevant to the article. Remarks containing abusive and obscene language, personal attacks of any kind or promotion will be removed and the user banned. Final decision will be at the discretion of the Taipei Times.