Poetic theater
Taipei's quirky Riverbed Theater (河床劇團) is back in action this weekend at the Experimental Theater with another of their trademark surreal productions.
The company is following up its Just for You Festival at the Taipei Fine Arts Museum this spring with A Secret for a Secret (只有秘密可以交換秘密), an exploration of love, loss and the unknown, based on the work of innovative Taiwanese poet, lyricist and playwright Hsia Yu (夏宇).
Hsia is one of the most popular contemporary poets in Taiwan. A founding editor of Poetry Now (現在詩), she gained attention when she self-published her first poems in the early 1980s. While many of her poems focus on gender and cliches about the relationships between men and women, she is famed for taking those cliches and turning them inside out, for playing with the Chinese language, as well as for the use of a self-invented language, which she first used in the 1985 poem yi'ermidisuo.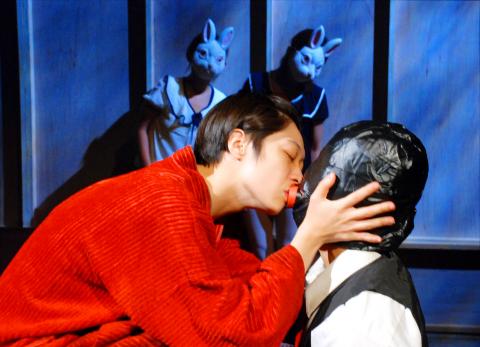 Riverbed Theatre is performing A Secret for a Secret at the Experimental Theater in Taipei this weekend.
photo courtesy of Riverbed theater
Although she is proudly claimed by Taiwan, Hsia has lived in Paris for many years, earning a living as a lyricist and translator, since poetry alone does not pay the bills.
Producer Yu Su-ling (葉素伶) said Hsia contributed a recording of her reading one of her poems to the production, but otherwise she did not get too involved.
Director Craig Quintero said he first met Hsia 15 years ago after she saw one of the troupe's first productions, Burnt Rice. She told him that she thought the production was very poetic.
"I went home and read some of her poems, and I thought they were very theatrical," he said. "They use very evocative language, create a parallel universe, with different levels of sight and sound. Some of her poems are a collage of images."
Quintero described the combination of Riverbed and Hsia's work as "a work in tandem."
"There is more speaking in this production than in all the rest of our shows over the past 15 years combined. Some of the poems are in Chinese, and some in English. It's a great vehicle to relate poetry to the theater of images," he said.
Not only is there more text than normal for a Riverbed production, Quintero is using a larger cast, 11 actors in all, including locals Klaire Wu (吳青樺) and He Hsiang-i (賀湘儀), and four of his students from Grinnel College, where he is now an assistant professor: Alex Hsieh, Emma Sinai-Yunker, Teddy Hoffman and Quinnita Bellows.
Quintero said it has benefited the students because they have worked on the set over the summer and have had the chance to work alongside some top Taiwanese actors.
The production comes with two caveats. The first is that because of partial nudity, the play is not recommended for those under 16 years of age. The second is that audience members must be on time because latecomers will not be admitted.
Publication Notes
Performance Notes
WHAT: A Secret for a Secret
WHEN: Tonight and tomorrow at 7:30pm, tomorrow and Sunday at 2:30pm
WHERE: Experimental Theater (國家實驗劇場), 21-1 Zhongshan S Rd, Taipei City (台北市中山南路21-1號)
ADMISSION: Tickets are NT$600, available at NTCH box office and online at www.artsticket.com. Only a few tickets for Sunday's show are left
Comments will be moderated. Keep comments relevant to the article. Remarks containing abusive and obscene language, personal attacks of any kind or promotion will be removed and the user banned. Final decision will be at the discretion of the Taipei Times.