Look closer
A Hobbesian struggle seeps into Kuo Wei-kuo's (郭維國) new paintings, Forbidden Wishes (慾圖.吉祥), a must-see show currently on view at Lin & Lin Gallery. Unlike his previous self-portraits, six of which are on view and depict his psychological pathologies, neuroses and phobias, the recent works for the most part replace the human subject with a species of animal — birds, kittens — that are typically associated with cute, and transforms them into totems of violence in a kind of uncensored Grimm fairy tale that employs Chinese folk imagery — ingots, red string, porcelain — for its symbolism. Each of the 12 new largish canvases represent basic desires: food, sex, power.
The gallery deftly underscores the differences between the older and newer canvases, and the themes contained therein, with a simple but effective curatorial strategy. The early works are squeezed into an austere and dimly lit room, almost claustrophobic in its troglodytic ambiance. Indeed, in these older paintings, Kuo seems to depict himself as a troll emerging from the cave of his own subconscious. The newer works are hung in a brighter, considerably larger, space, together with objects from the artist's studio, the walls punctuated here and there with his surreptitious doodles. One senses the darkness of Kuo's personal struggles have evolved into a universal interest in the human organism, and that the savagery we undergo to fulfill our desires reside in the contours of all species.
Kuo's palette of color has also changed, while retaining a realist-surrealist pictorial language. His previous emphasis on violet and charcoal coloring has given way to an earthier and more luminescent pastel. The brighter colors of the background lend the violent creatures that populate the foreground greater visual immediacy. The liberal use of flowers and birds recalls that tradition of Chinese ink painting, though he subverts the genre by making beautiful creatures do ugly deeds in pastoral settings, suggesting that the beautiful and the ugly are different sides of the same aesthetic coin.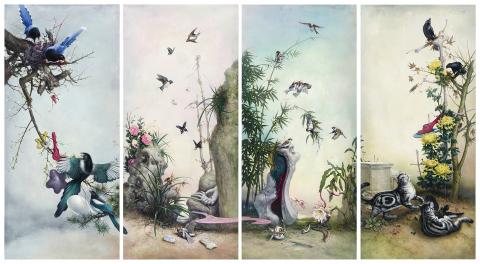 Photo courtesy of Lin & Lin Gallery
Perhaps one logical flaw of these paintings is that they don't suggest any natural leviathan to keep animal desires in check. But perhaps that's the point.
■ Lin & Lin Gallery (大未來林舍畫廊), 16 Dongfeng St, Taipei City, (台北市東豐街16號), tel: (02) 2700-6866. Open Tuesdays to Sundays from 11am to 7pm
■ Until June 29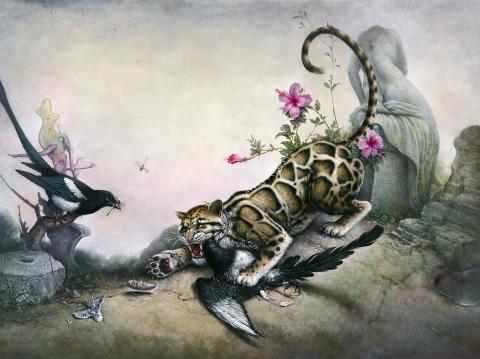 Photo courtesy of Lin & Lin Gallery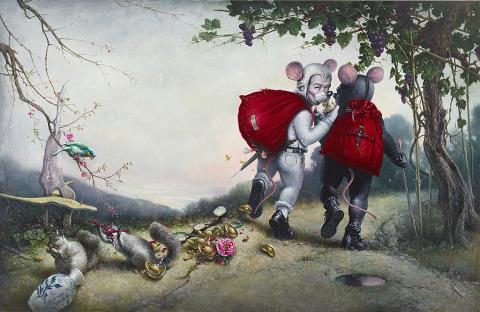 Photo courtesy of Lin & Lin Gallery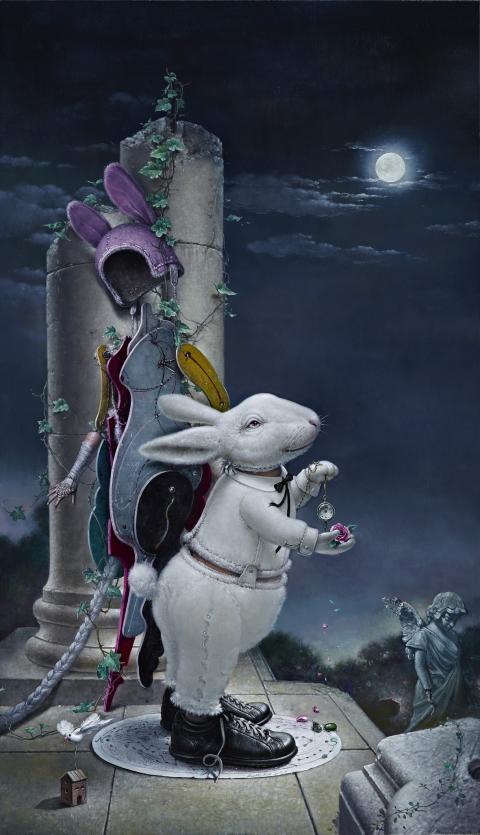 Photo courtesy of Lin & Lin Gallery
Comments will be moderated. Keep comments relevant to the article. Remarks containing abusive and obscene language, personal attacks of any kind or promotion will be removed and the user banned. Final decision will be at the discretion of the Taipei Times.