Hands-on sustainability
The Kuan Shu Education Foundation has built a learning center in rural Miaoli to promote earth-friendly practices
In the rural community of Jiaopu (蕉埔) in Yuanli Township (苑裡), Miaoli County, rice terraces, lush woods and hilly terrains form an idyllic landscape. Locals dig small reservoirs for irrigation, cultivate the land and tend orchards on hillsides. It is a typical farming village in Taiwan that wouldn't halt the tracks of a passing traveler. But to the conservationists working at Kuan Shu Education Foundation (觀樹教育基金會), a non-governmental organization devoted to environmental education, the place has rich environmental resources that can be used to further our understanding of the interaction between agriculture and the environment.
"When we talk about eco-friendly farming and environmental protection, it is not enough to just eat organic food. There are a whole lot of ideas such as food miles [the distance food has to travel to get to your plate] to be considered… Here we try to make use of the local environment to develop a series of activities so that visitors can actually experience and understand these concepts," says Chiang Chin-fu (江進富), who serves as the foundation's project manager.
The Kuan Shu Education Foundation set up its environmental learning center, Lishanshu (裡山塾), over a year ago on the site of a deserted Catholic church and surrounding farmland in Jiaopu. Upon moving into the village, Chiang and his colleagues noticed that the farming community has retained a way of life that fits the principles of the Satoyama Initiative, an international effort jointly put forth by the Institute of Advanced Studies of the United Nations University and Japan's Ministry of Environment.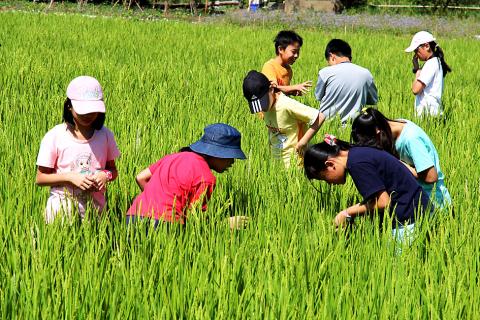 Lishanshu offers a variety of activities year-round to raise public awareness of sustainable agriculture and environmental protection.
Photo courtesy of Kuan Shu Education Foundation
SUSTAINABILITY
With its core vision to harmonize society with nature, the Satoyama Initiative calls for preserving diverse, human-influenced natural environments, such as farmland and pastures, which are deeply dependent on the interactions of humans and nature. These landscapes have wildly varying climatic, geographic and socioeconomic conditions, but are all believed to play an important role in sustaining biodiversity and improving human well-being as well.
Chiang says that traditional knowledge and practice passed down from generation to generation in Jiaopu are valuable in terms of sustainability. For example, local farmers use cobbles commonly found in the region to build ridges between paddy fields, which are then inhabited by a variety of species.
The foundation holds workshops and activities to introduce visitors to these practices, such as using firewood as a clean source of energy, or applying different kinds of bamboo grown locally to house building and basket weaving.
"One of our long-term goals is to learn, revive and promote local knowledge, traditions and culture that use and manage land and natural resources in a more sustainable manner," Chiang says.
Meanwhile, conservation workshops are organized to teach students about leopard cats, which, following the extinction of Formosan clouded leopards, are the only remaining wildcat species native to Taiwan. Studies show that the habitats of leopard cats are mostly concentrated in the forests of Miaoli. And according to Chiang, traces of the endangered animals have been found in the woods near Jiaopu. He said studies by Chen Mei-ting (陳美汀), a leopard cats researcher, indicate that the animals often adapt to human-influenced environments.
"For example, they like to walk on the trails in the woods that are rarely used by humans," he says.
KEEPING IT LOCAL
Jiaopu, like most farming villages in Taiwan, has long suffered a youth drain. Young adults move away for school and work, leaving the elderly and youngsters at home to keep the farm going. The foundation also sets its mission to support the farming industry in the community by bridging local producers with urban consumers. Visits to nearby orchards and dairy farms are arranged for participants to meet and talk to local farmers and producers.
"We would like to help local farmers make their conventional farming more environmentally-friendly, and at the same time, bring in the support of consumers and let them know that making better choices when consuming can lead to a more sustainable way of life," Chiang says.
On June 15 and June 16 at Lishanshu, visitors will have a chance to learn how to build ridges between paddy fields using cobblestone. The registration deadline is tomorrow. Since the learning center provides a variety of activities all year round, groups of 20 people or more are welcome to make reservations for the activities of their choice. More information can be found at the foundation's Web site: www.kskk.org.tw/satoyama.
Publication Notes
IF YOU GO:
The most convenient way to reach Lishanshu is by driving. If driving on National Highway No. 3 (國道三號), make an exit at Yuanli Interchange (苑裡交流道) and change to Miao Provincial Route No. 121 (苗121縣道) and then Miao Provincial Route No. 130 (苗130縣道). Lishanshu is located on Miao Provincial Route No. 130 at the 8.2km marker. Once you see the Jiaopu Elementary School (蕉埔國小), you are 200m away from your destination.
If driving on National Highway No. 1 (國道一號), exit the highway at Sanyi Interchange (三義交流道) and drive north along Provincial Highway No. 13 (台十三線). Turn left on Miao Provincial Route No. 130.
Call (03) 774-5200 for further instructions.
Comments will be moderated. Keep comments relevant to the article. Remarks containing abusive and obscene language, personal attacks of any kind or promotion will be removed and the user banned. Final decision will be at the discretion of the Taipei Times.