Cinematic activism
Now in its third year, Film Forward is an initiative of the Sundance Institute that aims to enhance cross-cultural understanding through film
A massive iceberg, about the size of five football fields, quakes and thunders as it collapses into the sea. Glaciers, miles long, which took thousands of years to form, face extinction within a few years. These are the powerful manifestations of climate change captured in Chasing Ice, a feature-length documentary following National Geographic photographer James Balog and his expedition across the Arctic to show how fast the world's glaciers are melting and their disappearance due to global warming.
Director Jeff Orlowski has lost track of the number of talks, lectures and similar events he has given to discuss related issues since the film's US premiere last year. Still, a recent effort saw Orlowski taking part in an international tour to show the documentary at a school for migrant workers' children in Columbia, to hold a workshop in China and to speak in front of a full-house audience in Taipei last Friday.
"We are trying to take the movie to people who need the see it," Orlowski says, "We have seen the incredible impact [the film makes] on climate change skeptics… and lots of individuals have changed their opinions in terms of how they want to live their lives."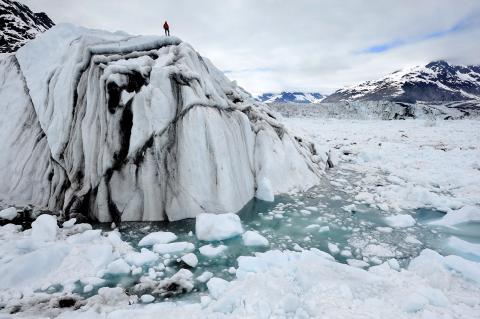 Chasing Ice by Jeff Orlowski.
Photo courtesy of CNEX and Sundance Institute
Orlowski and his multi-award winning documentary were brought to Taiwan as part of the Film Forward program, an initiative of the Sundance Institute that started in 2011 with an aim to promote cross-cultural understanding, dialogue and collaboration. In locations and communities across the US and internationally, the cultural film exchange effort offers screenings, workshops, roundtables and discussions with filmmakers. Orlowski adds that it is an exciting experience to engage with audiences vastly different than those at film festivals.
This year, eight documentary and narrative films were selected to travel to places including Bosnia and Herzegovina, Jordan and Puerto Rico. For its leg in Taiwan, which was held in collaboration with the American Institute in Taiwan, CNEX Foundation and Sundance Channel Global, the program featured free screenings, question-and-answer sessions and panel discussions that took place in Taipei, Taoyuan and Hualien during a five-day tour that ended on Sunday.
Reaching out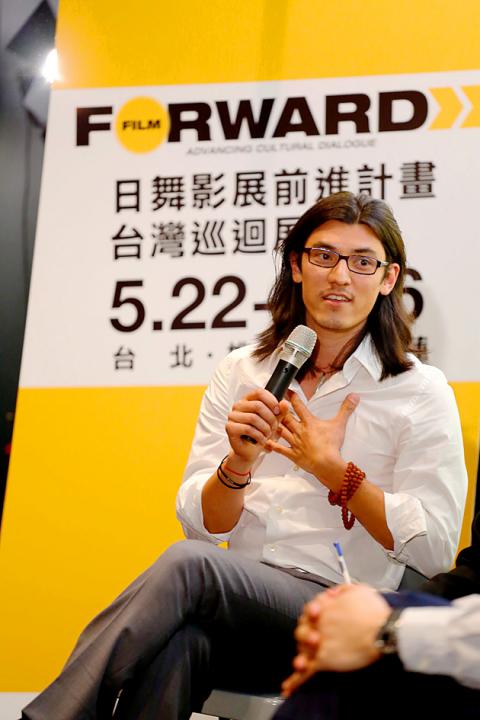 Jeff Orlowski discussed his film and issues surrounding climate change with audiences in Taiwan.
Photo courtesy of CNEX and Sundance Institute
As idealistic as it may sound, Jill Miller, the lead consultant on the Film Forward program, says Sundance does believe in the power of film to bridge cultures and unite people.
"We talk about the things we all share as human beings, and also things that are very different. Film helps you to understand these things in a non-threatening way. We feel that if people have a better understanding of different cultures, it can bring tolerance," says Miller, who has worked at Sundance for more than 20 years and just recently stepped down as the institute's managing director.
According to Miller, works selected for Film Forward don't have to be shown at the Sundance Film Festival nor do they have to have received support from the institute through its various programs. They are chosen for their unique qualities to build resonance about certain issues. Under the Same Moon, a feature debut by Mexican director Patricia Riggen, for example, "shares the American challenge with the world" as it spins a bittersweet yarn about a Mexican boy's journey to find his mother, who works as an illegal domestic in Los Angeles. To Miller, the film is a way to engage diverse audiences in dialogue since every community in the world has migrant workers and needs to tackle the issues surrounding immigration.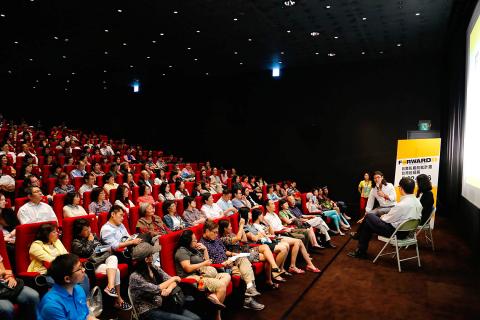 The Film Forward program brought free screenings, question-and-answer sessions and panel discussion to Taipei, Taoyuan and Hualien during a five-day tour that ended on Sunday.
Photo courtesy of CNEX and Sundance Institute
Miller's viewpoint finds articulation in director Riggen's experience with the film. "The movie was not intended to make an impact. But Hispanic communities in the US embrace it because for the first time, they see themselves in a movie," Riggen says, adding that the governments in the US and Mexico have used the film in schools to teach students about immigration related issues.
Meanwhile, Chasing Ice takes a close look inside photographer Balog's ambitious quest to capture a visual representation of climate change by installing cameras around the Arctic from Greenland to Montana to take time-lapse photographs of receding glaciers. The end result is a stunning testimony to the gravity of human impacts on the planet.
To further understanding and generate communications, Orlowski and other team members have sought to build partnerships with different organizations and tour with the film in the US and around the world. It has been shown at the White House and US Congress; a large number of screenings have been done in universities and colleges as "scientific communities realize that they need to learn how to communicate climate change with the public," Orlowski says.
The biggest conversion the director has seen takes place among those who "are trained to believe global warming is a hoax."
"People are in shock and have a hard time understanding what they are seeing [on screen]," the 29-year-old director says.
Another primary goal of the Film Forward initiative is to reach out to communities that may not otherwise have access to independent cinema. Over the past three years, the touring program has brought films to places like the Kakuma Refugee camp in the northwest of Kenya near Sudan, the Saginaw Chippewa Reservation in Michigan and a gay and lesbian youth shelter in Nashville.
At an event this year, Film Forward showed The Light in Her Eyes, a documentary shot in Syria that examines the role of women in Islam to a group of girls in ninth and tenth grades at a refugee camp in Jordan.
"It is fantastic for the girls, who are struggling with the Qur'an and what it tells them they should and should not do, to watch a film and see girls in another country struggling with the same thing," Miller says.
Sundance spirit
Established in 1981 by Robert Redford, the Sundance Institute set its core mission to support independent filmmaking, discover new talents and create an environment where artists can work outside the Hollywood system. The goal has stayed the same over the years, while people at the institute look for different ways to fulfill it.
"We started out to support the inception of filmmaking. Now we support it all the way through distribution," Miller points out.
As for the Film Forward program, the Sundance veteran admits that it has become increasingly challenging for the nonprofit arts organization to expand while keeping its focus on and siding with filmmakers.
"As a nonprofit organization, we need money to keep us running. But if the dollar doesn't come with commitment, it makes no sense to us," she says.
One way to mitigate the problem is to reduce the corporate presence and work with sponsors who share the same values as Sundance and can help to further its mission.
To Miller, the key is to think why you want to do it in the first place and stay true to it.
"You have to be careful with new activities. Do you do them to get funding or to support your core mission? This is the question we ask ourselves every day," she says.
Comments will be moderated. Keep comments relevant to the article. Remarks containing abusive and obscene language, personal attacks of any kind or promotion will be removed and the user banned. Final decision will be at the discretion of the Taipei Times.