Leisure: Not the Holiday Inn
Though Taipei's old-style inns have lost much of their business to international hotels, one woman thinks she can turn that around
Isis Lee (李明俐) is worried about inns. These days, Taiwanese want someplace grander for their New Year trips to Taipei, and international tourists keep turning to the names they know — big hotel chains that offer services in English. As a result, the little hotels that populate the alleys of Beitou (北投), Wanhua (萬華) and other older districts in Taipei have largely fallen into disrepair.
That had been the case with Bin-cheng Inn (賓城旅社) — now called Solo Singer — in Beitou, she said.
During the Ten Major Construction Projects of the 1970s, Bin-cheng had thrived by catering to contract workers, business interests and the geisha-like escorts who made Beitou the entertainment mecca of Taipei City. After the mega-construction projects ended and the government banned prostitution in the 1980s, business at the inn slowed, then narrowed to a trickle. On Lee's first visit last February, she found the rooms mostly empty and the walls latticed with mold.
You won't find television sets at Solo Singer, but there's ample room to curl up with a book.
Photo: Enru Lin, Taipei Times
"The innkeeper was the second generation in the family business... She had become very tired. Running an inn is a 24-hour job," said the 30-year-old Lee.
A soft-spoken woman with a love for antiques, Lee spent her twenties overseas studying heritage management, a major that does not exist in Taiwan. She came home eager to preserve and met Heather Ma (馬永欣), an investor with an interest in the hotel industry. Together, they mailed out over 100 offers to rent and refurbish old inns that exemplified what they thought of as Taipei's alley culture.
Only one innkeeper responded: Bin-cheng's. But the place was just what they wanted. Not tall at just three floors, its rooftop terrace nevertheless afforded an unbroken view of the district skyline. It was in fact located in an alley, a slender thing that no car could traverse. Instead of calling a cab, residents of the alley-laced region preferred the motorbike express, a kind of taxi service.
You won't find television sets at Solo Singer, but there's ample room to curl up with a book.
Photo: Enru Lin, Taipei Times
"You make a phone call, and a motorbike zips over and takes you to the MRT station. It's just NT$40. They tote everything for you. Go shopping and end up with too many groceries? A lot of mothers call a motorbike and get sent home," Lee said.
Lee said the genuine personality of her neighbors makes living in the area and running the inn quite enjoyable. Most households had lived there for years, and had raised their children together.
"Down the alley, there is an uncle who constantly forgets his keys. Every time that happens, he comes knocking and asks the inn to make a phone call for him," Lee said.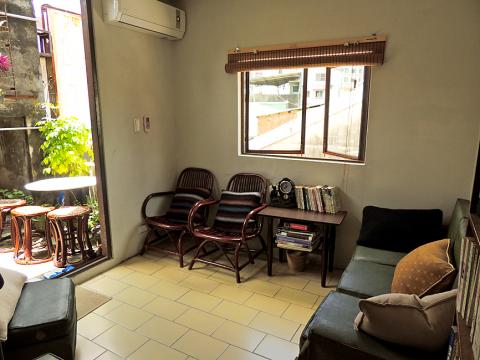 You won't find television sets at Solo Singer, but there's ample room to curl up with a book.
Photo: Enru Lin, Taipei Times
"There are few true neighborhoods like this left in Taipei, and that's the kind of living we wanted to advocate," she said.
After signing a 15-year lease agreement with the owner, Lee and Ma removed all the television sets and built a communal reading room. They commissioned local artists to pick a room and design it for beauty and comfort, as if furnishing it for themselves. The result is a sculptural agglomeration of colonial Japanese, pre-modern Taiwanese and contemporary elements — something original sprung up in an old inn.
What results is a reclaimed space that offers a self-consciously cultural vacation experience that so far has appealed mostly to foreign tourists. Since opening last September, less than 25 percent of their clientele has been Taiwanese.
But Lee doesn't mind. "Taiwanese already know what life is like in the back alleys. They live there."
But she hopes that with time, more people can see back alley living as a good thing, instead of as a source of embarrassment. Too many cultural artifacts sit abandoned, she said, or are on the path to being razed.
"Taiwan has always been about developing new things. It's a value that carries over from the past 20 to 30 years, when Taiwan's economic development took off on the principle of taking down the old and building up the new," she said.
But someday soon, people will start to miss their old things, she said. Inevitably, the loss of artifacts will hurt Taiwan as it strives for a place in the international community.
"When you think of England, you think of castles, right? That's their cultural identity," Lee said.
"Yes, Taiwan can make everything new. But when everything is new, and you don't have your old values and identity, people will not be able to know who you are," she said.
Comments will be moderated. Keep comments relevant to the article. Remarks containing abusive and obscene language, personal attacks of any kind or promotion will be removed and the user banned. Final decision will be at the discretion of the Taipei Times.