Green holidays
For TEIA, a local environmental NGO, working holidays are an effective way to utilize volunteers and encourage public participation in conservation
Monitoring the health of Taitung's coral reefs, cleaning beaches on the island of Penghu and maintaining wetlands in Yangmingshan (陽明山) are among the working holiday activities offered by the Taiwan Environmental Information Association (台灣環境資訊協會, TEIA) for volunteers who want to give something back to mother nature.
An independent nonprofit organization dedicated to preserving the country's natural and cultural resources, TEIA has made the establishment of conservation trusts its main goal since its inception in 2000. A conservation trust involves environmental NGOs taking control of a piece of land to prevent it from being developed. Currently, there are no such trusts in Taiwan.
The idea of protecting land from development by conservation trusts sounds promising, though is perhaps a little premature.
TEIA has been organizing working holidays since 2004.
Photo Courtesy of the Taiwan Environmental Information Association
"When [TEIA] first started and hoped to protect the environment through land conservancies, most people probably didn't know what was happening to our environment," says Wen Yu-hsuan, (溫于璇), project manager of TEIA's Environmental Trust Center.
To raise awareness of environmental issues, TEIA set up an online news center (e-info.org.tw) to publish daily news, feature stories and conservation bulletins. Wen says that having studied and participated in conservation actions taken by similar organizations abroad such as the United Kingdom's conservation charity National Trust, TEIA's conservationists found that as land trusts mostly depend on volunteers rather than paid staff, working holidays are becoming an effective way to utilize volunteers and encourage public participation, according to Wen.
Since the program began in 2004, TEIA has held different types of working holidays across and beyond Taiwan. Volunteers have worked in Erziping (二子坪) and Yonglai (雍來), both located in Yangmingshan National Park (陽明山國家公園), to clear invasive plants that have been growing in the marshes since 2005. In Cigu (七股), Greater Tainan, participants erect bamboo bars in lagoons to help stop beach erosion.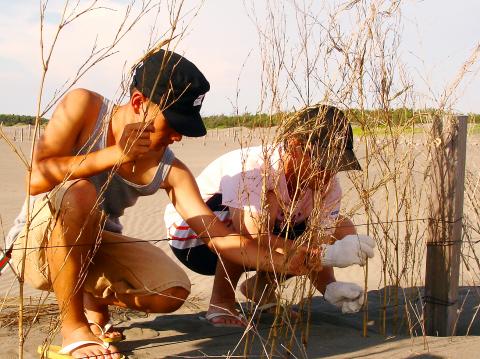 TEIA has been organizing working holidays since 2004.
Photo Courtesy of the Taiwan Environmental Information Association
On the marine front, the group has worked with Chen Chao-lun (陳昭倫), a professor and researcher at Academia Sinica, to regularly monitor and report on coral reef health. Since 2009, TEIA and its volunteer divers have conducted surveys on several islets and in different coastal regions, including Green Island (綠島), Lanyu (Orchid Island, 蘭嶼), Siaoliouciou (小琉球) and Penghu, where coral reefs are most abundant.
Using a standard method adopted by the Reef Check Foundation, a Los Angeles-based international organization dedicated to the conservation of reef ecosystems, TEIA submits its annual reef report to the foundation as part of the global conservation effort.
Wen says that working with locals is essential if conservation work is to succeed.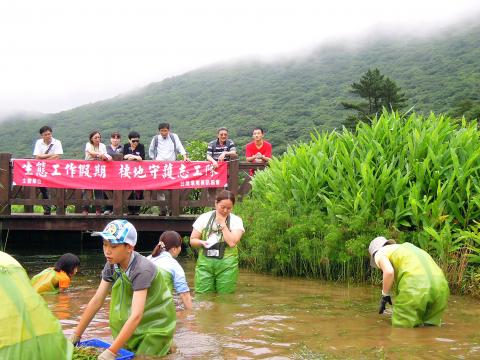 TEIA has been organizing working holidays since 2004.
Photo Courtesy of the Taiwan Environmental Information Association
"Even though the idea of land trusts has yet to be put into action [in Taiwan], we think it is important to learn how to manage lands through practices and experiences," she says. "We have always sought opportunities to work with local residents, groups and communities, and it is through such collaborations that we are able to gain experiences in caring for and protecting local environments."
For example, when visitors go to the Amis hamlet of Pisilian in Taitung to clean beaches and monitor marine debris, they are introduced to local traditions, music and way of living. On the other side of the country, volunteers in the fishing village of Cigu are given a chance to visit oyster farms and learn how to mend fishing nets.
"Think of working holidays as a form of eco-tourism, through which you can gain a deeper understanding of the places you go culturally and environmentally," Wen says.
This weekend, a group of holiday seekers will visit Shanyuan Beach (杉原沙灘) in Fudafudak, administratively part of Fushan Village (富山), in Taitung County's Beinan Township (卑南). A predominantly Amis fishing village, Fudafudak's Chinese name is Cihtong (刺桐) and is where the controversial Miramar Resort Village construction project looms. Apart from engaging in marine conservation work, volunteers will learn traditional weaving techniques as well as how human activities and development have caused significant damage to the environment.
But this year, TEIA's conservation activists will keep their opposition to the Miramar project mostly to themselves, Wen says.
"The antagonism between those who oppose the project and those who support it has become more serious recently. When we first came in 2009, we saw little sign of polarization. I think part of the reason is that the resort has taken a more active role in tribal affairs in recent years. To avoid deepening the sense of antagonism, we decided to let participants see and experience what has happened there and how it affects the village as a whole themselves," she explains, adding that TEIA will continue monitoring how the construction work might be affecting the local environment and reef ecosystem.
Registration for this weekend's program at Shanyuan is closed. But more holidays will come next month on Green Island, followed by Penghu and Pisilian in August. Each group is capped at 25 participants so as not to upset the delicate balance of the natural environment, and the cost doesn't usually exceed a few thousand New Taiwan dollars. Those interested in the reef-check programs are required to have advanced scuba diving certification or equivalent experiences. For more information, call (02) 2933-2233 ext. 228 or 223, write to teiawh@e-info.org.tw or visit ecowh.blogspot.tw.
Comments will be moderated. Keep comments relevant to the article. Remarks containing abusive and obscene language, personal attacks of any kind or promotion will be removed and the user banned. Final decision will be at the discretion of the Taipei Times.