Restaurant review: Danny's Steakhouse 教父牛排
Danny Deng (鄧有癸) has been grilling steaks for nearly 40 years and has been responsible for some of Taipei's best steak restaurants, most notably A Cut in the Ambassador Hotel (國賓飯店) Taipei. He has since opened his own restaurants, the newest being Danny's Steakhouse. Over his long career, Deng has not just gained a deep experience of the preparation of steak and other fine food, but has also built up a team of cooks and service personnel who give this restaurant an assured refinement that is equal to that of Taipei's five-star hotels.
Danny's Steakhouse is tucked away in the residential district between the Dazhi (大直) and Jiannan Road (劍南路) MRT stations, a location that precludes passing trade. But with Deng's established reputation for offering stylish dining and top quality food, the 70-seater restaurant was already pulling a crowd last week, just days after opening.
Deng has a great love of the technology of cooking, and his restaurants often feature a top-of-the-range stove of some kind that he uses as a central theme in designing his dishes. At Danny's Steakhouse, Deng has brought in a gorgeous wood fired stove with a huge wheel that allows a massive iron grate to be micro-adjusted over the flames. At one level, this might be seen as a back-to-basics technology, but with the fragrance of oak, walnut and cherry wood wafting over the likes of USDA Prime dry-aged rib eye, this is the basics at its most sophisticated.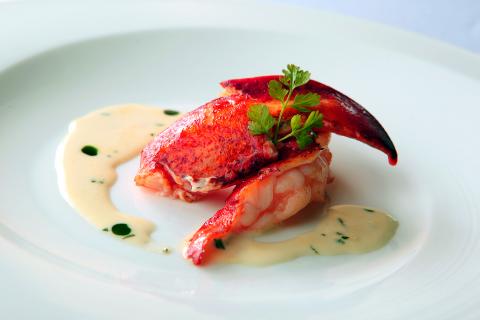 Warm lobster claw starter is as remarkable for beauty as for taste.
Photo Courtesy of Danny's Steakhouse
While big slabs of meat are a major part of dining at Danny's Steakhouse, the rough edges of the barbeque are rounded down by a deep understanding of fine dining, with the full vocabulary of amusing twists on various age-old favorites.
My meal began auspiciously with the dangerous choice of the bartender's special concoction of a wasabi dry martini, which sounded silly and adventurous at the same time, and in addition to the cleverly balanced flavors, had the proper alcohol bite of a proper cocktail.
Then came the amuse-bouche, a clever concoction of charcoal macaroons with a foie gras cream filling. They were elegant, amusing, unexpected, and most importantly, actually tasted really good.
The rib eye fillet is meat at its simplest, with nowhere to hide the slightest imperfection of appearance or flavor.
Photo Courtesy of Danny's Steakhouse
Ordering is done through a versatile arrangement of set menus that start at around NT$1,000 (for lunch) and go up to around NT$3,000 for some of the choice cuts. Most of the meat is served ready sliced with little other than a side of grilled vegetables and some whole roasted garlic. Salt is the only condiment, and nothing so vulgar as a sauce is anywhere in sight. Served in this way, the meat is expected to stand on its own merits and the chef has no way to hide any imperfection in appearance or flavor. For those who appreciate the finer pleasures of meat eating, something like the USDA Prime "rib eye fillet" steak (8oz, NT$1,800 for a set) is a ticket to paradise.
The care taken with the steak is also in the other dishes, and a taste of Deng's smoked tomato soup was a revelation, bringing in intriguing wood fragrances to a dish that might be thought of as a tad homely. In Deng's preparation, it was anything but, and was accompanied by an excellent bread that is baked on the premises.
In the design of the restaurant, Deng has been profligate with his use of space, eschewing a mezzanine for his high ceilinged space in favor of creating an almost cathedral-like majesty: a temple to fine food.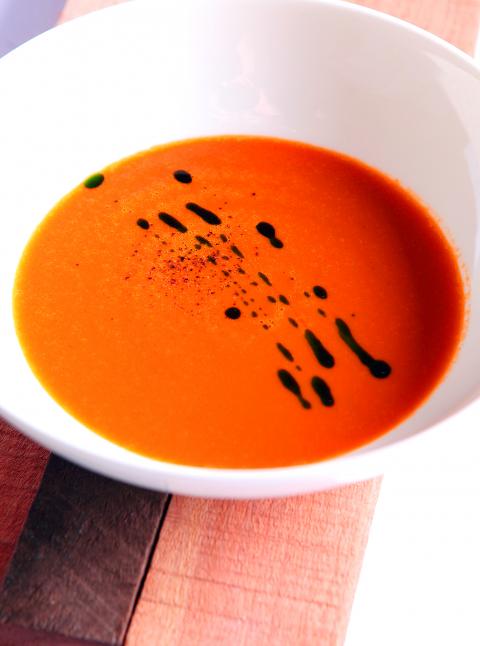 Smoked tomato soup opens up whole new taste horizons for a relatively humble dish.
Photo Courtesy of Danny's Steakhouse
The semi-open plan kitchen gives diners a glimpse of the magicians working their gastronomic alchemy, without the whole operation getting too much in your face, and the glass-fronted dry aging room and wine cellar — seemingly suspended above the kitchen — seem like a high altar to the good things of life. The clever use of a kind of frosted glass easily associated with traditional Taiwanese interiors to wall off booths is an inspired touch, giving the simple interior a personality lacking in the more minimalist designs favored by many upscale dining establishments.
Danny's Steakhouse is altogether a very well-judged affair. The ambiance is formal without being stuffy, and the food is modern without being tiresomely intricate. This balancing act is a testament to a refinement and understanding of the local market honed over many years.
Publication Notes
Danny's Steakhouse 教父牛排
Address: 58 Lequn 3rd Rd, Taipei Taiwan (台北中山區樂群三路58號)
Telephone: (02) 8501-1838
Open: Noon to 3pm; 6pm to 10:30pm (bar open until midnight on Friday and Saturday)
Average meal: From NT$1,200 (lunch); from NT$2,000 (dinner)
Details: English menu; credit cards accepted; 10 percent service charge
Comments will be moderated. Keep comments relevant to the article. Remarks containing abusive and obscene language, personal attacks of any kind or promotion will be removed and the user banned. Final decision will be at the discretion of the Taipei Times.