Restaurant review: Juanita Burritos & Tacos
The burrito is here to stay and we can thank Macho Taco for that. Competition was bound to follow, though, and now a couple of guys from California have opened Juanita Burritos & Tacos.
Juanita is hard to find as it's tucked into an alley dense with eateries and flamboyant signage. Look for a burgundy sign with a hot pepper. The storefront is made up of tall and slim wooden slats all stained to a different degree of intensity, with the word Juanita carved faintly into them. The interior is just the same: cool, clean and modern. The bare walls are painted dark gray with deep red and blonde wood accents, which complement the two-colored tables. The floor is cemented, giving the whole space an industrial, art studio vibe.
Ordering at Juanita's is similar to that of Subway. You start at one end of the counter and order your bowl or burrito, add the toppings you want and pay at the end. There are only five items on the menu, but they make those five items well. Made to order are burritos, burrito bowls, salads, tacos (NT$70 for one, NT$180 for three) and nachos (NT$150). For the first three, you pay based on what's stuffed into it. The grilled chicken (NT$170) is marinated in a Mexican-style sauce, and is the most subtly flavored of all the meats. The steak (NT$180) sits marinating in a savory soup made up of Mexico's famous adobo sauce (paprika, oregano, salt, garlic and vinegar). It's not spicy, but it has a lot of zest. The meat is cubed and cooked medium rare, so it's juicy and extremely tender.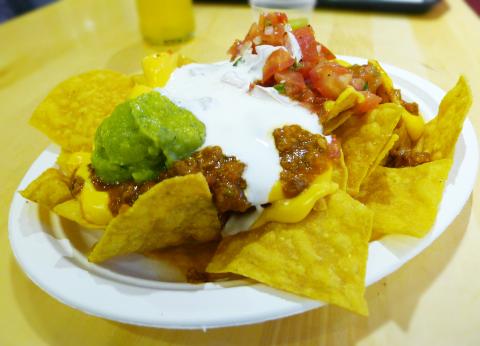 Juanita's nachos are generously dressed and stay crunchy until the last bite.
Photo: Olivia Wycech
For those who like spicy food, you'll probably want to try the carnitas (NT$170) or the barbacoa (NT$180). The main difference between the two is that carnitas is pork and the barbacoa is beef, but both have been shredded and braised for so long that the meat is fall-apart tender. The barbacoa is also doused in a chipotle spice. Seasoned and grilled fajita style, green peppers and onions replace meat for an animal-free option (NT$150). The tacos were my least favorite item because they were essentially a small burrito.
All of the above come with options. Toppings can be a combination of cilantro-lime rice, black beans or pinto beans, hot (red and smoky) or mild (green) salsa, cheese or sour cream, romaine lettuce, guacamole (NT$30) or jalapenos (NT$30). The guacamole is made fresh and is chunky, and they are generous with it. The toppings on the chili cheese nachos (NT$150) are also generous. In fact, there were more toppings than chips and I ended up finishing my nachos with a spoon. Also, the cheese on the nachos is a hot and tangy ballpark style nacho cheese sauce and they really drown the chips in it, making it the one item I order for everyone every time I go.
Juanita also has some Mexican-themed drinks, including frozen margarita with tequila (NT$150). I can see myself stopping by in the heat of the summer just to get one to go. There are also sodas (NT$40 to NT$60), Snapple (NT$90), and a selection of beers (NT$100), and yes, Corona is among them.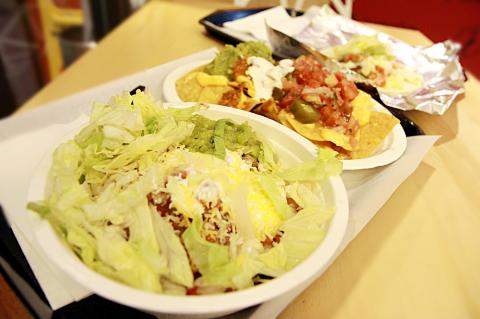 The burrito bowl and nachos come with a generous amount of toppings.
Photo: Olivia Wycech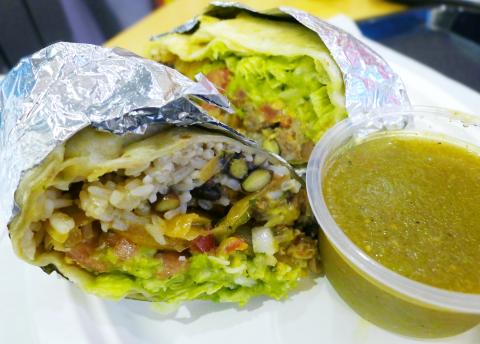 Juanita's burrito.
Photo: Olivia Wycech
Publication Notes
Juanita Burritos & Tacos
Address: 51-1, Ln 160, Dunhua S Rd Sec 1, Taipei City (台北市敦化南路一段160巷51-1號)
Telephone: (02) 2752 7576
Open: 11am to 10pm
Average meal: NT$150 to NT$300
Details: Chinese and English menu, cash only
On the Net: www.facebook.com/pages/Juanita-Burritos-Tacos/465092273521035
Comments will be moderated. Keep comments relevant to the article. Remarks containing abusive and obscene language, personal attacks of any kind or promotion will be removed and the user banned. Final decision will be at the discretion of the Taipei Times.