Movie review: Sock' n Roll (台灣黑狗兄)
'Business Weekly' magazine produced a documentary that looks at the predicament faced by Taiwan's small and medium-sized enterprises through the story of a sock town in rapid decline
Socks rarely make an engaging topic in daily conversation, much less a movie. But the often disregarded hosiery takes center stage in veteran documentary filmmaker Ho Chao-ti's (賀照緹) new work, Sock' n Roll, which revolves around a hosier named Lee Tung-lin (李東林) and his family in the small town of Shetou (社頭), Changhua County.
At first glance, the documentary seems as trivial as its subject. It isn't until 15 minutes into the film, when Lee talks about cancelled orders from a subcontractor of Adidas, do we start to realize that his story in many ways epitomizes the challenges of globalization faced by Taiwan's small and medium-sized enterprises (SMEs).
Nicknamed Brother Black Dog, Lee was forced to give up on his dream to become a volleyball player after a back injury. The young athlete enters the hosiery industry in Shetou in 1991, and over the years, managed to build a brisk business, while raising a family of three with his wife Amy. However, things take a turn for the worse when Lee and his fellow hosiers stop receiving orders from overseas. People start to worry. Employees are reduced to working a few hours daily. Checks bounce.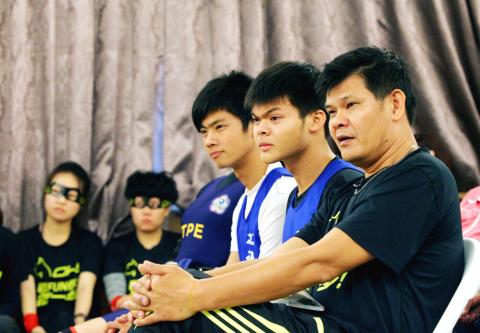 Scenes from Sock' n Roll, a documentary about the demise of the sock industry in a small Taiwanese town.
Photo Courtesy of Good Day Films
We soon learn that hosiery manufacturing has long been the economic backbone of Shetou, a typical Taiwanese town with a population of 44,000. The film reports that half of the town's residents work in the more than 300 family-run factories, which produce four-fifths of all socks sold nationwide. The bulk of the hosiery products are exported to other countries, mostly Europe and the US. During its heyday, Shetou's sock exports amounted to US$200 million per year.
However, fierce competition from China and Southeast Asian countries thrust the industry into a state of crisis. Factories shut down, forcing their owners to peddle piles of socks at local markets.
Director Ho turns her lens on a few locals to glimpse the town in decline. Lee's friend A-liang (阿亮), who runs a small factory employing several female laborers, worries how the workers will make ends meet if business continues to plummet. In a separate scene, an employee breaks into tears as she sits in front of the camera and talks about how life is becoming too hard to bear. With a meager income of NT$9,000 a month, the single mother (her husband has passed away) supports a family with a son in school. One of her daughters has dropped out of school to join her in the factory.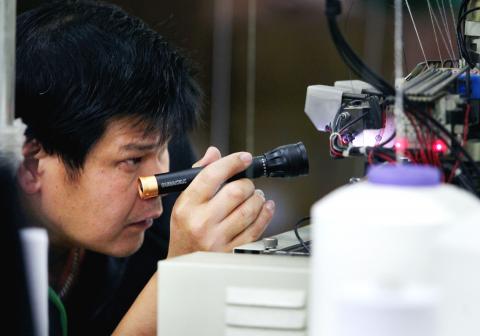 Scenes from Sock' n Roll, a documentary about the demise of the sock industry in a small Taiwanese town.
Photo Courtesy of Good Day Films
Meanwhile, A-liang is seen doubling as a feng shui master to try out other career possibilities.
Apart from a few detours, the film remains focused on the 45-year-old Lee. Refusing to accept the imminent demise of his business, Lee decides the only way out is to make the industrial shift from the original equipment manufacturer (OEM) to original design manufacturing (ODM) — that is, to create his own brand of sports sock. Through Ho's lens, we watch closely as Lee struggles to reinvent himself from a traditional factory owner who "gets orders from a fax machine" to an entrepreneur making business connections in Taipei. The director also throws in a female perspective by placing emphasis on Lee's wife, Amy, who teaches herself everything from handling the machines to creating designs using computer software.
The story about the hosier's struggle to stay afloat is an inspiring one, but by narrowing the scope to Lee and his family, the documentary leaves many important questions unaddressed and, at one point, risks becoming a piece of advertising for Lee's hosiery products. Issues such as those involved in industrial policies, free trade and the impact of globalization remain untouched.
Scenes from Sock' n Roll, a documentary about the demise of the sock industry in a small Taiwanese town.
Photo Courtesy of Good Day Films
Funded and produced by Business Weekly (商業周刊), Sock' n Roll deserves credit for attempting to draw attention and generate discussion about the effects of global capital on local business, but the route it takes to touch upon individual life rather than exploring under the surface is disappointingly limiting.
Publication Notes
Film notes
Sock' n Roll (台灣黑狗兄)
Directed by: Ho Chao-ti (賀照緹)
Starring: Li Tung-lin (李東林) as himself, Amy as herself, A-Liang (阿亮) as himself
Language: in Mandarin with Chines and English subtitles
Running time: 78 minutes
Taiwan release: Today
Comments will be moderated. Keep comments relevant to the article. Remarks containing abusive and obscene language, personal attacks of any kind or promotion will be removed and the user banned. Final decision will be at the discretion of the Taipei Times.