Dreams of the dead
Chinese poet Liao Yiwu spent four years in prison after he criticized the Chinese government for the Tiananmen Square Massacre. His new memoir details the torture and abusive punishment he endured
Liao Yiwu (廖亦武) was a reluctant dissident.
A Chinese poet and storyteller nourished on Beat generation literature, he picked fights, drank to excess and despised politics.
"I have never taken an interest in mass movements or foreign imports such as democracy, freedom, human rights and love," he declared as the student pro-democracy movement unfolded in Beijing in 1989. "If destruction is inevitable, let it be."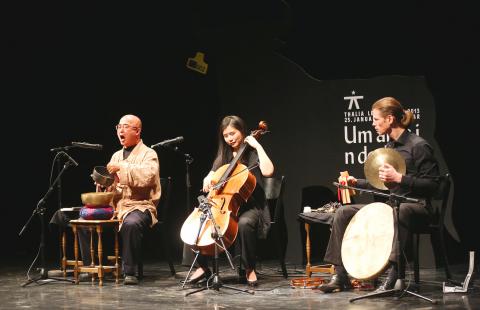 Chinese poet Liao Yiwu, left, and musicians Hui-Chun Lin and Peter Kuhnsch perform for the opening of the Lessing Days at Thalia Theater in Hamburg, Germany in January. Liao's prison memoir was just published.
Photo: EPA
Then came the Tiananmen crackdown. Liao was transformed. He composed and recorded a poem of fury and frustration called Massacre. He joined with friends to make a film called Requiem — to appease the souls of the dead.
He was arrested in 1990 as a counterrevolutionary and endured four years of beatings, torture, hunger and humiliations in a series of prisons. After being denied an exit permit 16 times and facing new threats of imprisonment for his writing, he slipped across the border into Vietnam in 2011 and made his way to Berlin, where he still lives.
Now Liao's prison memoir, For a Song and a Hundred Songs: A Poet's Journey Through a Chinese Prison, has appeared in the West. Banned in China, it has been a bestseller and prizewinner in Germany, has won critical acclaim in a French-language edition and is being translated into Czech, Italian, Polish, Portuguese, Spanish and Swedish. An English-language version will be published by New Harvest in June. Liao will be in New York for the publication and is to give a lecture at the New York Public Library on June 13.
"I believe in history, in writing down history, so it doesn't disappear or get angry with us," he said in late March in an interview here, where he was participating in a literary festival. "I have had many dreams about people who have been dead a long time, but their souls are still among us."
INTERNAL SCARS
Dressed in sober black pants, a black shirt and an anorak, his head shaved, his skin unlined and unblemished, Liao, 54, wears his scars inside.
"My life is better now than it has ever been," he said in Chinese through an interpreter. "But the Tiananmen massacre is part of my life. I can never escape it."
Liao began his memoir in 1990 on the backs of envelopes and scraps of paper his family smuggled into prison. He managed to sneak out his manuscript when he was released, but the police later confiscated it from his apartment; twice he had to reconstruct it from memory.
The title refers to an incident in prison when he broke the rules by singing; as punishment, he was ordered to sing 100 songs. When his voice gave out, he was tortured with electric shocks from a baton inserted into his anus.
"I felt like a duck whose feathers were being stripped," he writes.
CLASS WAR
In the book he describes the rigid hierarchy the prisoners created for themselves. At the top was a chief with enforcers, a housekeeper and cabinet members; at the bottom were several groups of "slaves," including "hot water thieves" who brought the upper classes hot water and gave massages; "laundry thieves," who washed clothes and crushed fleas in the bedding; and young, handsome "entertainment thieves" who sang, danced and performed skits and sex acts with the leaders. As a political prisoner, Liao was fortunate to be placed in the "middle class," a status that came with certain privileges — he could bring his meals back to the cell and eat at his own pace, for example — and that spared him some of the abuse suffered by the underclasses.
TORTURE DU JOUR
Early on the chief gave him a long menu of "dishes" of torture, to choose what to be served if he disobeyed an order. Among them were "Sichuan-style smoked duck" (the enforcer burns the inmate's pubic hair and penis tip); "noodles in a clear broth" (the inmate eats a soup of toilet paper and urine); and "naked sculpture" (the inmate stands naked and strikes different poses ordered by the chief).
Liao's most terrible prison memory was not of torture, deprivation or even watching fellow inmates sent for execution. It was of a failed suicide attempt. Handcuffed, bound with ropes and subjected to electric shocks, he decided to kill himself. He hurled his body forward, hitting his head into a wall.
"All the prisoners accused me of faking it, of being a good actor," he said during the interview. "Nobody believed I wanted to die. I was angry — terribly, terribly angry. Nobody cared."
Along the way, Liao learned survival skills. A fellow prisoner taught him to stand on his head as a form of exercise and relaxation. Another, a Buddhist monk in his 80s, taught him to play the xiao (簫), an ancient, flutelike instrument. Another made writing pens from bits of bamboo and wood. Another, a Bible-reading inmate, looked out for him and gave him wisdom.
BAD DREAMS
Even now, he experiences a recurring nightmare.
"I am flying and I see people on the ground with guns and knives running after me," he said. "But I am a bird without legs, and when I can't fly anymore, I fall to the ground. The people come nearer and nearer, and as soon as they are about to attack, I wake up filled with terror."
For Liao, the awarding of the 2012 Nobel Prize in Literature to Mo Yan (莫言) was a travesty.
"Imagine you've had a massacre perpetrated by the Communist Party in your country, and someone gives a prize to a state poet," he said. "Have you seen anything so shocking?"
He sees his mission as a storyteller of human suffering, not as a reformer striving for change in what he calls the "foul pigsty" that is China.
"I have no interest in what China will become," he said. "My suggestion would be that China crumbles into dozens of little countries so that it would no longer be the terrible menace it is now."
RISING STAR
For now Liao, best known in the West for a collection of stories about China's downtrodden called The Corpse Walker, is enjoying his international celebrity. For a Song and a Hundred Songs won the German Book Trade's Peace Prize last fall. During a recent visit to Paris he gave 30 interviews to journalists and sang and played a Tibetan singing bowl at the Palais de Tokyo.
He is also at work on his next book, a history of his extended family. He writes in long spurts at night in a modest garden apartment he owns in the comfortable West-end neighborhood of Berlin. It is furnished with a bed, a table, a cooking pot and a teakettle.
He confesses that he took German lessons for three months but gave them up and that he spends much of his spare time socializing with other Chinese exiles.
He keeps in touch with his mother and others in China through Skype. Divorced from his Chinese wife, he has spent less than two months with his daughter, who is now in her 20s.
"That's a very sad part of my life," he said. "What can I do? Our feelings have been completely destroyed."
He paused, then asked, "Do you think I'm lonely?"
Comments will be moderated. Keep comments relevant to the article. Remarks containing abusive and obscene language, personal attacks of any kind or promotion will be removed and the user banned. Final decision will be at the discretion of the Taipei Times.