Restaurant review: LMNT [Element] Eat
The menu at LMNT Eat is bold in that it doesn't conform to the typical Taiwanese take on Western food. It's almost as if each dish was meticulously designed by asking Taipei's expatriates what foods they missed, and then added a motley mixture of fresh flavors to them.
The decoration inside LMNT is bold too, but there is also an air of elegance making it romantic enough to bring a date but casual enough to entertain a colleague. Since opening last year, LMNT's eats have been tweaked and tinkered with and a newer menu was recently unveiled. For appetizers, we started with the sauteed button mushrooms (NT$240), which were enlivened by a touch of brandy. The Buffalo wings (NT$260 for 8) were what Buffalo wings are supposed to be: meaty and spicy. They are on par with the best I've had in the city. The truffle mac and cheese (NT300) was also good — so good, in fact, that we ordered seconds, then thirds. It's a rich and robust mixture of cheeses, sprinkled with bacon and coated with truffle oil.
The LMNT "Must Try" burger (NT$390) is just that. It's thick with mushrooms, bell peppers, bacon, cheese, caramelized onions, jalapenos and an over-easy egg piled on a handmade 6oz Angus beef patty. All burgers and sandwiches come with a side of fries, salad, coleslaw or hash browns. If you go with the fries, be sure to dip them in the black truffle sauce (NT$80).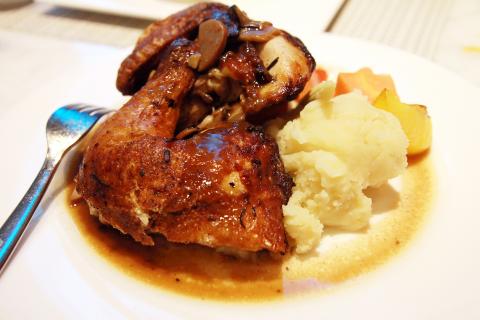 If you like juicy meat, you'll be licking your plate clean after tucking into LMNT's roast chicken.
Photo: Olivia Wycech
I'm not a risotto fan, but after a few bites of the mushroom truffle risotto (NT$330), which is spiked with white wine, I reconsidered my stance. And my dining companions had to fight to get a morsel of my vodka-infused salmon penne (NT320) and creamy marinara sauce with hints of dill.
Hawaiians will be happy to see Loco Moco (NT$290) on the menu and not something with pineapple, for once. The traditional island fare is made from long grain rice and an Angus beef patty soaked in gravy. The sunny side up egg that topped off the dish made me feel as though I was eating breakfast for dinner. On to the meat and potatoes, the rosemary roasted half chicken with porcini sauce (NT$450) was so moist that the garlic mashed potatoes and seasonal vegetables were subsumed in the jus.
LMNT's traditional steakhouse-style hunk of meat, which is charred a rich mahogany and served with seasonal vegetables and garlic mashed potatoes, is not only recommended by staff but is developing fans among its repeat customers. The 12oz rib eye (NT$980) is served with sea salt, while the 8oz filet mignon (NT$990) is swimming in a porcini mushroom sauce.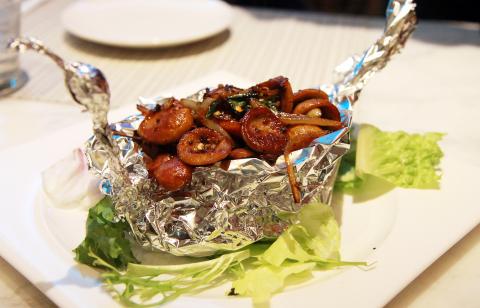 Nice in presentation, but the sausages are even nicer on the palate.
Photo: Olivia Wycech
For dessert I had the French toast baguette stuffed into a cup with banana flambe and served with a scoop of Swenson's vanilla ice cream (NT$220). I would have never ordered the tiramisu (NT$200) myself, but we ordered one for the table and it was supple and creamy. If you prefer to drink your dessert, the hot chocolates (NT$180) are infused with your choice of apricots, raspberries, Morello cherries, blood oranges or figs.
LMNT is also offering a brunch menu that's worth a wake up call because they offer some rarities like shrimp and grits (NT$300) and Canadian ham (NT$80). For those lucky enough to enjoy extended lunches midweek, there are four business lunch menus that rotate weekly and offer some entrees served with soup or salad and coffee or tea (NT260).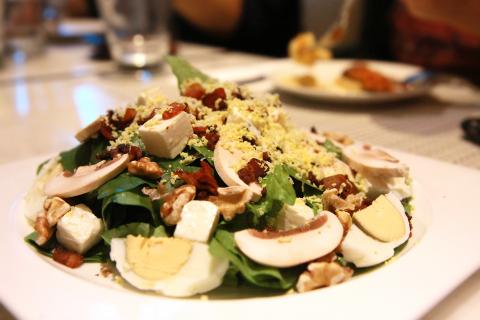 Eggs, mushrooms, feta and walnuts generously adorn LMNT's spinach salad.
Photo: Olivia Wycech
Publication Notes
LMNT [Element] Eat
Address: 1F, 28, Songshou Rd, Taipei City (台北市信義區松壽路28號1F)
Telephone: (02) 2723-9673
Open: Daily 11am to 10pm
Average meal: NT$300 to NT$1000
Details: Chinese and English menu, credit cards accepted
On the Net: www.facebook.com/lmnt.drinkandeat
Comments will be moderated. Keep comments relevant to the article. Remarks containing abusive and obscene language, personal attacks of any kind or promotion will be removed and the user banned. Final decision will be at the discretion of the Taipei Times.