Restaurant review: Le Palais ( 頤宮)
Located on the 17th floor of Palais de Chine (君品酒店), Le Palais (頤宮) compliments the high-end hotel it's located in with glamorous decor and a lavish menu that admits several Chinese culinary traditions, of which its Cantonese fare stands out under the eye of executive chef Chan Wai-keung (陳偉強) from Hong Kong.
Compared to the creative, urban chic adopted by W Taipei's Yen (紫艷), or the elegant charm that fills Shang Palace (香宮) of Shangri-La's Far Eastern Plaza Hotel (香格里拉遠東國際飯店), Le Palais flourishes a tastefully fashioned East-meets-West design painted in royal purple and lustrous brass, punctuated by emerald and black. The dining space is divided into sections, with the middle area featuring two rows of semi-enclosed boxes that is said to draw inspiration from the traditional architecture of boathouses in southern China.
Business was brisk on the Sunday afternoon we visited, and a quick glance around the room showed that many patrons came for the restaurant's well-advertised dim sum offerings as well as other Cantonese specialties. But don't be surprised if the menu looks familiar. Chan used to lead the team at The Dragon (辰園) at Sheraton Taipei Hotel (喜來登飯店) before moving to Le Palais.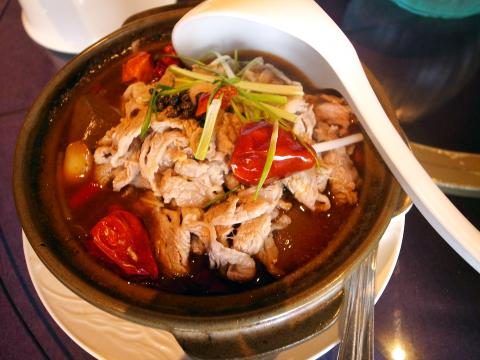 Le Palais serves up Cantonese, Sichuan and Mongolian-influenced dishes in a swanky environment.
Photo: Ho Yi, Taipei Times
Among the most common and familiar dishes ordered, roasted baby duck (先知鴨, NT$960), is one of the restaurant's signature dishes that uses young fowls to ensure tenderness. A chef dressed in white arrives with the order and deftly cuts, slices and prepares the whole bird for diners' enjoyment. Its bones and remaining meat can be made into soup or congee.
Our group of six quickly devoured the small duck, which offered neither disappointment nor surprise. Ten minutes later, its remaining parts returned to our table in the form of Chinese rice porridge. Sprinkled with ample spring onions, shredded cabbage and deep fried dough sticks (youtiao, 油條), the bowl won praise with its ducky deliciousness. Reservations are required to get a taste of this popular duck combo.
Another dish that requires booking is the crispy sugar-coated barbecued Matsuyama pork (脆皮叉燒, NT$580). Luscious, tender and surprisingly devoid of fat, the pork owed part of its appeal to the thin, crispy layer of icing on the outside. It was definitely the high point of my dining experience at Le Palais.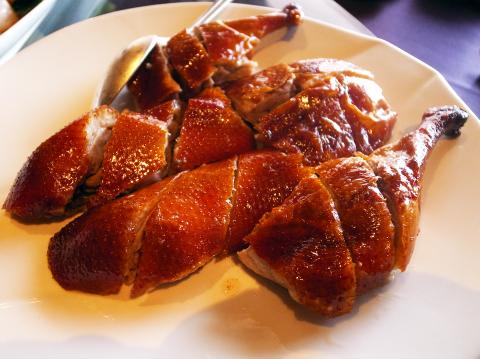 Le Palais serves up Cantonese, Sichuan and Mongolian-influenced dishes in a swanky environment.
Photo: Ho Yi, Taipei Times
As for the selection of dim sum, there is none of the salty, greasy snacks found at the city's abundant Cantonese establishments. On the contrary, Chan's menu emphasizes light, healthy flavors and fine ingredients. For example, the steamed scallop with pumpkin (南瓜玉帶子, NT$180) is a well-balanced composition highlighting the scallop's briny freshness and the sweet scent of pumpkin sauce.
The steamed shrimp and pork with sea whelk dumplings (貴妃蚌燒賣, NT$220) were another delight, the plump mollusk creating an oceanic outburst in the mouth. The steamed cuttlefish wrapped in rice rolls (黑白分明腸, NT$180) is fun to look at with the white and black-colored rice rolls stuffed with cuttlefish paste, finely shredded celery and Chinese water chestnut.
A dessert available during the winter season from October to March, the sweet osmanthus with glutinous rice soup (桂花酒釀湯圓, NT$160) is a tribute to traditional home-cooking. But unlike the domestic version our mothers cook at home, the soup didn't have the smell of fermentation and was cheerfully light and sweet.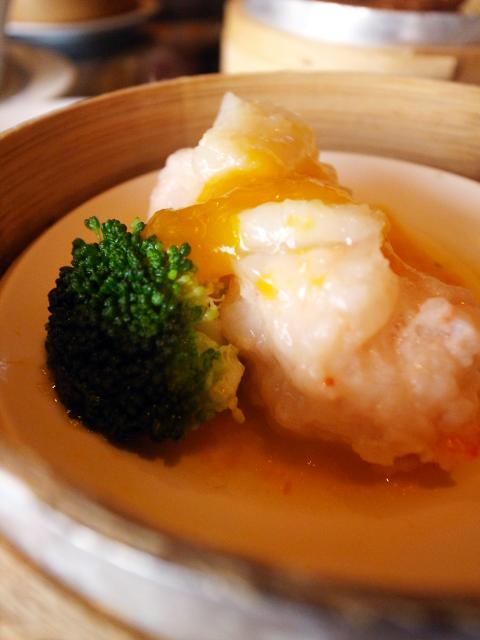 Le Palais serves up Cantonese, Sichuan and Mongolian-influenced dishes in a swanky environment.
Photo: Ho Yi, Taipei Times
Apart from the Cantonese flavor, the menu also features Sichuan cuisine, a wide selection of seafood specialties as well as dishes of Mongolian influence.
For large groups with money to splurge, several private rooms are pleasantly spacious and embellished with marble dining tables and chandeliers in the shape of the eight trigrams. Also available are a selection of set menus costing between NT$1,380 and NT$4,000 per person, plus 10 percent service charge.
Words of warning to conservationists: luxurious fin soup is sold at premium prices here.
Publication Notes
Le Palais 頤宮
Address: 17F, 3, Chengde Rd Sec 1, Taipei City (台北市承德路一段3號17樓)
Telephone: (02) 2181-9999 X 3260
Open: Daily from 11:30am to 2:30pm and 5:30pm to 9:30pm
Average meal: NT$1,200 to NT$2,000
Details: Menu in Chinese, Japanese and English, credit cards accepted
On the Net: www.palaisdechinehotel.com
Comments will be moderated. Keep comments relevant to the article. Remarks containing abusive and obscene language, personal attacks of any kind or promotion will be removed and the user banned. Final decision will be at the discretion of the Taipei Times.