Hedwigging out
'Hedwig and the Angry Inch' is a musical that tells the story of a transgender rock star from East Berlin who looks for love
While technically a musical, Hedwig and the Angry Inch, which starts in Taipei on Thursday and will play back-to-back shows for a month, begs for a new performance category: perhaps rock and roll theatre. The award-winning, glam/metal/punk, coming-of-age story rejects the mainstream, the commercial and the tried-and-true by twisting myths and stereotypes. The message comes through not only in sung passages of prose or dialogue, but in the form of a rock concert. Forget boy-meets-girl. Try boy is girl — except, that is, for an angry inch.
Hedwig, an angst-filled transgender rock star from East Berlin, deals with everything from her own dichotomy to that of the Berlin wall to that of Plato's Symposium in her lyrics.
"He's a foreigner, the ultimate freak in a strange land," said director and co-producer Brook Hall in an interview before heading out to do a flash mob pre-show-peek with members of the cast in full regalia last week. "Sometimes I feel that's my position in Taiwan, but I haven't suffered the humility of losing my genitalia," he added.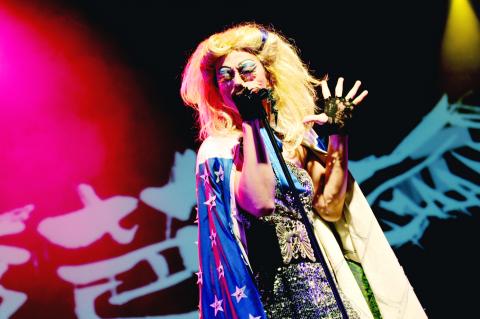 Hedwig and the Angry Inch will take the stage on Thursday for a month of performances at Huashan 1914 Creative Park.
Photo Courtesy of Brook Hall
Hall says he's been a fan of the rock-epic since it premiered in New York over a decade ago, when he distributed fliers to promote the show and first fell in love with the story. Now, with multiple large-scale productions under his belt, Hall feels ready to introduce what he calls "this generation's Rocky Horror Picture Show" to Taiwan.
Hall pitched the translated script to a number of potential backers. But the response was tepid, though the play had already been a huge success when it was released in Japan and South Korea.
He realized he needed the band first, and when he saw that P!SCO's Molly Lin (林孟珊) was going to a David Bowie event he introduced her to the project. "She loved it," he said, and P!SCO recorded a demo of three songs from the show. "We took it to the same producers and they said 'Let's do it, this is awesome for Taiwan, the cross over in music and theatre, young, hip, it has the appeal of Lady Gaga.'"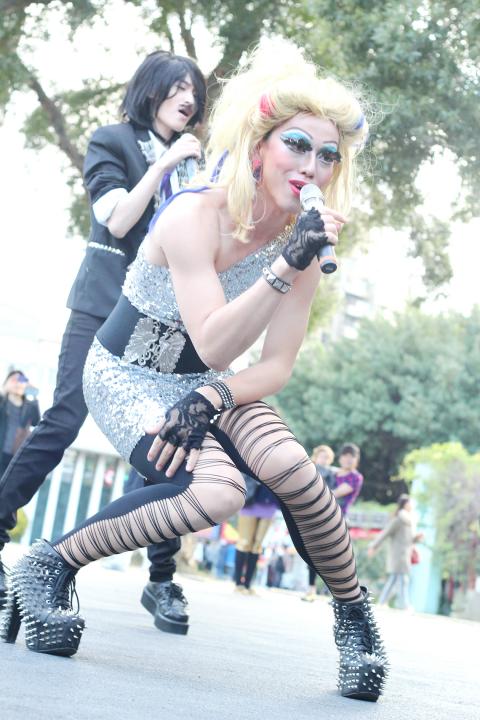 Hedwig and the Angry Inch will take the stage on Thursday for a month of performances at Huashan 1914 Creative Park.
Photo Courtesy of Brook Hall
"When people hear it's about a pissed-off German transvestite glam rock star, they recoil: 'Oh, that's not for me!' But when they see it — it affects so many people. This isn't just a gay story. It's 'I have to make a decision to go on with my life,'" Hall said.
Phoenix Lu (呂寰宇), one of the actors playing Hedwig, agrees. "For Taiwan, people have a harder time looking at themselves and realizing who they are personally and who we are as a country. There are lyrics in some of the songs that speak directly to the Taiwan/China duality — using The Berlin Wall or Hedwig as half man/half woman as a symbol of that separation."
"The difficulty of this role is to act being disguised as a man," said actress Kris Kuan (管罄), who plays Yitzhak. "How the characters' inner repressed emotions and subtle mood changes are presented on the big stage. There are many different voices involving Taiwan's current gender culture and gay community. This show gives the audience questions of gender, culture [and] love. It shocks them as well as provoking deep feelings," she said.
Translating the complexities of the script into Mandarin was challenging, and Hall chose to omit English subtitles. "Video is a key part of the show and it comes in for a reason when it does — the punch line of a joke, to emphasize a part — if you have subtitles you lose the focus," he said.
Hall worked with renowned music director and Golden Horse nominee Owen Wong (王希文) to find ways to broach the cultural gap: "It was a tough thing to translate Western thinking for a Chinese audience," he said. "It's funny on multiple levels in a culturally sensitive way — you have to know Bowie, Iggy Pop so we used video to introduce the concepts."
A big part of the audience's understanding of the characters is visual, something Hall had in mind when he chose flamboyant fashion designer Jenna Pearce of Rice Society as his costumer. "When I first met Jenna, her outfit reminded me of Hedwig," he said. "I asked her if she knew the show and she did and loved it."
Pearce, who designed the LED costumes in the latest S.H.E. video, said she "didn't want to make a carbon copy of the movie, or the Broadway show. We wanted to create something that was a little different, while still staying true to the characters' image and transformation. We kept key iconic pieces, such as the giant cape from the opening credits in the movie. To update it, I merged the American flag and the Taiwanese flag together on the outside."
Hall said the show will be held in a warehouse in Huashan that they are "transforming into something wild with Legacy's light, sound and production values."
"There are other rock musicals like Jesus Christ Superstar or Rent, but this is the perfect blend of a rock-and-roll concert and a theatre show," Hall said.
Publication Notes
Performance Notes
What: Hedwig and the Angry Inch
When: Nightly from Thursday until April 14. Doors open at 7:30pm, shows begin at 8pm
Where: Building 3 East A (3東A ), Huashan 1914 Creative Park (華山1914), 1, Bade Rd Sec 1, Taipei City (台北市八德路一段1號)
Admission: Tickets are NT$899, NT$849 and NT$799; available through ERA Ticketing at www.ticket.com.tw
On the net: www.facebook.com/HedwigTaipei
Comments will be moderated. Keep comments relevant to the article. Remarks containing abusive and obscene language, personal attacks of any kind or promotion will be removed and the user banned. Final decision will be at the discretion of the Taipei Times.