Bowie's Berlin
After the surprise release of the singer's first single in more than a decade, Kate Connolly walks in his footsteps around the city landmarks that inspired three great albums of the 1970s — as well as his latest elegy to the German capital
Thilo Schmied is lost in thought, mulling over the days when David Bowie fell in love with Berlin, and Berlin fell in love with him. "Whenever he went into a record store, the word would spread and people would gather outside, and when he came out with his purchases, they'd dash inside and ask the sales people what he had bought."
Schmied, a sound engineer, now offers tours of the Hansa studio, the place where Bowie spent so much of the fertile period which saw the recording of his Berlin trilogy of albums, Low, Heroes and Lodger. The studio's mahogany-paneled former ballroom — where Heroes was recorded — remains the destination for many fans seeking to get to the heart of Bowie's mid-1970s Berlin experience.
Visitors are also taken to the former studio control room whose window once offered a view into communist East Germany, where Bowie and his producer Tony Visconti would look at the border guards looking back at them; the same window from which Bowie says he saw a couple making out at the wall, giving him the inspiration for the track Heroes.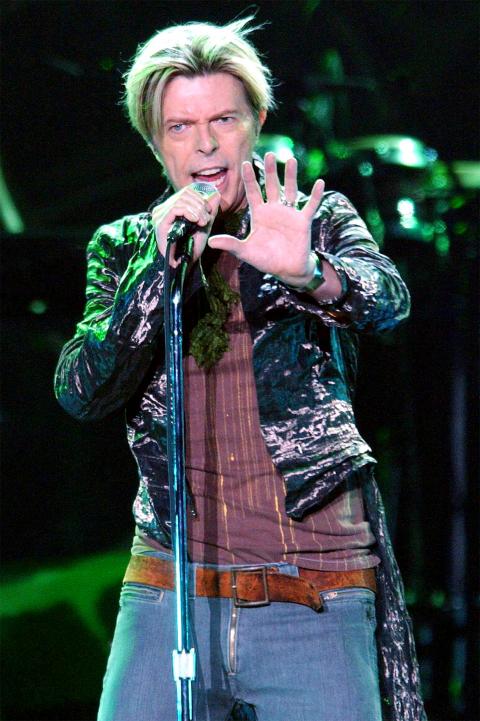 British singer David Bowie on stage at the Color Line Arena in Hamburg, Germany.
Photo: EPA
"You will have to use your imaginations," says Schmied sadly, showing the group a photograph of the old view. The window is now blocked by a redbrick firewall.
The Hansa studio was known to the singer as the Hall by the Wall. Bowie has talked affectionately of cycle rides there from the tenement flat he rented. The studio, where he finished Low and recorded Heroes, was pockmarked with wartime bullet holes and made for a strangely isolated edifice. It stood just meters away from the Wall and the sealed-off Potsdamer Platz, then in no man's land. Today it is pressed up against new office blocks.
The facade and Ionic columns have, like much of post cold war Berlin, been thoroughly scrubbed and all traces of the Wall have gone, save for a bit of bumpy cobbled paving to mark its path. Potsdamer Platz is buzzing once more and as we know from Bowie's Where Are We Now?, released so unexpectedly last week, the trains are also running there again. This corner of Berlin, remembered to such elegiac effect in Bowie's new work, is brighter, more prosperous and more efficient. But it hasn't quite got the charisma of the 70s.
"That was an unrepeatable time of Sturm und Drang," says Jim Rakete, a leading German photographer and photojournalist who met Bowie in Berlin at the time and photographed him backstage, producing some of the most iconic images of Bowie's Berlin days.
"When he first got in touch with Berlin he was ready to explode," he said. "He was as broke as the city was, and people typically lived on just a couple of bucks a day. Bowie would drive around the city and no one would recognize him."
Bowie arrived from LA in 1976, exhausted from drugs and fame, and would stay for two years, getting to know the works of Brecht and the Brucke art movement, immersing himself in German electronic music and writing and painting.
"He had a strange life, marooned inside communist East Germany in his west Berlin apartment just a stone's throw from where his hero Christopher Isherwood had once lived, and surrounded by expressionist art, bars and other musicians and artists," says Tobias Ruther, author of Heroes: David Bowie and Berlin.
The city had a profound healing effect on him and sparked what was arguably the most creative phase of his career. And Berlin, or West Berlin, welcomed him with open arms.
West Berliners, Ruther says, "were particularly flattered that he chose to live among them at such a difficult time during the cold war."
Berlin at the time was being kept alive by the state subsidies pumped into it and by measures such as allowing residents to forgo military service — a move that made the city a magnet for young bohemians who were looking for an alternative to both the communist east and the capitalist west. Perfect for Bowie.
"Everyone in west Berlin thought they had seen Bowie," says Rakete. "Either cycling past or eating a hamburger. That's partly how he became an accepted part of the city's fabric."
Rakete remains fascinated by the extent to which Bowie was nourished by the strange nature of the city and appears to have been genuinely able to be himself.
"He was surprised at the sense of freedom, he hadn't expected it," he says. "He thought the Berlin Wall would be wrapped around the autobahn, suffocating the city and was amazed that here were two million people living in a couple of square miles surrounded by barbed wire and everyone believing that it would somehow stay like this for ever."
Bowie lived on the rather anonymous, unfashionable Hauptstrasse, in a seven-room apartment he initially shared with Iggy Pop, stocking the fridge with delicacies bought from the posh fine food department at the nearby KaDeWe department store.
While others chose the rather more funky hotspot Kreuzberg, "Bowie was more at home" there, says Claudia Skoda, a fashion designer friend.
Asked in an interview with Der Tagesspiegel a decade ago if he remembered his address, Bowie shot back: "Hauptstrasse 155 in Schoneberg."
"You still remember it after 25 years?" the interviewer asked. "I will never forget it," Bowie replied. "They were very important years."
Today Bowie's old flat is sandwiched between a physiotherapists and Fabio Denluca's Lotus tattoo parlor. The most memorable of the fans who have dropped in, says the 44-year-old Italian, "was a British girl who wanted a profile of Bowie from China Girl tattooed just below her shoulder blade." Denluca is genuinely surprised to be told that his parlor features in Bowie's new music video in the shots of Hauptstrasse.
Skoda, who used to make clothes for him, recalls in an interview the time they first met. "He came knocking on my door looking for Klaus Kruger, the drummer with Tangerine Dream, an electronic band Bowie was very interested in. That was the start of us working together."
"He threw himself into Berlin life, loving the quirkiness of it. There was a workwear shop on Mehringdamm where he'd buy himself workmen's overalls." Sometimes she'd cook for him "but he wasn't keen on German food."
They spent most of their evenings in the Dschungel cocktail bar on Nurnberger Strasse (where an expensive hotel now stands). "He was always on the search for one-night stands."
The "weird people" he frequently met in Dschungel probably summed up the strangeness of the city better than anything else. He described: "A girl ... who had a rat on her shoulder attached by a chain that ran over her dress ..." and "two blokes [with] bald heads ... dressed up as surgeons."
Another favorite Bowie haunt was the nightclub run by Romy Haag, a beautiful transvestite with whom he was supposed to have been romantically linked. "Berlin was always a creative source for him," says the entertainer known for her sell-out drag shows.
Rakete witnessed what he believes might have been Bowie's first ever encounter with Berlin, when he arrived on a train in the mid-1970s. The word had got out among Bowie fans that he was stopping at Zoo Station, and Rakete, an eager young photo- reporter, was there. "Out of the train stepped this polite young man, who introduced the small crowd to his fellow passengers, an old couple who had no idea who he was," recalls Rakete. "He said 'meet Mr and Mrs Schulze, who I've just given my vitamin pills in return for their cigarettes.'"
So it was, perhaps, that the love affair began.
Berliners are immensely flattered that Bowie has now reignited the flame with Where Are We Now?, lending as it does poetic status to the places mentioned in the lyrics and reminding the city just how much it has changed.
"You feel the real sense of homesickness he has for Berlin and the extent to which he felt at home here," Haag says.
Comments will be moderated. Keep comments relevant to the article. Remarks containing abusive and obscene language, personal attacks of any kind or promotion will be removed and the user banned. Final decision will be at the discretion of the Taipei Times.