Restaurant review: Take a Break (喘口氣)
Walk into Take a Break and you immediately feel a vintage, handmade vibe surrounding the cozy cafe offering simple fare like salads and sandwiches. Condiment shelves are made of driftwood, the bar is made using hollow bricks and an old sewing machine forms part of a tea table.
A chat with 20-something proprietor He Wan-ting (何宛亭) reveals that she has made or collected everything in the cafe over the past seven years since she first started dreaming about opening her own coffee house.
"The dream seemed unattainable since we didn't have lots of money. I kept collecting things so that I felt that I still had my dream and I was working toward it … Seven years is a long time, but it gave me a chance to think everything through," said He, known as Peipei (貝貝) by regulars.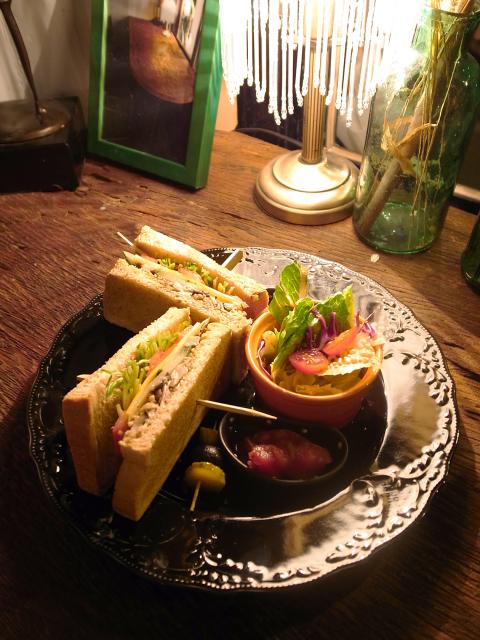 Take a Break offers a warm, quiet spot for urbanites to relax and refuel.
Photo: Ho Yi, Taipei Times
Tucked away in a quiet alley off bustling Guangfu North Road (光復北路), the cafe is run by Peipei and her mother, and exudes warmth and comfort that reflect its owners' temperaments. Potted plants fill every nook, and dried flowers inside vases are gathered during beach outings. There is a distinct secondhand touch with knick-knacks, objects and utensils ranging from electronic fans, antique coffee tables to old Taiwanese glass water cups salvaged from flea markets, thrift stores and people's garage sales. During our couple of visits, the music was either jazzy or French chansons.
It is hard to imagine that before Peipei and her mom transformed it into a snug cafe, the original site was a haunted-house like space that had been vacant for a decade.
"When we first opened the door, the room was clogged with mail. We had to use three extra-large garbage bags to remove it all," Peipei recalls.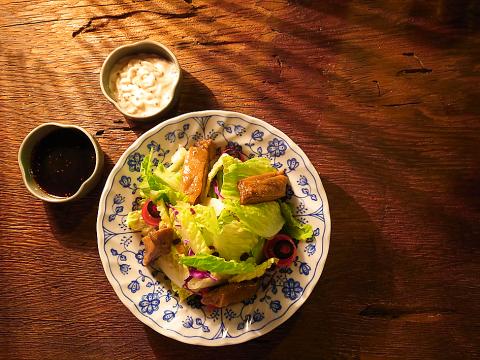 Take a Break offers a warm, quiet spot for urbanites to relax and refuel.
Photo: Ho Yi, Taipei Times
With no workable facilities, water and electricity, the daughter and mother duo renovated the space from scratch — from cleaning mold, painting the walls, mixing mortar and laying floor tiles to salvaging a couple of discarded temple doors from a scrapheap and installing them on the bar.
Though simple and limited, the menu's food is also handmade by He, and shows the same amount of care going into the preparation. The Farmer's sandwich (農夫三明治, NT$120), for example, combines alfalfa sprouts with slices of tomatoes and cucumbers, while adding a distinct flavor with pesto sauce and needle mushrooms sauteed with butter.
Named after Mexico's national hero and former president Benito Juarez, the Juarez sandwich (胡阿雷斯, NT$155) is the cafe's most popular specialty offering an explosion of flavors made up of cheese, mashed potatoes, pickled cucumber, tomatoes and juicy chicken leg meat seasoned with chili and white pepper powder. Using Ciabatta bread, the beef sandwich with sauerkraut (牛肉酸菜恰巴達, NT$120), was pleasingly spicy and vinegary, but the roast beef was a bit too dry.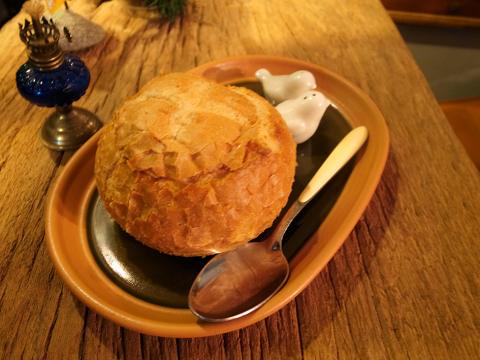 Take a Break offers a warm, quiet spot for urbanites to relax and refuel.
Photo: Ho Yi, Taipei Times
Each sandwich comes with a side salad, slices of pickled cucumber, tomato pieces and olives. For diners with big appetites, the soup in a bread bowl (返湯, NT$130) is filling and flavor choices change regularly.
He crafts two kinds of chicken salad that are both good. The chicken wing salad (雞膀子沙拉, NT$140), however, stands out for the spicy chicken wings standing in interesting contrast to the plenty of crisp romaine, olives and tomato pieces. The salad comes with either a sweet and sour Japanese dressing (和風醬) or red wine and orange sauce (紅酒柳橙醬).
For dessert, toast with apple and cinnamon (肉桂蘋果派, NT$100) filled the air with aromas when the slices of apple roasted with cinnamon and cheese came freshly out of the oven.
Take a Break also encourages people to stay and linger. Patrons are welcome to pick one quiet corner, read or daydream next to a crystal glass lamp or a fish tank where colorful creatures swing and dwell. There are books on the shelves and piled on the floor for loungers' enjoyment.
The drink menu carries a variety of coffees (NT$60 to NT$130) and teas (NT$60 to NT$80). Recommended choices of coffee include honeydew melon-flavored latte (哈密瓜拿鐵, NT$120), black and white latte (黑白拿鐵, NT$130) that contains black and white chocolate, and "warm-up" latte (暖身拿鐵, NT$130) with brandy and a glob of whipped cream.
Another special drink He likes to enjoy on a cold winter day is the apple tea (煙捲蘋果茶, NT$130) which mixes apple cubes with cinnamon, cloves and slices of oranges.
The cafe also has a small selection of German beer (NT$270 and NT$290) and cocktails (NT$180).
Publication Notes
Take a Break (喘口氣)
Address: 20, Alley 1, Ln 199, Bade Rd Sec 3, Taipei City (台北市八德路三段199巷1弄20號)
Tel: (02) 2578-8912
Open: Mondays to Fridays from 11:30am to 11pm, Saturdays from 10am to 10pm Closed on Sundays
Average meal: NT$250
Details: Menu in Chinese, credit cards not accepted
Comments will be moderated. Keep comments relevant to the article. Remarks containing abusive and obscene language, personal attacks of any kind or promotion will be removed and the user banned. Final decision will be at the discretion of the Taipei Times.