Look me in the face
The second production by the Quanta Arts Foundation focuses on the issue of breast enhancement, lacing its message with laughter and song
Breast enhancement is a hot topic in the gossip rags, and is usually treated either with prurient interest or moral condemnation, so it is refreshing that this topic has now been given serious-minded attention with a new production by the Quanta Arts Foundation (廣藝基金會). This is Quanta's second production and draws on the talents of a number of well-known young performers, giving the show a pop appeal even while delivering moral lessons on the value of loving your own body and of being something that you are not. While a serious message lurks in the background, catchy songs and risque humor keep the show light.
The production is anchored by Ku Hsin-yu (古欣玉), better known as the lead singer Mami (瑪靡) from pop band Wonfu (旺福), who, whatever her other many and various talents, is the opposite of buxom.
Mami plays the central character who describes herself as being an "airport" (飛機場), a term used to describe a flat-chested woman, who wonders how she can love her body in a world populated by men who worship the slim-hipped G-cup girls on the advertising billboards.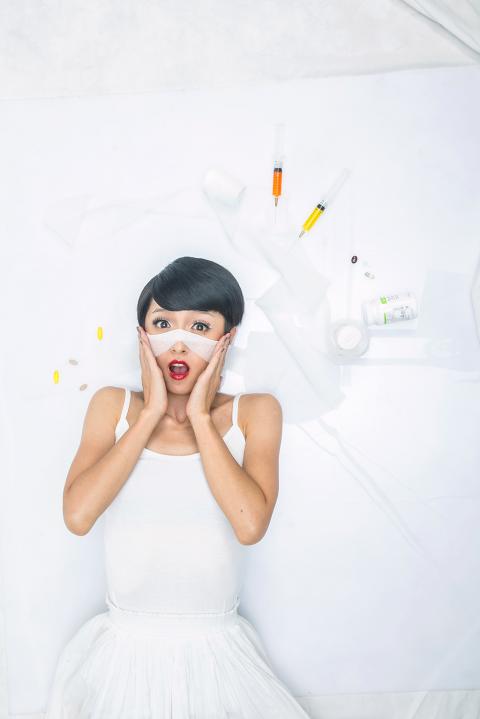 Winnie the Boob gives breast enhancement the musical treatment.
Photo courtesy of Quanta Arts Foundation
Artistic director Hung Hung (鴻鴻) and director Chen Hsiao-chieh (陳曉潔) had the cast workshop their thoughts on beauty in a world in which media rather than nature dictates gender norms and in which plastic surgery can achieve miracles of transformation. This cast input builds on a script created by award-winning young playwright Wu Chin-jung (吳瑾蓉), who has a keen ear for how young people talk.
The result of this is that the songs and the dialogue can get pretty risque, and this is what Quanta Arts Foundation CEO Yang Chung-heng (楊忠衡) said he wanted to achieve when the foundation selected this work for their second major production. "Everyone says size doesn't matter. But there wouldn't be any reason for a production like this if that were really the case. Size has always mattered, and is something we want to talk about, and we decided that if we were going to talk about this, it would be no-holds-barred. We would go all the way."
As an aside, Yang also said that he was delighted with Winnie the Boob as a work that presented a female perspective, something he suggested has been a failure in Taiwan's theater establishment. A female star, director and playwright give this work a strong female perspective, but its ideology is lightly worn, and the production is happy to poke fun at the absurdities of both young men and young women in contemporary society, struggling to reconcile the conflicts between a sex infatuated, materialistic society and higher emotions of love and devotion.
Director Chen said that this was an unusual work for Taiwanese mainstream theater with its intimate focus on the body.
"Directing this show made me think a lot about my own body and how it is seen by others," Chen said, "I realized that much of what we think is dependent on what other people say about us or how they perceive us. … But not meeting these expectations does not make you inferior."
Hong Hong, said that he felt this was a show that young people in Taiwan needed to see so that they could understand that there need not be a single standard of beauty, but that people of different sizes with different looks can also live lives of great value.
While the play has a strong message, it also has plenty of humor and some catchy musical numbers, a likeable cast and an edgy social message, so even if cup size is not a major issue for you, Winnie the Boob might still entertain.
Publication Notes
Performance Notes
What: Winnie the Boob (維妮)
When: Dec 21, Dec 22 and Dec 23
Where: Novel Hall (新舞臺), 3-1 Songshou Rd, Taipei City (台北市松壽路3-1號)
Tickets: NT$500 to NT$1,800; available through NTCH ticketing and online at www.artsticket.com.tw
Comments will be moderated. Keep comments relevant to the article. Remarks containing abusive and obscene language, personal attacks of any kind or promotion will be removed and the user banned. Final decision will be at the discretion of the Taipei Times.