CD reviews
WARRIOR, by Kesha; I DON'T HEAR NOTHIN' BUT THE BLUES VOLUME 2: APPALACHIAN HAZE, by Jon Irabagon With Mike Pride and Mick Barr; UNHINGED, by Jon Irabagon's Outright!
Kesha's not dangerous. She plays at being a terrible influence — drinking, sex, swearing, hard nights at the club — but the furtive surprise at the center of her project is sweetness, as it always was.
Warrior, her second full-length album, contains a very nonlethal competitive ambition. She's coming at her targets in a bumper car, rear-ending them and laughing and, with a weird consistency, philosophizing. Those targets might be other new singing-rapping women, like Cher Lloyd and Becky G; the stars of the last 18 months of a more culturally precise and far Tumblr-ier white-girl rap, like Kittie Pryde and Kreashawn; perhaps even the chatty Taylor Swift of We Are Never Ever Getting Back Together; yesterday's dance-pop regent of poor decisions, Britney Spears; and certainly, too, the old and incompletely formed Kesha, who was easy to misunderstand or condescend to.
In interviews over the last year she described the new music she was working on, with her executive producer Dr. Luke, as guitar-based rock 'n' roll. That's not quite what happened. It's more Dr. Luke music: a vivid synth-y throb with titanic vocals. In several songs (Warrior, Wherever You Are, Supernatural) there's a strong influence of the French electronic duo Daft Punk — not exactly a rock band — including very Daft Punk-like melodic interludes in the middle, crazy with digital micro-edits. There's some slim-lined rock aesthetics, in a Strokes-like song called Only Wanna Dance With You, using that band's drummer, Fabrizio Moretti, and singer, Julian Casablancas, and borrowing the narrow dimensions of their sound. And there's Iggy Pop, who is a guest on Dirty Love, with a rhythm reminiscent of his Lust for Life. He lends it an abstract importance — a master thrill-seeker's seal of approval, maybe — but the song has no weight, nothing recognizable as rock power; it seems to evaporate as it plays.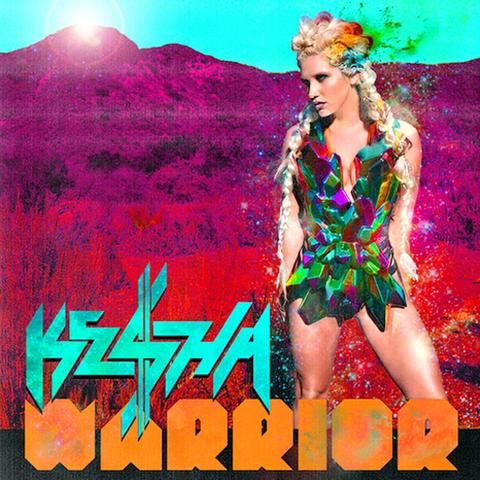 WARRIOR, by Kesha.
There's no revelation here, only strong fun. Always, she's loud; using several different voices, she pins you. In songs like Die Young and C'Mon, in party-defiant mode, Kesha bellows her hooks, full and clear; the tone and body and trueness of pitch doesn't seem to be faked. (An EP released concurrently, Deconstructed, includes reduced and unprocessed performances of songs including Dolly Parton's Old Flames Can't Hold a Candle to You, which Kesha's mother, Pebe Sebert, helped write. That's a good move on several counts: a confirmation of country abilities from a rootless cosmopolitan who actually grew up in Nashville, Tennessee, and solid proof, to whomever, that she can sing.)
But there are other modes. The talky-whiny, semi-lame rapping she made famous two years ago in Tik Tok comes back, refined if not necessarily wittier. Wonderland, an acceptable country-rock song about the innocence and joy of the good old broke days from a successful person's point of view, uses a non-ironic, non-aggressive ballad voice; she's good at that, too, though more studied. And in Crazy Kids, as a close-miked tag at the end of each chorus, she whispers "we are the crazy people." The sound floods the track.
So does the philosophy behind it. The album's persistently cheery idea is living as if you're going to die soon, which is different from living as if you want to die soon. She stresses the idea so often it becomes almost high-minded; this is how she gets some distance from her earlier, jaded, sleazed-out, Autotune-juiced persona, the Kesha of Tik Tok and Blah Blah Blah. It means partying as ferocious sentiment and individual existential heroism, an idea less of this time than of the late '50s, when freedom from societal repression and the threat of annihilation were live topics in this country. Warrior is her beatnik record; her "crazy people" seem a bit like Jack Kerouac's hyper-idealized "mad ones," those who "burn, burn, burn like fabulous yellow roman candles." It's also a clever bridge toward getting older and writing sweet country songs about how wild we all were. It's going to be an option for her in five years or so, when she turns 30.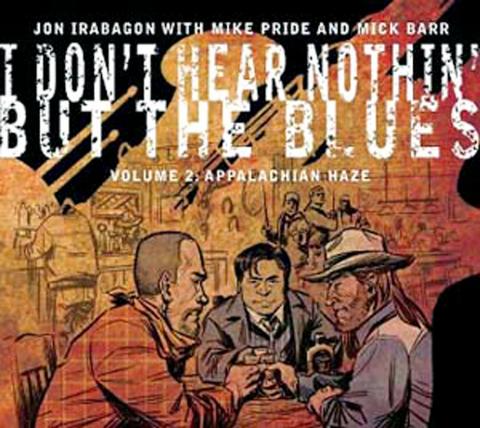 I DON'T HEAR NOTHIN' BUT THE BLUES VOLUME 2: APPALACHIAN HAZE, by Jon Irabagon With Mike Pride and Mick Barr.
— BEN RATLIFF, NY Times News Service
There's a lot of willful unruliness in Jon Irabagon's music, and more than a little cheek. A tenor and alto saxophonist of imposing and almost inexhaustible facility, Irabagon cuts a cavalier figure on the left-of-center New York jazz grid, often raising a cheerful ruckus as he stealthily hits his mark. He's a musician of intense concentration who wants nothing more than to indulge a spirit of play, emphatic and unreserved.
That objective hasn't always squared with his path as a 21st-century jazz prodigy. Raised in the suburbs of Chicago, Irabagon moved to New York for conservatory, and then won the Thelonious Monk International Jazz Competition. As part of his spoils, he made one major-label album, working with respected elders and reining in his wilder energies.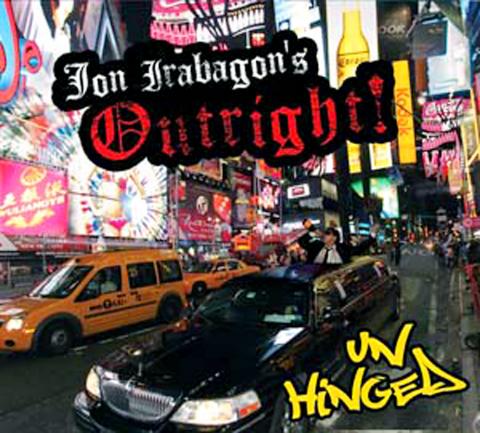 UNHINGED, by Jon Irabagon's Outright!.
That brush with acceptability seems only to have hardened his maverick resolve. The latest evidence comes in the form of two proudly intemperate albums on Irabbagast, his new label: Unhinged, the second release by his ecstatic postbop band Outright!, and I Don't Hear Nothin' but the Blues Volume 2: Appalachian Haze, made in partnership with the drummer Mike Pride and the guitarist Mick Barr.
Barr, who comes from the obsessive realm of experimental metal, proves a strong instigative engine for Irabagon. (Their collaboration came about after one free-thinking critic compared the first volume of I Don't Hear Nothin' but the Blues, which had just saxophone and drums, to an album by Orthrelm, a main outlet of Barr.)
Appalachian Haze unfolds as a single spontaneous gesture, spasmodic in its immediate effect but possessed of a greater sense of order, like a Jackson Pollock canvas. The album clocks in just under 48 minutes, with nothing resembling a restful pause — but within the merciless thrash of notes, there are many small flickers of grace, often originating with Pride. If this is a stern monument to endurance, it's also touchingly egoless.
Unhinged is — despite its title and cover art, which sends up Clinton-era hip-hop visual cliches — the more methodical outing, covering a catholic range of style, from Latin-jazz (Lola Pastillas) to fusion (Kremzeek!). Outright! features Ralph Alessi on trumpet, Jacob Sacks on piano and organ, John Hebert on bass and Tom Rainey on drums, and favors a lurching, quick-change interplay; you'll lose track of the number of head fakes in Charles Barkley, which Irabagon has recorded before. The only cover is Paul Desmond's Take Five,rendered all but unrecognizable as a fervent incantation.
Irabagon shows his rigorous side on this album, but also a touch of earnest sentiment. Silent Smile (Urban Love Song), involves a busload of guests in what seems an intentionally unwieldy Valentine. And Camp Douglas, which appears in three electronically manipulated snippets, is a tune he has been playing at least since 2008: its namesake would seem to be the trumpeter Dave Douglas, a formative influence on Irabagon, and now one of his steady employers. Its treatment here suggests one summit reached, with many more ahead.
— NATE CHINEN, NY Times News Service
Comments will be moderated. Keep comments relevant to the article. Remarks containing abusive and obscene language, personal attacks of any kind or promotion will be removed and the user banned. Final decision will be at the discretion of the Taipei Times.