Restaurant review: Mia Cucina
The newly opened Mia Cucina is a welcome haven for Taipei's vegetarians. Located near Sogo Tienmu, the restaurant serves hearty salads, paninis and pasta in an industrial-chic atmosphere. Dishes are designed to encourage sharing: salads, which range in price from NT$320 to NT$380, come in portions large enough to satisfy two hungry diners.
Everything on Mia Cucina's menu is meat-free and there is also a large selection of vegan offerings. Even diehard carnivores should be able to find something they enjoy. The restaurant's chefs excel at creating offbeat but thoughtful combinations of sweet and savory flavors, and make sure that each dish has a diverse mixture of textures to keep diners interested until the last bite.
From the starter menu, my companion and I ordered jalapeno rockets (NT$180), or grilled whole peppers stuffed with cheese, almond slices and raisins. The sweet, fat raisins were an unusual and fun complement to the very piquant, mouth-searing jalapenos.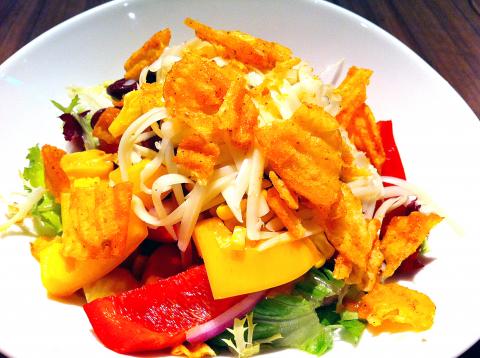 Mia Cucina offers vegetarian and vegan dishes that might just convince some carnivores to go meatless.
Photo: Catherine Shu, Taipei Times
Though pricey at NT$450, Mia Cucina's set meal (which changes every two months) is big enough to provide leftovers and allows diners to sample the restaurant's large array of dishes. Courses include the soup of the day (visit on Sunday or Monday for the delicious coconut pumpkin), salad, main course (either a panini sandwich or pasta), organic tea and dessert.
The cowboy salad (NT$350 a la carte) shows off Mia Cucina's ability to successfully deploy unlikely ingredients. It is made with grilled corn and bell peppers, red onions, smoked beans, cherry tomatoes, jalapeno jack cheese cubes and avocados topped with barbecue dressing and "tortilla crunchies." The latter turned out to be barbecue-flavored chips. I was incredulous at first, but they added just the right boost of flavor and crunch to the salad. The strawberry pecan salad (NT$320), featuring strawberries, apples, mango, dried cranberries, cherry tomatoes, caramelized pecans and parmesan topped with an orange vinaigrette dressing, showcases Mia Cucina's deft hand at creating satisfying and complex dishes from simple ingredients.
My friend's sweet mustard panini (NT$185) was made from bread studded with dried cranberries and stuffed with apples, caramelized onions, walnuts and mozzarella cheese with sweet mustard. On paper, the combination of ingredients sounds cloyingly sweet. But the tangy mustard offered a contrast to the other ingredients and the walnuts added just the right touch of richness.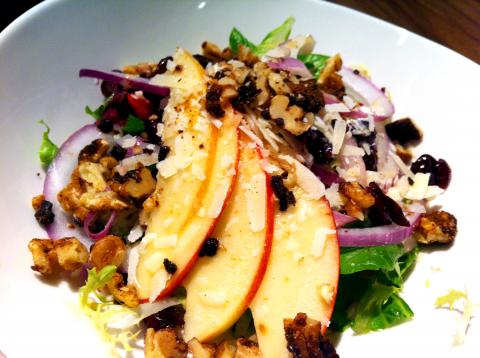 Mia Cucina offers vegetarian and vegan dishes that might just convince some carnivores to go meatless.
Photo: Catherine Shu, Taipei Times
The only disappointing dish we tried at Mia Cucina was the pecan asparagus pasta (NT$350). The spaghetti was slightly overcooked and sticky, but the yummy pesto sauce and large portions of asparagus sprigs and nuts made up for the pasta's lackluster texture.
My companion said that she'd be happy to return to Mia Cucina just to enjoy the restaurant's decor. The cavernous space features cement and brick walls accented with blonde wood furnishings and exposed, oxidized metal. A display in the back showcases an array of goods, including notebooks, almond butter and Wallpaper city guides, to browse as you wait for your meal. But you won't have to wait long: Mia Cucina's service is as prompt and thoughtful as its culinary offerings.
Publication Notes
Mia Cucina
Address: 48, Dexing W Rd, Taipei City (台北市德行西路48號)
Telephone: (02) 8866-2658
Open:11am to 10pm
Average meal: NT$300
Details: English and Chinese menu; credit cards accepted
Comments will be moderated. Keep comments relevant to the article. Remarks containing abusive and obscene language, personal attacks of any kind or promotion will be removed and the user banned. Final decision will be at the discretion of the Taipei Times.