Sacred cows
FourWays Ranch, an independent dairy farm, raises its own cattle and has its own pasture, priding itself on being an operation that takes its milk from grass to cow to consumer
Milk: as far as nutrition goes, things don't get much more fundamental. For a long time, fresh milk was regarded as something of a luxury in Asia, and when milk was called for, it was powdered or condensed milk, products designed to keep well in humid conditions. Milk powder took a beating in 2008 after reports of contamination with melamine, and the consumption of fresh milk was given a significant boost as a result.
According to a USDA report on the Taiwan dairy industry, the three main players in the Taiwan market are Wei Chuan (味全), Uni President (統一) and Kuang Chuan (光泉), which account for 70 percent of local domestic processing. These huge operations purchase their milk from an estimated 579 dairy operations around the country.
But Taiwan also has a number of independent dairy operations. One of these is the FourWays Dairy Farm (四方鮮乳牧場), which has earned a significant market presence with health conscious consumers after it was picked by the Homemaker's Union and Foundation (主婦聯盟環境保護基金會), an environmental group that operates an influential food co-op, as its primary supplier of milk and dairy products in 2010.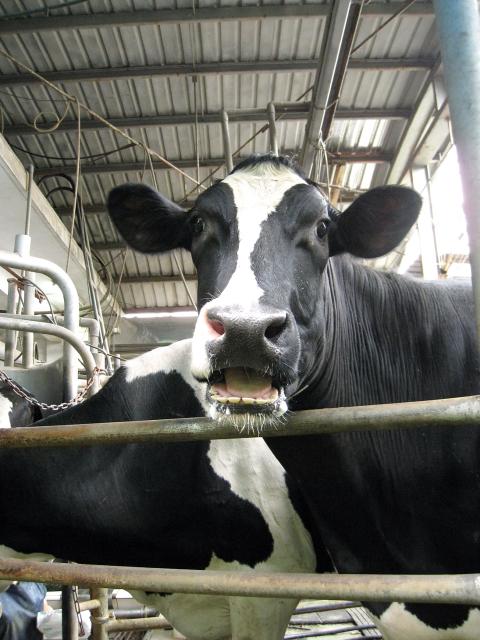 Cattle are housed in spacious sheds that allow for efficient production, while taking care of the animal's comfort.
Photos: Ian Bartholomew, Taipei Times
Tastes and preferences vary, and it would be a rash soul who would claim that the milk from FourWays Ranch is superior to any other on the market, or indeed that milk from a single farm is somehow better than milk drawn from many farms. Even the founder of FourWays, Tsai Nan (蔡南), said that he regarded the standard of milk across the market in Taiwan as very high, due to stringent regulations and strictly enforced inspection. He hastened to add that FourWays has a number of important features that appeal to food conscious consumers.
"Compared to the big players, we are very small," Tsai said, adding that he estimates that his company accounts for approximately 0.5 percent of milk production in Taiwan. Fourways raises all its own cattle and has its own pasture, and prides itself on being an operation that takes its milk from grass to cow to the end consumer, retaining control of the whole process from beginning to end.
"The big dairy operators collect their milk from dairies around the country," Tsai said. "And while I do not claim that ours is the best milk available, we are definitely right there in the top 10 percent of producers. The milk at the big dairies gets mixed together — the good and the less good all together — and it is much more difficult to guarantee quality."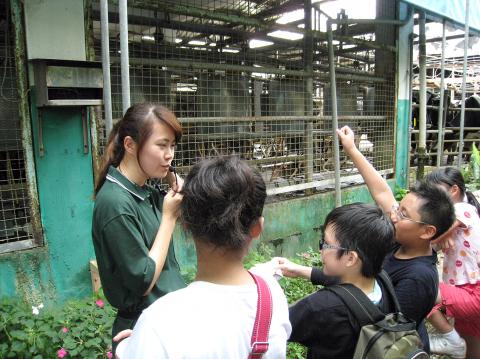 A guide explains milk production to a group of school children.
Photos: Ian Bartholomew, Taipei Times
FourWays has also gradually built up a network of milk deliveries to the home that are especially convenient and allows consumers to enjoy FourWays milk at its best and freshest. "For the big dairies, the work of milk collection, packaging and delivery necessarily takes a number of days," Tsai said, "but I have my processing plant just five kilometers from the ranch, so we can deliver the milk to your home the day after milking. It doesn't have to go through any distribution centers. It is direct to the home."
Having drunk the milk on delivery, I found that it had a slightly different texture and flavor to Lin Feng Ying (林鳳營), my own mass-market milk of choice. I found this difference refreshing, but Tsai said that initially, he had considerable difficulty marketing his milk because of this difference. "Many people couldn't accept our milk, and some even questioned its purity," Tsai said of his early days of operation. "They said it tasted different from Lin Feng Ying, Taiwan's top brand, so they thought there was something wrong with it. Being selected by the Homemaker's Union was a huge help, giving us the endorsement we needed."
Tsai's background was originally in textiles, but in 1989, he decided he couldn't compete with Chinese manufacturers and changed direction and entered the dairy business. "Our family had always raised cattle and I have always liked the animals," he said of his decision. "And there is no secret recipe for milk. It is all about how the animals are cared for and how they eat."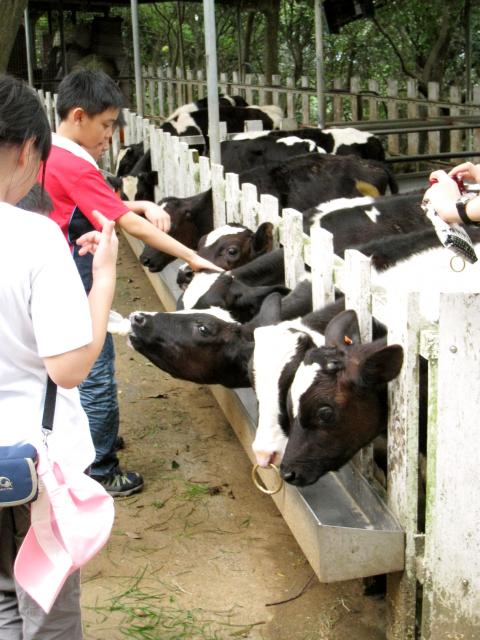 Visitors can milk and feed calves, who are always hungry for grass.
Photos: Ian Bartholomew, Taipei Times
FourWays places great emphasis on the care of its animals, and visitors are welcomed at the ranch to see conditions for themselves.
FourWays does not claim that its milk is organic, and Tsai has no time for the vague label of "non-toxic" (無毒), which he regards as no more than a gimmick. "Our pasture is our own and is cared for without the use of chemical fertilizers or pesticides, but I cannot guarantee that everything the cows eat is organic," he said, while affirming his total commitment to producing milk of as pure a quality as possible. "When cattle become sick, of course we give them antibiotics to cure them," he said, "but we make sure that milk from these cattle is poured away until the medication has cleared their system. Smaller ranchers (supplying the milk to the big dairies) may not always be so conscientious."
The operations at FourWays are open to the public, something that Tsai said resulted from "consumer tours" provided by the Homemaker's Union as a service to its discerning clientele, many of whom like to gain a more detailed knowledge of the food they buy than what's written on the packet. His willingness to allow visitors is also a testament to the care with which his animals are treated, as well as the beautiful environment of the farm, located in what was formally a restricted area in the vicinity of an army artillery base.
The pristine conditions, created as a result of former restrictions on development on military-controlled land, have resulted in a small-scale tourism enterprise at the ranch. Visitors to FourWays can not only view cattle, feed ever-hungry calves and be instructed in the dairy's operations by obliging and informative guides, but also enjoy a picnic or a restaurant lunch, as well as taste many of the farm's products, which range from steamed milk bread to gouda and mozzarella cheese.
Information about FourWays, its products, and its home delivery service can be found on its Web site at www.fourways.com.tw.
Comments will be moderated. Keep comments relevant to the article. Remarks containing abusive and obscene language, personal attacks of any kind or promotion will be removed and the user banned. Final decision will be at the discretion of the Taipei Times.