Art exhibition listings
King Wu Ding and Lady Hao: Art and Culture of the Late Shang Dynasty (商王武丁與后婦好—殷商盛世文化藝術特展) offers a "gender bending" view of a queen in ancient China. The exhibit presents vivid testimony of Lady Hao as a valiant warrior and military leader "on par with any man in her day," writes the museum in a press release. The exhibition consists of 362 objects, and includes inscribed oracle bones attesting to Lady Hao's strength of personality, burial goods and daily objects, which combined offer a picture of a ruling family and the society over whom they ruled.
■ National Palace Museum (國立故宮博物院), 221, Zhishan Rd Sec 2, Taipei City (台北市至善路二段221號), tel: (02) 8692-5588 X2312 (10:30am to 6:30pm). Open daily from 9am to 5pm. Admission for Lady Hao: NT$250. Regular admission: NT$160
■ Until Feb. 19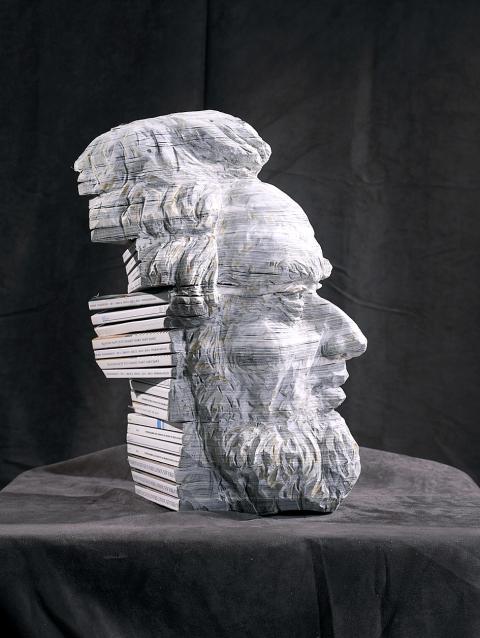 Chen Long-bin, Homer (2008).
Photo courtesy of Chen Long-bin
Inevitable Vibrations (註定的顫動) is a solo exhibition of performance art by Fan Hsiao-lan (范曉嵐). Fan examines the nature of an individual's identity and its formation based on the society in which they live.
■ Barry Room, Taipei Artist Village (台北國際藝術村百里廳), 7 Beiping E Rd, Taipei City (台北市北平東路7號), tel: (02) 3393-7377. Open Tuesdays to Sundays from 11am to 9pm
■ Until Dec. 16
Carved Book Odyssey (切書行旅) riffs off the tradition of Chinese literati traveling long distances to acquire scrolls and texts, whether historical, mythical or religious. Chen Long-bin's (陳龍斌) artistic practice involves this kind of worldly nomadism, but with a twist: He gathers together books, which he then glues and sculpts into a form that strongly resembles a woodcarving.
■ Nou Gallery (新畫廊), 232, Renai Rd Sec 4, Taipei City (台北市仁愛路四段232號), tel: (02) 2700-0239. Open Tuesdays to Sundays from 11am to 7pm
■ Until Dec. 16
Event Topology (事件拓樸) is a joint exhibition of photography and animation by, respectively, Hsu Che-yu (許哲瑜) and Hsu Jer-yu (許哲瑜), as a means of describing what they see around them. Juxtaposing their works creates a dialogue — the world within the screen and the screen within the world — where they examine the question: "Is the outside world a creation from an individual's aesthetic event, or the creation of an individual's aesthetic event is actually part of the outside world?"
■ VT Art Salon (非常廟藝文空間), B1, 47 Yitong St, Taipei City (台北市伊通街47號B1), tel: (02) 2516-1060. Open Tuesdays through Thursdays from 1:30pm to 9pm, and Fridays and Saturdays from 1:30pm to 10pm
■ Until Nov. 17
Taneda Yohei, a Japanese movie director and artist, challenges one of the largest museums in the world with Petit Louvre, an installation that replicates the famous French cultural institution. Instead of focusing on each piece of art, he makes the space into a huge piece of art, transforming the original pieces into two fifths the original size. The second half of the exhibition focuses on Taneda Yohei's art, including installation, stage design, exhibition design, animation, illustration and movie art.
■ National Museum of History (國立歷史博物館), 49 Nanhai Rd, Taipei City (台北市南海路49號), tel: (02) 2361-0270. Open Tuesdays to Sundays from 10am to 6pm. General admission: NT$200
■ Until Jan. 8
Comments will be moderated. Keep comments relevant to the article. Remarks containing abusive and obscene language, personal attacks of any kind or promotion will be removed and the user banned. Final decision will be at the discretion of the Taipei Times.