A new direction
Xuxuwear's organic cotton women's clothing is designed not only to be stylish and comfortable — but also promote the Taiwanese textile industry
With its lace-trimmed smock dresses, flowing skirts and relaxed cardigans, Xuxuwear (許許兒) targets shoppers who are looking for feminine, easygoing styles. But the company doesn't just want to sell clothing. It also hopes to help Taiwan's shrinking textile industry survive.
Xuxuwear was launched by a father-daughter team to promote Taiwanese factories after many manufacturing jobs were outsourced to China and Southeast Asia. The brand also emphasizes environmental awareness. About 60 percent to 70 percent of their designs are made with organic cotton. Xuxuwear utilizes father Xu Zhi-rong's (許志榮) twenty-five years of experience in the textile industry and his daughter Xu Ya-han's (許雅涵, nicknamed Ya-ya, 雅雅) design skills and fashion sense.
The elder Xu ran a thriving fabric export business called Black Lion Enterprises (黑獅實業) when Ya-ya was a child. By the time she was in university, however, the industry had changed dramatically.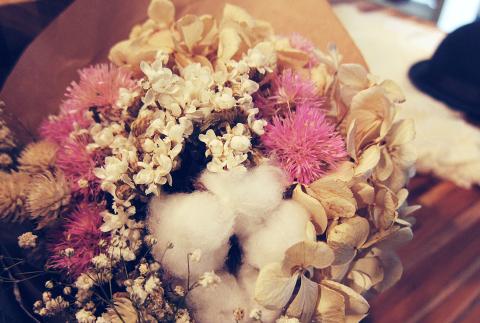 Most fabrics used in Xuxuwear's designs are made exclusively for the brand in Taiwan from organic cotton.
Photo: Catherine Shu, Taipei Times
"I would say that four or five years ago there was already a very obvious decline. Many of my father's colleagues moved operations to China," says Ya-ya. "He tried to work there for a year, but he didn't like it."
The elder Xu returned to Taiwan, determined to find a way to continue collaborating with textile manufacturers that remained in this country. By Ya-ya's last year at university, the two were discussing the possibility of launching their own brand.
"A brand is something that can potentially last for more than a hundred years. Working in the export business means that you are dependant on your clients, but a brand is something that you can develop on your own," says the elder Xu.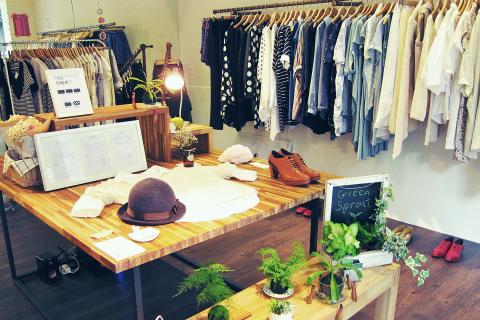 Most fabrics used in Xuxuwear's designs are made exclusively for the brand in Taiwan from organic cotton.
Photo: Catherine Shu, Taipei Times
Ya-ya says she has always loved design, starting from childhood, when she would write and illustrate her own picture books. Her father encouraged her interests.
"As long as we enjoyed what we were doing and he thought there was an opportunity for us to develop our talents, he was supportive, even if he didn't really understand our hobbies," says Ya-ya.
The Xu parents' nurturing attitude paid off when Ya-ya and her father officially launched Xuxuwear in spring 2011 after planning the company for a year. Its retail store near Zhongshan MRT station (中山捷運站) opened in December. The brand's designs are inspired by Ya-ya's passion for "forest girl style," (森林系) a fashion aesthetic that originated in Japan around five years ago and emphasizes natural fibers, flowing silhouettes and soft, feminine colors.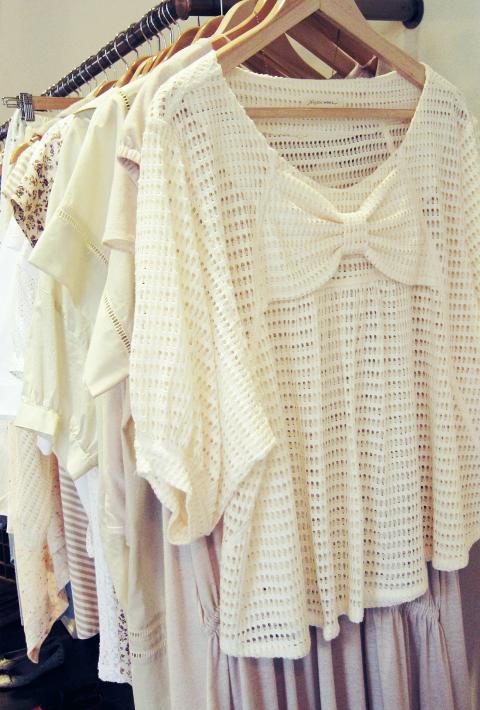 Most fabrics used in Xuxuwear's designs are made exclusively for the brand in Taiwan from organic cotton.
Photo: Catherine Shu, Taipei Times
"I like incorporating offbeat details into my clothing, but I make sure that they are subtle," says Ya-ya. Small touches like cuffs and collars lined in contrasting colors and multiple buttons on sleeves allow customers to style each Xuxuwear item in different ways.
"We try to only use colors that you would find in a forest. Instead of just black, we do a forest black. Our reds are all inspired by flower petals and our beiges are taken from the color of stones," says Ya-ya.
Roughly 65 percent of Xuxuwear's two annual collections are made from organic cotton fiber imported from India. Almost all items are woven and sewn in Taiwan.
The father-daughter duo collaborates closely on their brand's designs.
"We think of the mood we want to set with each collection, then I'll sketch the designs and talk to my dad, and he'll create fabric samples so we know what colors and textures are possible," says Ya-ya.
The elder Xu works with manufacturers throughout Taiwan to create unique textiles for each collection.
"I've been in the textile industry for more than 25 years, and I know the quality that factories in Taiwan are capable of," he says.
Both have extremely high standards for fabric. "I don't like wearing synthetic fibers, especially in the summer, and my skin also gets irritated by certain fabric conditioners and dyes," says Ya-ya. "So we make sure all dyes and other chemicals used during the manufacturing process are safe and environmentally friendly."
Ya-ya sold Xuxuwear at weekend venues like Simple Market and Red House Market for Artists and Designers and online before the brand's storefront opened last winter.
Though marketing organic cotton to Taiwanese consumers is challenging because of its relatively higher cost, Xuxuwear has developed a following of women who don't mind spending extra to buy "green" products (most of Xuxuwear's items are about NT$1,000 to NT$3,000). Ya-ya hopes that the company's customer base will continue to expand.
"We want people to see that buying organic fibers isn't just about following a certain lifestyle," says Ya-ya. "It can be a normal part of building a good wardrobe. The focus is on wearing what you think is beautiful, while just happening to use materials that are good for the earth and for your body."
ON THE NET: www.xuxuwear.com.tw
Publication Notes
Store Notes
What: Xuxuwear (許許兒)
Where: 3-2, Ln 83, Zhongshan N Rd Sec 1, Taipei City (台北市中山北路一段83巷3之2號)
Opening hours: Monday to Friday 11am to 7pm, Saturday 1:30pm to 8:30pm
Telephone: (02) 2567-0816
Comments will be moderated. Keep comments relevant to the article. Remarks containing abusive and obscene language, personal attacks of any kind or promotion will be removed and the user banned. Final decision will be at the discretion of the Taipei Times.