Restaurant review: September 9
Taiwan is a food lover's paradise, but for one accustomed to European food, perhaps a bit of a desert at times. In this culinary landscape, September 9 serves as an oasis for those who want a small break from local cuisine, and don't want to spend a quarter of their salary doing so.
You would be forgiven for walking past the restaurant's unassuming exterior, which belies a chic interior that would fit right in (the nicer parts of) London's east end. It's no surprise, then, that chef and co-owner Emily Cheung (張慧卿) is also a designer. The restaurant is similarly multifaceted, as it will soon double as an art gallery, a room for private parties and catering services. When asked what inspired her to open the place, Cheung said she wanted to create a space that combined her love of art with her passion for food.
Cheung insists on not defining her menu as being any particular type of food.
The quiche special served with green salad and dessert.
Photo: Fabiana Negrin Ochoa, Taipei Times
"It's not good to say 'Oh I cook Italian' because that invites people to have narrow expectations of what they are going to eat," she said.
Peruse through the menu, however, and you will discern an Italian influence, derived from the time she spent studying in Milan.
Having lived in Europe for over a decade, I have developed the type of arrogance about what constitutes an 'authentic' dish, and the quiche at September 9 met my expectations. The crust of the quiche — the most difficult part to get right — is delicious. On weekdays it comes with a mixed green salad and the dessert of the day, all tastefully plated on a large white dish for one, and is just NT$250.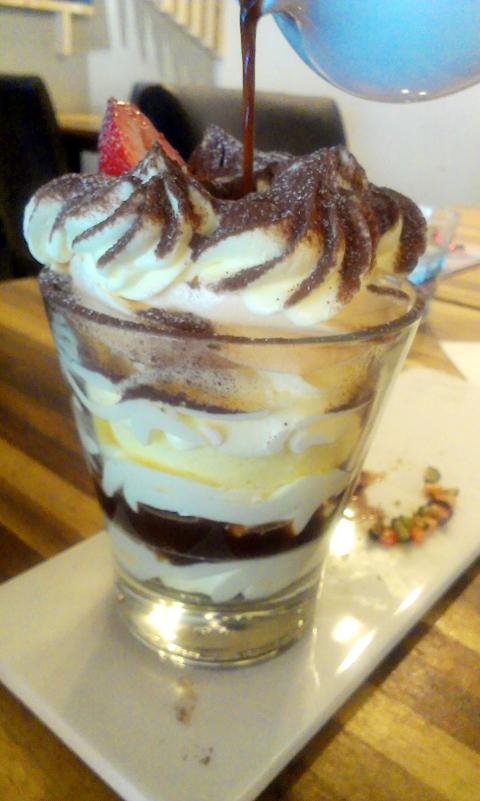 September 9's tiramisu hits all the right notes.
Photo: Fabiana Negrin Ochoa, Taipei Times
I've tried two of the desserts: chocolate cake (NT$120) and banana caramel cheesecake (NT$120). The latter I found to be overly sweet, but the chocolate cake, intimidatingly large as it was, disappeared quickly, especially when eaten with the accompanying homemade raspberry coulis and cream.
The other standout was a platter of dips (NT$130) and homemade breads (NT$200). Again, the dips were a triumph of detail, from the selection of the ingredients, to the way they were appealingly arranged in metal ramekins. The spread features guacamole, salsa, truffle mayonnaise, oil with balsamic, and green, cheesy pesto. Both I and my dining companions fought over the pesto, but agreed the guacamole was insipid, to the point of being unidentifiable. The spread comes with a couple slices of bread, but it is recommended that you order the homemade bread selection of ciabatta, baguette, and focaccia to accompany the dips.
From the selection of light meals, I opted to try the truffle risotto (NT$200) because it was a bargain. Like quiche, risotto is notoriously difficult to execute, so my expectations were correspondingly low. The chef admitted she'd like to use Arborio or carnaroli rice but doing so would break from her philosophy of having ''the best possible ingredients at the best possible price.'' To compensate for using the "wrong" rice, they serve it a bit al dente, a tactic the waiters sometimes have to justify to diners indignant at their undercooked rice. Anyone who is a fan of truffles will think it a treat to taste black and white truffle paste, instead of the blander oil.
As the house's specialty is baking, it is inadvisable to leave without tasting the desserts, of which the chef is particularly proud of the tiramisu boccone dolce (NT$280). It comes on a long, rectangular plate with a small jug on one end, a big glass on the other, and a dollop of cream with sliced berries in between. Layers of meringue, mascarpone and cake are carefully stacked on top of each other, capped with cream, cocoa powder and a strawberry. The ingenious part of the dish is the hole running through the layers in which you pour the espresso and Kahlua mixture in the jug. The desert lives up to its name, with the texture of the cream (mixed with a hint of brandy) contrasting the crispness of the meringue and the espresso hitting the perfect bitter note needed to cut down the sweetness.
Delicious food, attentive service, reasonable prices, all in a well-decorated place with a relaxed atmosphere: I find it hard to ask for more from a restaurant, even with a haughty European attitude.
Publication Notes
September 9
Address:2-1, Ln 14, Siwei Rd, Taipei City (台北市四維路14巷2-1號)
Telephone: (02) 2705-1669
Open: Sundays to Thursdays from 10am to 10pm; Fridays and Saturdays from 10am to 2am
Average meal: NT$300
Details: Cash only, Chinese and English menu, 10 percent service charge
Comments will be moderated. Keep comments relevant to the article. Remarks containing abusive and obscene language, personal attacks of any kind or promotion will be removed and the user banned. Final decision will be at the discretion of the Taipei Times.